Welcome to my second every monthly review of my business and life! This is a much more personal, behind the scenes, look into my life.  Side note, how the heck is it already December?  I can't even believe how fast the year is going. It's a bit depressing.
What's New
Small wins I'm celebrating:
I recently hit over 20,000 page views per month on the blog. I'm pretty proud of this because my website traffic in October of 2016 was just shy of 4,000 page views. Crazy, right?
The Money Nerds Podcast has reached over 20,000 downloads as well and steadily increasing.
Business was really busy this month. I took some time off to go travel around Europe for a week and was fortunate enough to be featured on the news. So far that article has been shared over 100 times and has been very well received.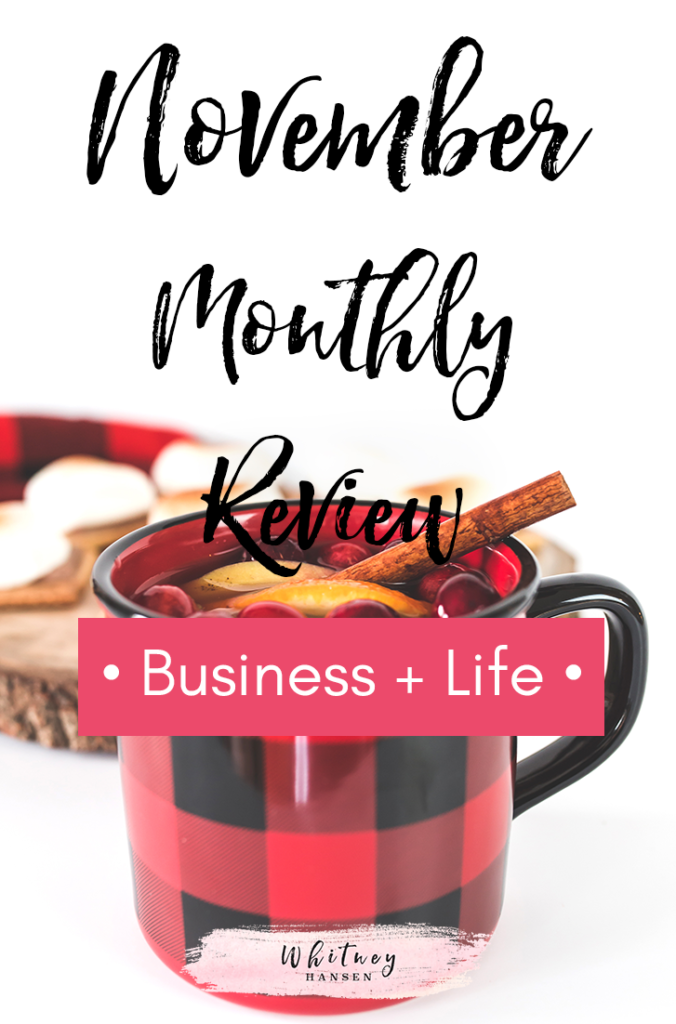 November's Goals
Read a book for fun (picked up a copy of I See You in the airport in London. I immediately read 250 pages on the plane ride home.)
Stay up to date on producing The Money Nerds weekly podcast (kept up to date on most of the episodes.)
Land a podcast sponsor (this is in the works. I'm working with a company now and waiting to hear back)
Drink 120 oz of water per day (still working on this one. It's a constant struggle to remember to drink water)
Start planning content calendar for 2018 (I didn't get around to this. 🙁 Darn it!)
All in all I'm a bit underwhelmed with the goals progress for November. My priorities changed as there were extra cool things that came up in November.
I'll be writing a lengthy blog post about how I went to Paris and Amsterdam for less than $1,200 per person soon, but until then I have to share a picture with you. It rained in Paris a couple of times and Amsterdam ~90% of the time. But in Paris, the rain made for such a gorgeous setting.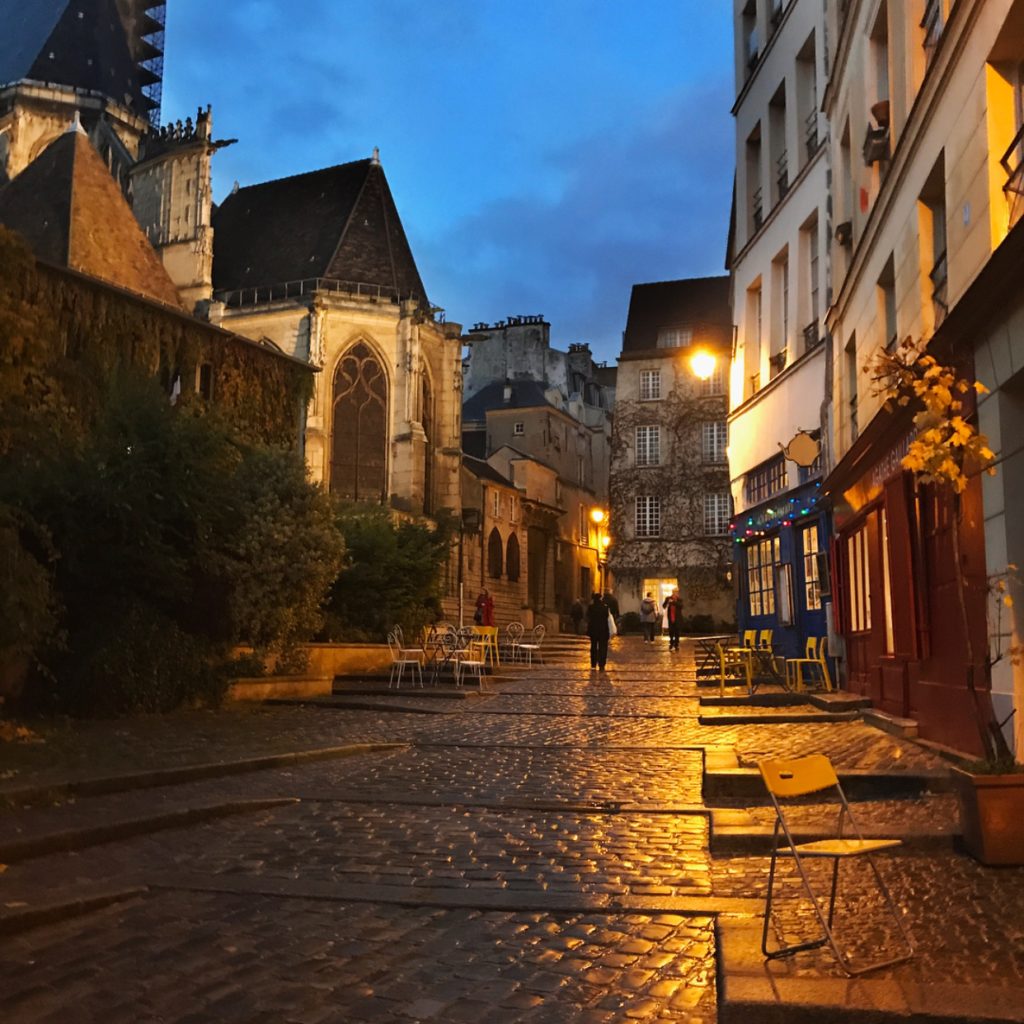 Alright, enough about the trip for now, let's get a deeper dive into business and life. 🙂
Personal Development
I haven't listened to too many new podcasts this month, but I wanted to share a few gems (shown below). In the past 7 days, I've listened to 4 hours worth of podcasts, or roughly 17 hours per month.
Here are a few I'm loving right now: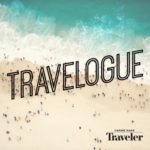 Travelogue helps me feed my wanderlusting desires, Success! How I Did It inspires me to take action, and Perpetual Traffic continues to help me learn new digital marketing strategies and tactics.
Fitness
I've been sitting around 4 days week at the gym. My goal is to hit the gym 4-5 times a week (excluding not working out in Paris/Amsterdam. I've done a pretty good job with my meal prepping and getting things prepared for the week so I don't spend a ton of money and eat crappy. As you can imagine, my eating choices were sub-par in Paris. I don't think I said no to a single croissant and definitely ate 2 stroopwafels in Amsterdam.
For December, I'm excited to have some forced time off from work and be able to work out 5 days a week. I plan on dieting after the holidays, so I'm excited to get to my "confident Whitney weight."
Business
Business is exciting right now! It's been kicking butt and growing (tis the season) and I'm seeing some serious potential for the long-term future.
Let's break down each of these areas and see if I can explain why things are working well right now:
Coaching Clients
I'm still using my retargeting ad on Facebook to remind website traffic visitors that I do offer coaching. The news feature was really helpful for my coaching applications as well. It generated around 12 additional applications.
Website Traffic
My friend, Kaelyn, runs my Pinterest account. We are still implementing the Pinterest Avalanche Traffic strategies and frankly, the only thing slowing us down is me not being able to write as much content as we need. The other piece that helped the website traffic grow was the news feature. I was also quoted on CNBC for an article about paying for school. So now I'm trying to replicate that again and get onto more media sources.
Here are the latest blog posts launched during November:
Email Subscribers
Ugh. I'm still struggling with my email subscriber strategies. They just aren't getting the focus they deserve. I'm still sending my weekly emails, but I am working towards gearing up for a big promotion during January for money challenges.
Podcast
The Money Nerds podcast is still doing pretty good. It is still growing at a steady rate month after month. It's been great. Many people have been wondering what the "secret" to growth behind the podcast has been, frankly, it's not 1 thing.
Here are a couple areas I think have been helping:
I work with an absolute rockstar to do podcast outreach for me. This means she is sorting through podcasts and reaching out to see if I can be a guest on their shows. It's been helpful for spreading awareness of my brand and The Money Nerds.
Consistency. There is no secret to growth other than staying in the arena and doing the work. In time it pays off.
New episodes launched in November:
Tools I'm Loving
I'm playing around with a lot of Chrome extensions lately. One of the extensions I'm completely loving is Marinara. It's still using the Pomodoro technique I shared in last months review, but this Chrome extension also tracks your productivity sessions each day, week, and over the month. So you can start to see when you are most productive and use this as a benchmark to have higher quality working sessions.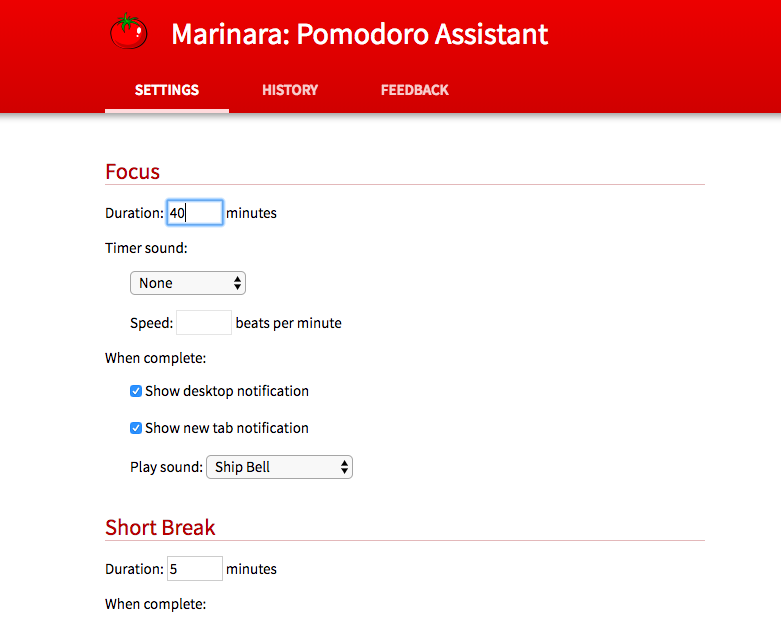 The second Chrome extension I'm diggin' is Momentum. It's a great one too! It cleans up your browser, allows you to add a "to-do list" for your day, tells you the weather, and shows a gorgeous picture of places all across the world.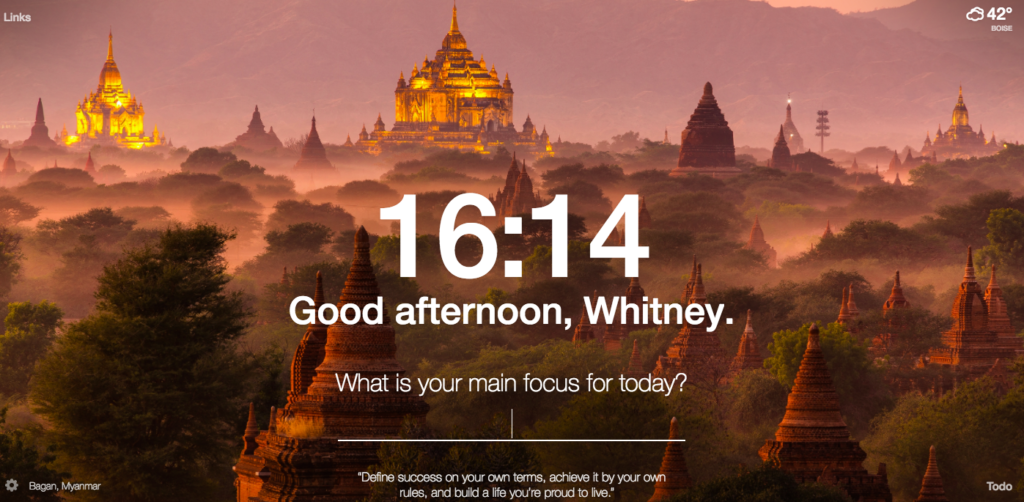 Quote I'm Pondering
"What you are afraid will happen, will happen. Because you will make it happen."
Phew! This one hit home for me. Whatever we focus on is what we will have appear in our lives. If you are focusing on what you fear, that will show up in your life more. #truestory!
Book(s) I'm Reading
I am reading more for pleasure right now than for education. I go through times where I just need a break for learning. (Sounds weird when I say it out loud.) But I really do escape into a good mystery book, so I'm expanding my reading for the next couple months to include more "fun" reading.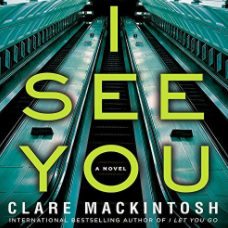 I See You by Clare Mackintosh is a book that I'm almost finished with and really liking. It's about a lady that finds her picture in advertisements and finds a link between the advertisements and crimes. That's all I'm going to say! I don't want to ruin it.
What's coming up next?
I'm recording some videos for a really big awareness campaign coming up soon. So you'll likely see them in all their glory towards the end of December. I am also working towards redoing my sales pages for my courses and expanding them with more details, testimonials, and information on how they can help change your life. (Seriously, they are the bomb!)
The Facebook group, Manage Your Money Like A Boss will be having more free educational workshops and talks hosted in there starting in January. So you definitely want to join in the group before then.