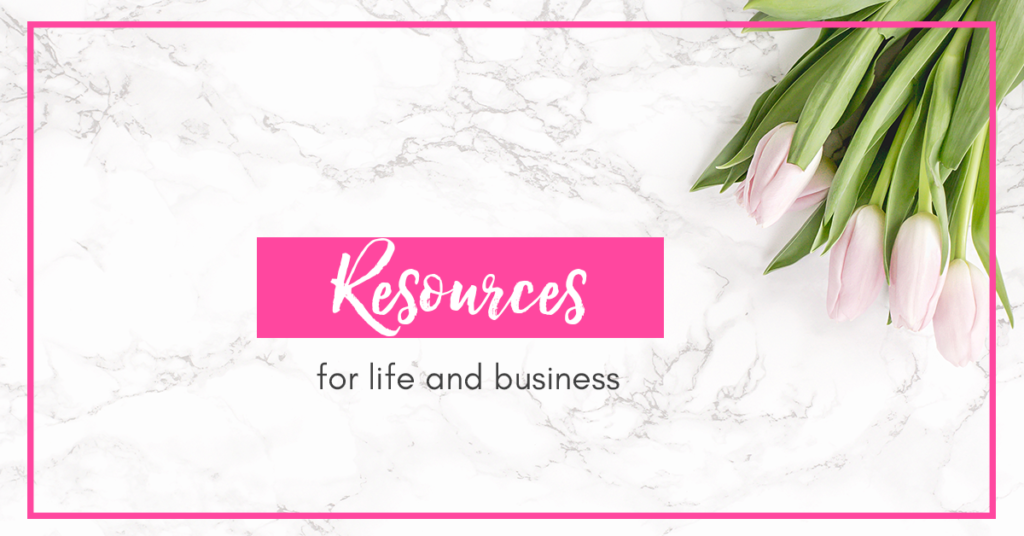 Alright, by popular request here is a listicle of the resources I recommend for life and business. 🙂
LIFE + MONEY
Qapital-  I started using this app as a way to save for my dream trip to Machu Picchu. What started as a test, turned into me continually using the app to this day. I highly recommend setting up the Reverse 52 Week Savings Rule and the Roundup Rule on one goal. Use my link and we each get $5 added towards our accounts for free!
(*Note there is a $2.99 fee for using this app and it is worth every single penny!)
Digit– this app helps you save money without you even knowing it through the power of micro-transfers. One of my friends started using Digit and saved $628 over 2 months without even noticing or missing the money. (*Note: there is a $3 a month fee for using this- however, if it helps you save more than you normally would, I think it can be worth the cost)
Betterment- this is my go-to resource for my personal retirement investing. I absolutely love Betterment. It's a robo-advisor, which means there are less fees associated with this. (Perspective- I pay .25% in fees with Betterment and used to pay 7% in fees through a financial advising firm)
Try it out today and you get 6 months for free by using this link.
Scott's Cheap Flights- I can't stop singing praises about Scott's Cheap Flights. If you love traveling, you NEED to have this subscription. You will receive emails from Scott (who is a total badass) with the cheapest flights. This is exactly how I booked a flight to Greece for $573, Italy for $420, and Amsterdam for $440. I pay for the $40 subscription because I love travel and have MORE than made up for my $40 fee by booking 1 flight.
The Power of Habit- this book is hands down one of the best reads I've came across in a long time. The Power of Habit directly impacts our financial lives, career paths, productivity, family/social lives, and business. If you are looking for a good read- this is it. Seriously! You'll love it!
Audio Version– Listen to it in the car, at the gym, or when you're getting ready for work or get the hard copy here.
BUSINESS
These are my go-to resources that help me run my business. I don't typically talk much about this process, but wanted you to know what resources I personally use.
Teachable- this is the course platform I use for all of the courses. I really like Teachable, because it's easy to use, creates professional looking landing pages and even gives you some pretty cool analytics like percentage of course completion, how many lectures are completed each day, and where is someone in the process. I highly recommend going through one of my courses on my Teachable school so you can see how the front end interface works from a student perspective.
Bluehost- this is in my opinion the best place to start with your blog hosting. It's easy to use, they have a plethora of articles and resources to help you get set up. If you aren't sure, I have a free course on my course site that shows you step-by-step of how to set up the back end of your site.
Convertkit-  my email service provider that I love and use weekly and behind the scenes for my business. The great thing about Convertkit that makes it more valuable than other email providers is the ability to tag and segment your email list automatically. Try doing that in Mailchimp! (hint- you can't)
WordPress Theme- this is the theme I use for my podcasting website. It was easy to use, allows for a shopping cart/store, and ultimately was functional and clean- which is what I wanted. This theme and many others can be found on Creative Market. My go-to website for anything graphic, font, or website related.
Clickfunnels-  I needed something that was systematic, intentional, and results driven. That's why I use ClickFunnels. ClickFunnels allow you to create sales funnels very easily and walks you through every step of the way. It also allows for one-time-offers, upsets, and countdown timers very easily. A little on the spendy side, but well worth the cost if you treat it seriously.
Xero- accounting software that makes business much easier. If you are consistently invoicing clients, and want a bit more of a visual software this one is for you. I've written an entire review blog post on this.
---
This is a constantly evolving list of resources and tools I use or recommend for managing personal finances and growing your business.
*Affiliate links are used above. What this means is you get to try out kick ass new products and I might receive a small commission to help keep this blog running. (Hey, blogs take a lot of time, money and love!)