*Since writing this post, Natalie has officially launched a course teaching you the exact steps to take to go through these phases and build a profitable blog while you still have a full-time job. Natalie successfully grew her business to over $165,000 last year and you'll get to see exactly how she has done this from her course. 
Learn more about it here. I've gone through it myself and it really is awesome! 
---
When I was at FinCon, I had the privilege of sitting down with my online friend, Natalie Bacon to talk about blogging.
I have been getting a ton of emails from readers wanting to share their passion with the others in the form of blogging. (Which I fully support!)
It was fun to hear Natalie's perspective on building a blog as an income generating business.
According to Natalie, there are three phases of blogging.
Phase 1: Create and Launch
In this phase you are setting up the back end of your website, creating content on a regular basis and designing your branding.
This is where I see most people get stumped.
They don't know how to create a website and they can't stick to a consistent blogging schedule. You need to first get comfortable with your publishing schedule.
How often will you be blogging? Once a week? Twice a week? Every day?
Whatever you establish with yourself AND your audience needs to be adhered to. If you want to get through phase one successfully, you've got to treat this like it is your profession. Seriously- blog like it's your job, even when no one is reading.
Natalie's Tip:
Block your calendar out for work time and take time very seriously! Build a professional looking blog.
My two cents
One of the things that took a ton of my time when I first began blogging with branding. I wanted things to be cute and look amazing. What I didn't do (regretfully) was create a brand. In hindsight, I would have created one template for Pinterest, one for Instagram, and one for Facebook. Then use the exact same template every single time. You'll save time and it will give you a more professional, cohesive appearance across all your platforms.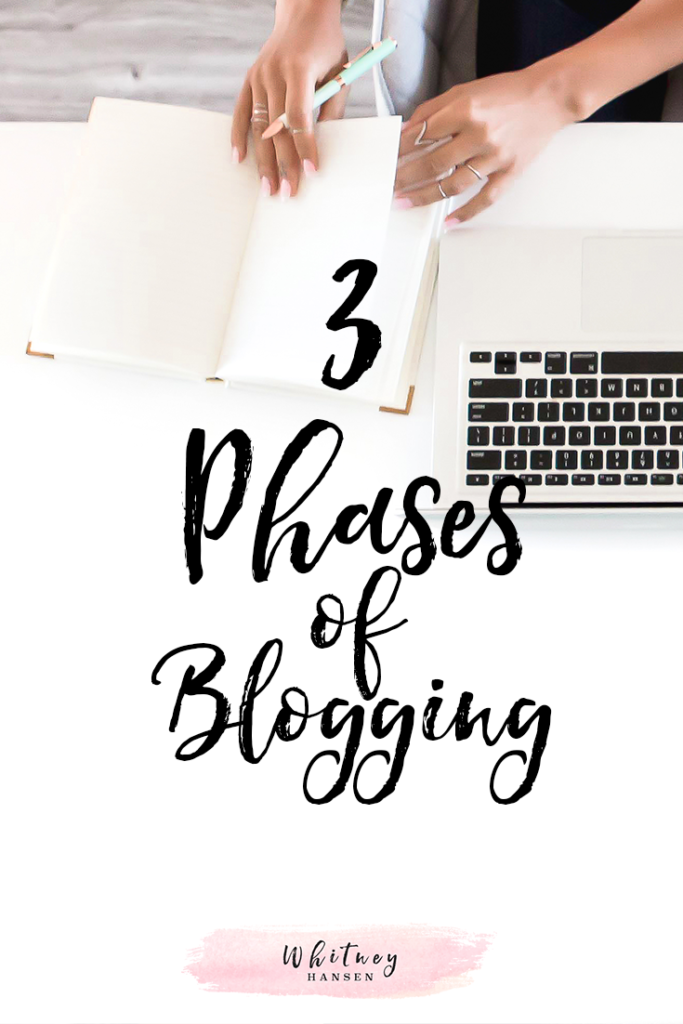 Phase 2: Grow
Once you build up your consistently content creation, you're ready to start focusing on the second phase of your blog- growth.
The growth phase is ridiculously fun. You get to test new strategies, try new marketing channels, and hopefully start getting some traffic to your website. There are lots of different ways to promote your blog, but one of the important ways that so many people ignore is collecting emails so you can share your posts and behind the scenes content later with people.
One thing that Natalie kicks butt at is Pinterest. I can't even tell you how many times I've talked with her about upping my Pinterest game.
But there are lots of different ways to get traffic to your website. My personal traffic generating strategies include my weekly podcast, The Money Nerds, YouTube channel and social platforms.The other piece that has helped me grow my own website traffic to tens of thousands of visitors a month is my Facebook group. Oddly, I don't promote in my group, but it builds me up as the expert and other people share my links in the group. It's beautiful!
Natalie's Tip
Post consistently with a minimum post of 1 time a week. (2-3 times a week is ideal). Remember to plan the night before so you don't get confused on what your focus might be.
My two cents
Focus on 1-2 platforms in the beginning. Don't get overwhelmed, stay focused on what your strengths are.
Phase 3: Monetize
This is the phase everyone wants to get to immediately. But, as Natalie mentions in the video, if you skip to this phase you're going to be in a lot of trouble. If you treat this very seriously, you can make $1,000-$3,000 within a year. Not bad!
If you are curious how bloggers actually make money, allow me to educate you on the most common ways.
Ads
Sponsored posts
Affiliate marketing
Paid products
That's most of it. So let's talk about each of these in a bit more detail.
Ads
Ads are not typically the place to start. When I began my blog I worked with a company to test some banner ads and sidebar ads on my website. At that time my blog was getting maybe 5,000 views a month. So my payout was non-existent. I didn't have enough traffic. Some of the more common blog advertising networks is media.net, Google Adsense, Monumetric, BlogHer, and Ad Thrive. Now that my blog traffic has grown significantly, you'll see I still don't have ads on this site.
Why? Because I focus more on the user experience AND I built up a revenue stream that doesn't rely on ads for me to be profitable.
Sponsored Posts
Sponsored posts are a great way to make a little extra money on your blog. This is where you would either review a product and have a company compensate you for the review OR mention a company's product or service in the text of your articles. Sponsored posts are really great for a company because the article lives on your site forever (assuming the article is still relevant to your audience). I do this on a case by case basis and am mad protective over the audiences I've built. So if you choose to go this route, don't sell your soul for $200. Make sure you are saying yes to the right offers and partnering with companies who believe what you believe.
Affiliate Marketing
I freakin' love affiliate marketing. This is where you can really see an increase in your revenue. Affiliate marketing is basically just online referrals that compensate you. Think of in-person scenarios. You tell someone to go to your favorite restaurant on the daily. Now, imagine that you got paid by the restaurant for each time you send someone to your favorite restaurant. That's what affiliate marketing is. But in an online world. 🙂 If you aren't used to this digital world, it can seem a bit shiesty. However, it's a totally legitimate way to make money and helps keep a lot of blogs alive. (This stuff is time and money consuming!) Most common affiliate marketing sites are Amazon.com, Shareasale.com, and CJ.com.
Again don't skip to this step! Most affiliate programs want to see that you have some traction on your blog first before approving you.
Paid products
This is my jam! This is how I make 70% of my income right now. I sell courses and 1:1 coaching. The paid products gig is a good one too, but I see waaaaaay too many people creating a course without validating that there is a market first. (So if you can, presell your courses to prove that people want them before you create them). Courses are great! They live forever and provide people the ability to consume your premium materials on their own time and at their own pace.
It's not just about creating your own digital products either. For my podcast, I sell The Money Nerds merch, and most people think I'm sitting on a decent size inventory of products in my garage. Not the case. There are so many options like ThePrintful.com where you can offer hundreds of SKUs and not carry a dime of inventory. It's a beautiful business model. So if you are dying to create your own t-shirts, mugs, posters, mousepads, etc, upload your designs or logo on Printful and you'll see that you can sell your own products. It's really cool!
I hope this post inspires you to start thinking about your own blog in these phases. Focus on one phase at at a time so you don't get overwhelmed and you can create a really cool side hustle or full-time gig!
Comment below and let Natalie and I know what you think. What phase are you at with your blog?
---
If you are serious about growing your blog into a profitable side hustle and have no idea where to start– I highly suggest buying Natalie's course. It will help you every step of the way and she explains things in easy to understand language.
How to Pay off Debt Workshop
Enter your name and email to get access to the training instantly.
(link will be sent directly to your email)