The Start
Reality.
2010 was a great year; I graduated college, I got my first "big kid" job at a public accounting firm and life was looking promising.
There was only one problem. I had almost $30,000 in debt staring me in the face. Yikes!
For some, that is okay, student loans are normal.
I didn't want to be normal. I wanted to be successful.
I wanted to make my own choices instead of having debt make choices for me. Intuitively I knew that $30k was a crap ton of debt.
The debt was making decisions for me, instead of me making my own decisions. I couldn't take a job at a non-profit (paid too little) and I couldn't start my own business, because I had debt to pay for.
My paycheck was officially owned before I even got my hands on it.
Sound familiar?
Most of us know that debt takes away our freedom.
It's easy to say c'est la vie to a job that you can't stand when you don't have to worry about paying for the bills.
I talked to a lot of people and what I found was disgustingly shocking.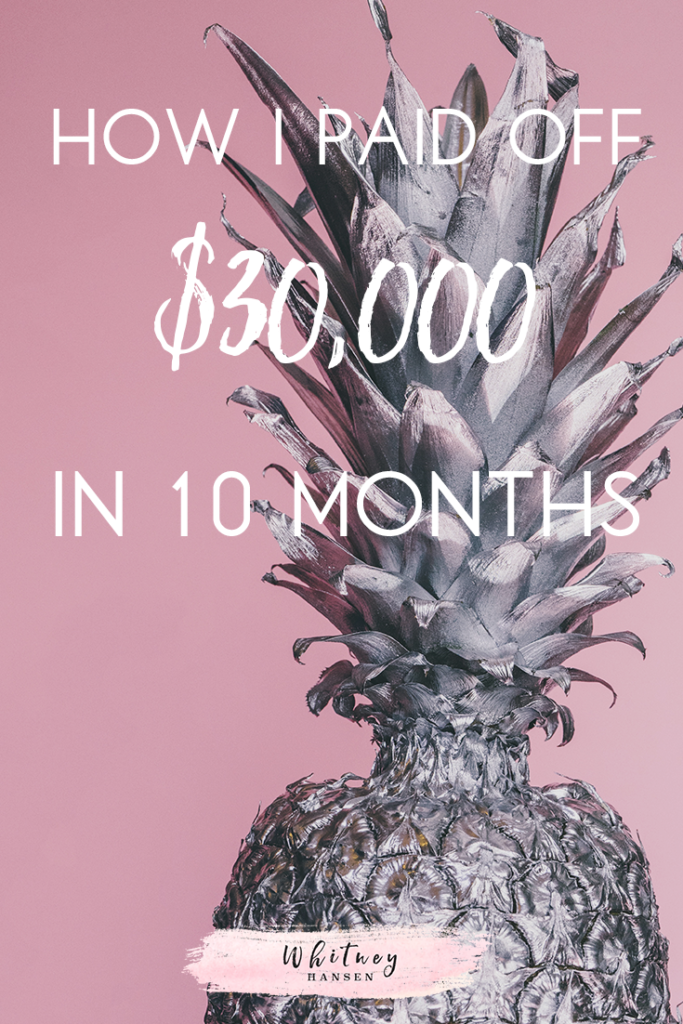 People had students loans well into their 40's and 50's.
Seriously?!
That is craziness. Your student loans are not your BFF.
Treating them like they are a necessary part of your life will cost you.
What are the costs, you ask? Well…
Thousands of dollars in interest

Hours of lost sleep

Stress levels that not even wine can cure 

and the most costly…
Your freedom.
I'm glad you are reading this.
Clearly you are much smarter than I was. It took me years to figure out that debt was stifling my growth.
I didn't even know I had problem until it hit me in the face – rather abruptly too. Okay, let's get down to business.
Now, you want to know how I paid off $30k in 10 months.
I will tell you exactly what I did.
---
Step #1
The Plan.
In order to tackle the Goliath of a debt, I needed a plan. Something that was actionable, measurable, and ambitious. I also needed a shovel.
I dug a pretty deep hole. Therefore, I needed a pretty big shovel to fill that hole.
I've always been a big believer in the saying…
"If people aren't laughing at your goals, you aren't dreaming big enough."
My first goal was to pay off my debt in 12 months, 1 year. When I shared this goal, I not only got some strange looks, laughs, and smirky smiles, I was told I set my bar too high.
This is normal. Anytime you go about trying to achieve a massive and audacious goal, people will try to put your dreams down.
Don't let them.
People project their version of the world onto you. If they don't think it's possible for them to personally accomplish the goal, they will tell you it won't be possible for you to do it either.
On October 10, 2010 I wrote in a notebook:
Pay off $30,000 by October 2011.
Due to the power of setting goals correctly, I actually beat my goal by 2 months. In August of 2011, I made my final student loan payment.
That night, I slept like a baby.
---
Step #2
The Sacrifice.
"Great results come at great sacrifice."
It's virtually impossible to accomplish cool things in your life without making some tough choices.
Trust me when I say, you will not be able to please everyone and your decisions will often hurt someone in the process.
I have always been good at working my butt off. Part of my plan of paying off my debt was knowing that I had to make some really, really big changes.
Cutting out buying coffee twice a week was not going to cut it.
To get drastic results, I had to make drastic changes.
Here was my pre-debt freedom situation:
Owned my own home

No car payments (thank baby Jesus!)

No credit card debt

Was in a serious relationship

College degree

$30,000 in debt

Great part-time job at a spa with extremely flexible hours

Landed a Staff Accountant position with a flexible schedule
Great! I was in a pretty solid starting position.
Here were the sacrifices I made:
Rented my home out for $100 per month more than my house payment & moved in with my partner (allowing me to pay lower rent)

Sold all my awesome furniture (this was a bummer dude moment for me- but gave me a nice chunk of cash to start my debt free process)

Worked two jobs, 70-80 hours per week

Didn't have a day off for 3 months

Didn't buy coffee for 10 months (I almost forgot what the inside of Starbucks looked like)

Packed a lunch every single day (to this day, I still bring a lunch every day)
and probably the most important sacrifice…
My lifestyle choice.
I knew I could survive on less than $25,000 a year. Heck, I knew with my house rented out I could survive on $15,000 a year.
I lived in true "college student spirit" a little while longer. Let me introduce you to my massive shovels.
Shovel 1 (Spa Job):
This was my job that put me through college. I lived on a solely commission-based income for 4 years and knew I could continue living off of it.
Working part time at the salon meant that my income would decrease to around $25,000 a year.
I worked from 4:00 – 8:00 p.m. on Tuesdays and Thursdays, 11:00- 8:00 p.m. on Fridays, and from 9:00-6:00 p.m. on Saturdays. 26 hours a week. 100% commission.
Perfect.
Shovel 2 (Accounting Job):
Accounting is very cyclical business. I was deeply needed for audits and preparing tax returns.
I worked at the accounting firm Monday, Wednesday, and Sundays from 7:00 a.m.- 6:00 p.m. Tuesday and Thursdays from 7:00 a.m.- 3:00 p.m. 49 hours.
I was paid once a month at this job.
This check went ENTIRELY to paying for my debt.
Have you ever been so busy that you literally couldn't even make it to the bank, let alone go shopping?
That was my life. Being so busy was a huge blessing in disguise. I didn't even have time to spend money if I wanted to. My sacrifices were drastic.
I wanted unreal results, and I got them.
It wouldn't be fair if I didn't discuss the tools I used to make this happen. These financial tools were the real reason I was able to accomplish this goal.
---
Step #3
The Tools.
A plan isn't enough. Working two jobs isn't enough. Sacrificing isn't enough.
You need to have the right tools under your belt.
Let me repeat that….
Tools. You must have the right tools! Paying off debt is not an easy task.
"Most debts are fun while you are acquiring them, but none are fun when you set about retiring them."
I learned firsthand the importance of creating an effective budget. Creating a budget is nice, easy to do even..
…but creating an effective budget- that's a different story. What was in my toolkit?
Ridiculously easy, step-by-step formula to accomplishing cool shit
This is an art and a science. There are proven research based ways to make your goals more attainable and increase your odds of achieving them ten- fold. There are actually 7 areas you should be setting goals in. Isn't that crazy?! Within minutes of talking to you and hearing your goals I can immediately determine the likelihood of you achieving them.
I want you to succeed! So be sure you are setting goals in these 7 areas:
Financial (pay off debt, build up your savings account)

Family (send a birthday card for all your siblings birthdays)

Social (coffee with friends once a week)

Career (get promoted to leadership role, start a business)

Health (weigh a certain weight, run for 20 minutes straight)

Personal (always wanted to learn to play guitar- this could be a personal goal)

Spiritual (including meditation, going to church, working towards inner peace)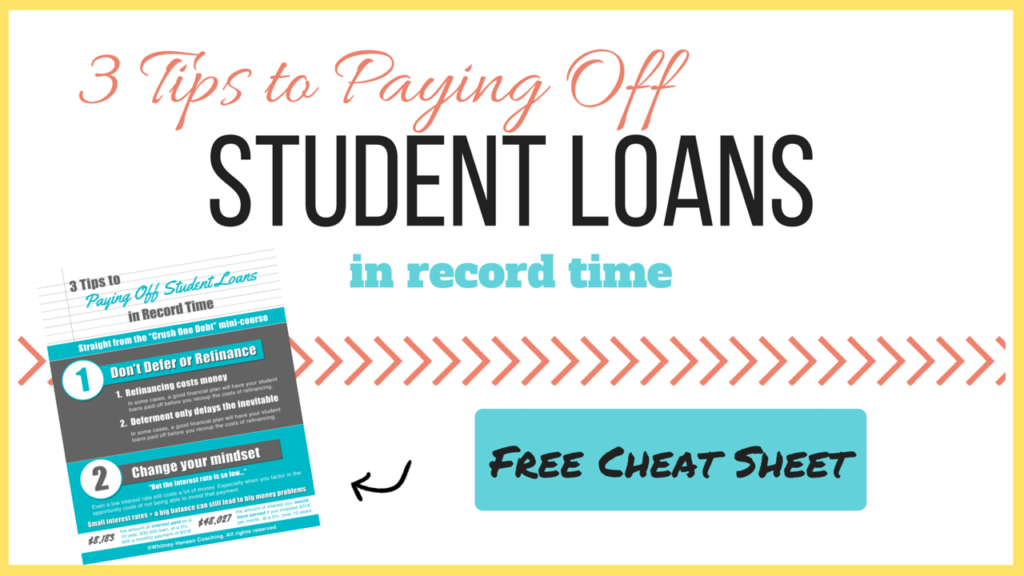 Effective Budgeting
Learning how to create an effective budget is critical. Fortunately, I learned some extremely valuable tips to creating a budget that works. Effective budgeting makes your money start working for you. It takes into consideration paying off debt, building up an "oh sh*t fund," saving for retirement, and even sneaky expenses like holidays and birthdays. If you set-up your budget correctly it will be a truly effective one. 
Tricks to saving hundreds on student loan interest
One trick to paying off debt faster is by paying principle only. Your payment is composed of two main pieces:
Principle & Interest
When you make a payment, the amount paid is divided into interest and principle. Paying principle only means that your money is going toward the amount borrowed only- not to the banks pockets.
But did you know you can't pay principal only on student loans?
Don't worry; I learned a secret workaround for this. This secret literally saved me hundreds of dollars. And i even put my finding in this handy cheat sheet and added a couple more tips in the cheat sheet as well. It's free, so download it, print it off and keep it handy as you go through your paying off student debt process. 
Tips to staying motivated while getting out of debt
Getting out of debt isn't easy. There are a ton of different tips and tricks I learned while paying off my debt.
You've got to consistently go back to your "why." Why are you getting out of debt? What are the feelings you felt that led to you wanting to make this change? Are you embarrassed? Did you overdraft your checking account? Did you not have enough money in your account and couldn't buy groceries? Going back to your why will keep you motivated throughout this process. 
---
Step #4
Perks of Livin' The Debt Free Life
Do you know how nice it is to have the freedom to travel whenever you want, spend $500 on a shopping trip guilt-free, and purchase luxury items?
It's not out of your reach.
You can do it.
In May 2014 I went to Kauai. Kauai is a beautiful, beautiful island.
I hiked along the Napli Coast, some of the most rugged and gorgeous terrain, snorkeled with tropical fish and turtles, watched endangered monk seals snooze, rode in a helicopter around the island, drank Mai Tais, relaxed while reading on the beach, and my favorite- got caught hiking in a tropical rainstorm.
But the best part of livin' the debt free life…
When I return home, I have only the memories with me- not the credit card bill.
Imagine what you can do when you no longer have to worry about debt.
Best of all, I'm able to start my own business without the financial stresses that go with it. As an entrepreneur, living a very low risk life is important to me and keeping my monthly expenses to a minimum makes a huge difference in business growth vs. business flop. 
---
I really hope this post has helped you gain some insights around what I did to pay off my debt. I am a very normal, average, person. If I can do, anyone can do it. 
How to Pay off Debt Workshop
Enter your name and email to get access to the training instantly.
(link will be sent directly to your email)