I like to do a recap of how the year went as a way of closing off the year and sprinkling little tips throughout.
As a whole, 2019 was not a great year for me.
It was a struggle.
I like to think about my life into different areas:
Health
Money
Business
Life/Relationships
Travel
Let's start with the good things.
What went well in 2019
Health
Two things I did that contributed to positive health benefits:
Prioritizing getting at least 7.5 hours of sleep (this was really important to me). I started being diligent about starting to "shut down" for the night at 9:30 PM each night and hitting my bed by 10 PM.

Meditating at least once a week. I was a haphazard meditator before, but tried taking my mental health more seriously by using my Calm app. Even on the airplane, I will pull out my phone and do a 20-30 minute unguided meditation to help me get to sleep.

Money
By far of my favorite money things I started in 2019 was testing side hustles more diligently. My favorite is furniture flipping! I started that in April and learned how easy it is to make money.
Another positive for my personal finances is starting to actively prioritize saving for an investment property. After talking to numerous people on The Money Nerds podcast, I have become convinced that real estate investing is a path I'll be taking in the future. I started saving for real estate using Qapital. I set up the reverse 52 week saving challenge and round-up rule for this goal.
Business
A huge perk is my business did pretty well in 2019. I was able to hit some really exciting revenue goals and more than double the downloads for The Money Nerds podcast. We had our 3 year podiversary in October 2019! It's crazy because that this little podcast I record from my home has grown and helped so many people. Blows my mind!
I given the opportunity to speak at over 15 events, and 4 conferences. This is a huge milestone for me, because I used to be terrified of public speaking. Like pancake armpit sweat, shaky voice nervous. I've learned to overcome that fear and actually really enjoy speaking to groups.
My business also received a lot of great press this year and was featured on CNBC, Forbes, and even Yahoo! Finance. That was exciting!
And the last great thing with my business is I had my 1 year anniversary of working on my business full-time! I didn't know if I'd be cut out for entrepreneurship, but I'm doing okay and getting into the routine of working from home.
Life/Relationships
This year I worked on building up my personal relationships further and it paid off. My relationship with my sister, mom and Tony grew even more. If I had to pinpoint why that is, I would say it was due to me being more thoughtful about asking if they are looking for advice or just want me to listen. I'm a natural fixer, so anytime someone has a problem, my gut reaction is how do I fix this?
For my personal relationship with Tony, part of positive growth came from me respecting our differences. (ie. I love being in nature and hiking, Tony does not.) This was a year where I allowed myself to not be pissy about our differences in hobbies and enjoy my nature time on my own.
Travel
Per usual, we traveled a decent amount.
My mom and I went to Kauai and watched sunsets every night, snorkeled, hiked, ate açaí bowls, and spent a lot of really great quality time together.
We explored Denmark with my family. My favorite was biking along the water on Aero Island, a charming, quiet, and stunning place.
I spoke at FinCon in Washington D.C. and extended my trip a couple days to do some solo sight seeing and see our nation's capitol. My favorite was Newseum (which I hear is closing down). 🙁
I also attended Statement, a really fun conference, in New York. I had never been to NY before, so I extended a couple days to check out a Broadway show, take a ghost tour, take a heartbreaking tour of the 9/11 memorial, and proudly navigated the subway.
I also spoke at Camp FI Southwest in Joshua Tree and met some really amazing people. Camp FI is the best! I always walk away with some incredible new friends. I arrived a couple days early and explored Palm Springs, and then hiked around Joshua Tree National Park (one of my bucket list places).
Tony and I went to Japan! This was Tony's dream trip. In fact, he put his foot down and said no more trip until he goes to Japan. We explored Kyoto, Osaka, and Tokyo. Tony and I agreed that the food in Japan was consistently the best we've ever had traveling.
Some smaller trips I took in 2019 was a fun beach getaway to Lincoln City with my sister-in-law, and a couple great backpacking trips in mountains of Idaho.
Those trips were all incredible, but my favorite trip of the year was taking Patrick to Cannon Beach, Oregon to let him explore the beach and hang out with us. It was a memory I'll forever cherish.
What didn't go well in 2019
While there was a lot of great things that happened in 2019, it was a really, really tough year emotionally.
I failed to hit my overall business revenue goal. I also failed to hit my podcast downloads goal. My productivity wasn't as strong in 2019 and there were days I would stare at my computer and spend an entire day with very little work done.
I also struggled with a lot of self-doubt and possibly a mild case of depression and anxiety, which affected my motivation a lot.
I found myself skipping the gym and eating like crap or forgetting to eat. I failed to prioritize my personal health during 2019 and I could feel it.
But the worst thing that happened in 2019 was saying goodbye to Patrick. He had cirrhosis of the liver and it was just too far gone. It's still a very "fresh" wound for me and I'd be lying if I didn't say almost 2 months later, I still find myself in tears and missing my little buddy often.
The last quarter of 2019 was also financially tough. We somehow cash flowed over $6,000 in the last quarter for emergency expenses without tapping into our emergency fund.
My greatest 2019 lessons
Lesson 1: It's okay to be alone.
I've learned to enjoy and appreciate being alone. I used to be fearful of solo trips, going an entire day without checking my phone, and just being at home working. 2019 was my year to be okay with that. It's allowed me to process my thoughts more thoroughly.
Lesson 2: Life is really short.
Life is short and grief is really, really painful. The overarching lesson that hit me the hardest was losing Patrick. I learned how strong I can be, how hard I love, and how much joy is in the mundane. Losing Patty really knocked me on my ass and crushed me. His death showed me how short life is and how quickly things can go downhill.
This an overview of my 2019. There were a lot of great highlights and lot of hardships (some of which, I didn't feel comfortable sharing here). But as a whole, I'm looking forward to 2020 and trying to make this year one of my best.
Cheers,
Whitney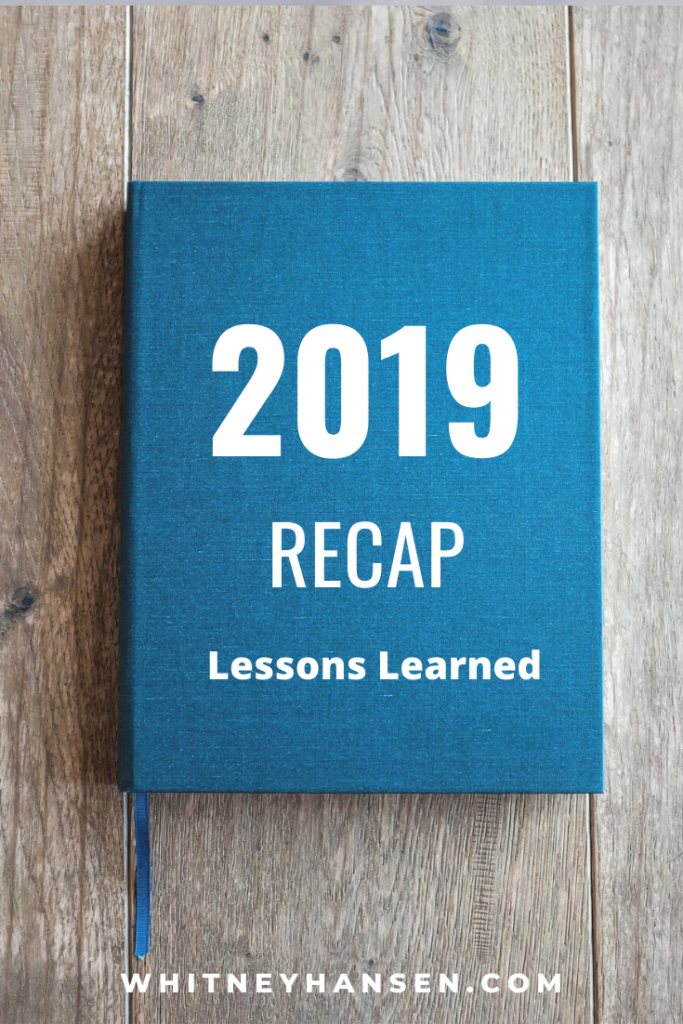 Download all 15 Phone Wallpapers!
You look at your phone an average of 75 times a day. Makes sure you are using those glances to help you reach your goals!
Get access to all 15 wallpapers for FREE.