This week is going to be an amazing doozy! It's a tough one and will take a bit more time than the previous two weeks challenges, but I promise– it's 100% worth it.
Just to recap, during Week 1, we discussed mindset and how to start building up an abundant mindset and perspective. Week 2 was all about setting financial goals and focusing on ONE 90 day actionable goal.
Now, we have to see how we did as a whole during 2018.
You ready for this?
*Sidenote- if you maintained a budget the entire year, this is going to be easy for you. If not, it's a bit more difficult, so we will need to do a bit of guesstimating.
I also created a few worksheets to help you with this process, so make sure you download those as well to help you as you go through this week's challenge.
Why this challenge?
So many of us go through life and don't even know how we are truly doing financially.
It's incredibly hard to know what areas to improve upon if you have never even taken the time to figure out which pieces need improvement. That's why this week we are getting into the weeds and understanding where your money actually went during 2018.
Before you get started
DOWNLOAD the materials here. All materials in this folder are view only, meaning you can't edit any of the documents. So you will need to download these so you can edit them and have lifetime access to them.
Step 1: Journal prompts + checklist for your past year
When thinking about a yearly financial review, it's important to take the time to reflect upon how the year went. Without diving into the numbers yet, ask yourself the following questions:
What were your financial goals at the beginning of 2018?
What were some of your big purchases during 2018? (ie. Medical expenses, travel, car, home, wedding ring, home renovations, etc.)
Do you feel that you are finishing the year in a better or worse financial position? What contributed to the results you ended with?
What did you accomplish this year that you are most proud of?
What did you do this year that you are most disappointed in?
I've included this is a Google Drive folder so you have access to all the materials in one place.
Take some time and really write out your answers here. This gives you a bit more insight into how you felt about the year as a whole.
The financial checklist is also included in the Google Drive folder so print that off and see how you did. What this checklist helps you understand if what areas you can use a little improvement in and what areas you are doing okay in.
Here's a little taste test of what some of the questions look like: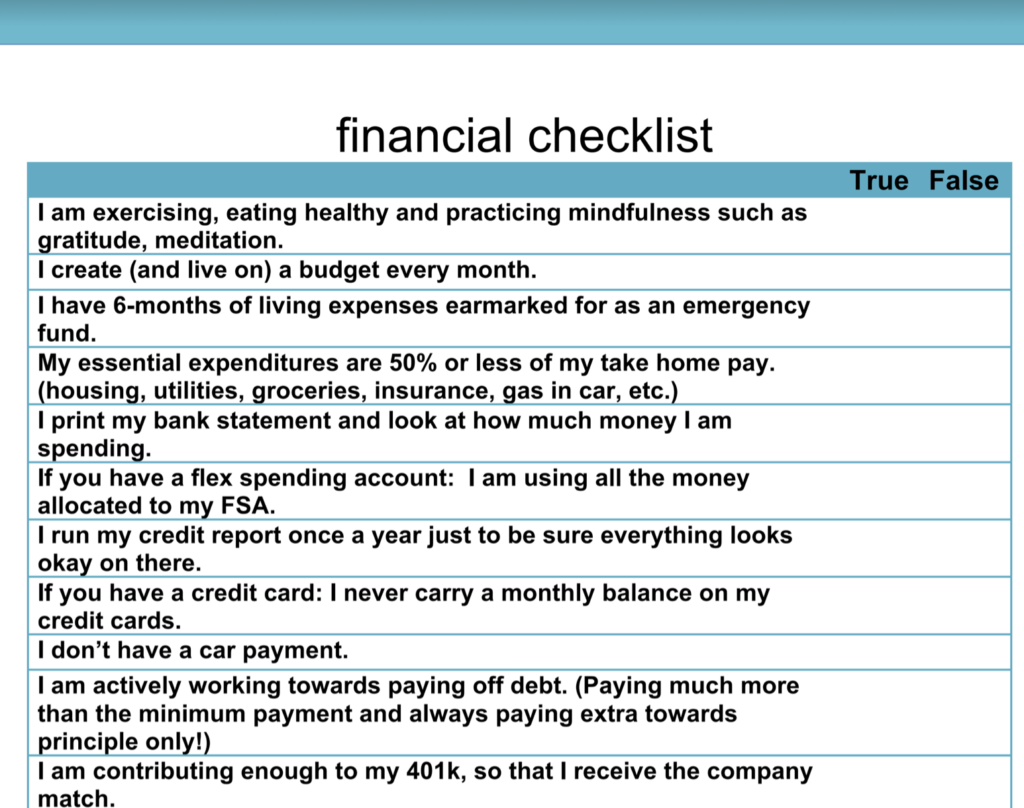 Step 2: Pull your credit report and check your credit score
At least once a year, you should be checking your credit (even if it's already in tip-top shape).
I am a big fan of Credit Karma for checking your report and your score. Just note that because it's a free app, they make money by recommending credit cards to you, so stay strong and avoid that temptation.
If the temptation of credit cards being in your face all the time is too much, you have two steps to get the same information:
Pull your free credit report from AnnualCreditReport.com
Go into your local bank branch and request a copy of your credit score. They will be able to show you what your credit is looking like these days and more than likely recommend ways to improve your score.
The piece that we need to look through on your credit report are these things:
Is everything on your credit report accurate? Are there any accounts open in your name that you don't recognize? Are balances correct or pretty dang close?
If you have credit cards- are you utilizing less than 30% of your credit limit? (ie. if you have a credit card with a $2,000 limit, are you charging $600 or less?) If you are utilizing more than 30% your credit score is probably not as high as it could be.
Can you request a credit limit increase? HEAR ME OUT ON THIS ONE: before you request a limit increase, if you are currently experiencing credit card debt, DISREGARD THIS STEP as it would likely just cause more debt in your life. But, if you have a credit card and you are paying it off in full every single month, then requesting a credit limit increase will help your overall credit score.
Step 3: Calculate your net worth at the start and end of 2018
Hopefully you've been tracking your net worth, but if you haven't, now is the time to start.
Go back to the beginning of the year and calculate what your net worth was. Then calculate your net worth today and see if it has improved.
Your net worth might go down if you had large purchases or any type of emergency, but as a whole– we want our net worth to grow over time, not decrease.
To calculate your net worth use this simple formula:
Assets- Liabilities = Net worth
Assets are things like the market value of your home, cash in the bank (including your emergency fund), the value of your investments as of today, appraised value of assets around your home, your HSA or FSA accounts, the Kelly Blue Book value of your vehicle, etc. Basically anything that you can convert to cash.
Liabilities are simple- this is anything you owe. Things like student loans, credit card debt, the money that your parents lent you, your car loan, your home loan, mortgages on investment properties, your balance on a HELOC, etc. Any debt that you have should be included in this section.
Then once you have these things detailed out, subtract the two and you'll have your overall net worth.
*It's not uncommon for your net worth to be negative. For a lot of people getting to a net worth of 0 is a really big deal. Don't be embarrassed of ashamed of where you are. We all start at very different places.
But embarrassment is not an excuse for ignorance. You need to know this number.
Once you have your net worth for the start of 2018 and the end of 2018, compare the two. Did it increase? Decrease? By how much? What contributed to the change? Could you do anything different next year?
Step 4: Get clear on how much your living expenses are costing you
Again, if you keep a monthly budget, this is super easy to do (this is another one of the big reasons why I LOVE keeping and tracking my money monthly).
We've got to get clear on how much we spent over the year.
Here are the categories to calculate summarize at a minimum:
Housing
Utilities
Groceries
Eating out
Travel
Hobbies
Pet expenses
Hair Maintenance
Medical Expenses
Insurance Premiums (monthly payments)
Debt Payments (car, credit cards, student loans, personal loans)
If you are starting from scratch and do not have a years worth of budgets available, you might need to estimate on a few of these categories.
For housing, if you pay $1,000 per month on housing take $1,000 * 12 months and you have spent $12,000 during 2018 for housing.
Pet expenses can be tricky, do a rough estimate on how much you spend on pet food and then call your vet's office and see if they can give you a print out of your visits during 2018. Then add those all up and get a basic idea of how much that has cost you. Don't forget pet hair appointments as well.
Variable Expenses Random Sample Audit
If you have no clue how much you spent on groceries, eating out, hobbies, etc. during 2018, conduct a random sample audit. Choose 4 random months (January, April, August, November) and look through ALL of the bank statements during that time.
Print those off and keep them in front of you. Then take a highlighter and start to add up each of these categories.
Add them up for each month and take a rough average.
For example- Groceries:
January- $400
April- $300
August- $200
November- $450
Total: $1,350… then divide that by 4 (for the total sample months we are using) and we get an average of $337.50.
Now, take that average of $337.50 and multiply by 12 months for a total of $4,050.
You most likely spent ~$4,050 on groceries during 2018.
Do the same thing for the other variable categories. It's not perfect, but it's a hell of a lot faster than trying to go back through and do this for every single month. **Bonus points if you do choose to do this for every month.**
---
How did this go for me?
I was a bit shocked when I calculated how much everything has been costing me over the course of a year. I spent WAAAAY more than I thought on business services (monthly memberships).
So now I know for 2019, to watch out for those extra expenses and stop saying yes to everything that sounds like a good deal.
I was also surprised to find that I spent way less than I thought I would have on eating out. I knew I had that in check pretty well, but I really am quite proud of myself for that one.
Tips for making next year's audit easier
Start budgeting now and stay on track the entire time (at the very least sign up for Mint so it maintains that data automatically for you).
Track your net worth on a monthly basis (you can manually calculate it or use Personal Capital)
Keep your numbers from this year in a Google Sheet so you have access to the same data next time you do an audit.
Go through these exact steps again in 6 months so you can see how things are going and make adjustments if you aren't happy with the results.
Good luck with Week 3! This will likely take a few days to get everything in line, but it's going to be well worth the effort, I promise!
Pin This For Later