Net worth is this concept that a lot of people seem to forget is important.
I see waaaay too much attention on credit scores than I do on net worth.
And I understand why. A sizable net worth takes years to accumulate.
DISCLAIMER:
While I'm a big fan of tracking your net worth, keep in mind, your net worth is not your self worth.
You are an incredible human and just because you're net worth isn't where you want it to be, does not mean you are a crappy person. Don't ever forget that! We all have very different journeys and the important piece is to use your past experiences as fuel for your future.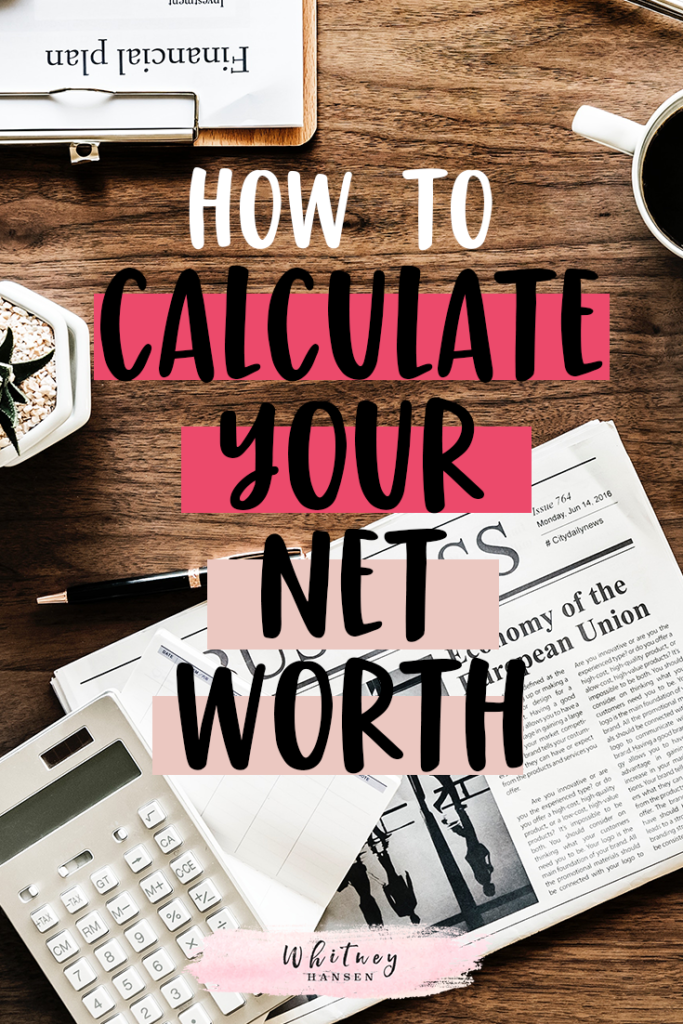 What is your net worth?
Your net worth is a snapshot of your personal situation at a moment in time. It might fluctuate, but the important thing is the overall number should be increasing over time. Net worth is composed of two categories:
Assets (things you own)
Liabilities (things you owe)
Some people don't consider a home an asset and some people do. Frankly, I don't care if you do or don't as long as you are consistent in your tracking. For example, if you own a home, the value of your home is considered an asset, but the loan amount needs to be a liability. Make sense?
Assets
Let's break down some common assets.
The assets that most people come across are:
Homes
Cars
Cash in the bank
Investments
401k, 403b, IRAs
Raw land
Rental Properties
Valuables around the house (any antiques, jewelry, equipment that is worth some cash, etc)
In a nutshell, it's anything you own that is convertible to hard cash. Make sure you use market value or blue book value for items. For example, if you aren't sure what your house is worth, you can have it appraised, look at comps, or use the value listed on your latest tax assessment. For your car, use Kelly Blue Book or Edmunds to see how much your car is truly worth. Investments provide you with monthly statements, so that should be fairly easy to locate.
Everything we are including in this section is an educated estimate- be careful about over inflating your numbers. The goal here is to be as definitive as you can by using the best numbers you can find. If your car is worth between $5,000-$7,500, use $5,000 for tracking purposes.
Liabilities
Liabilities are super easy for people to understand, it's basically anything you owe money on.
Common liabilities that you might come across:
Student loan
Car loan
House loan
Credit card debt
Money you owe to your mom or dad
IRS debt
Any type of loan or anyone that is expecting payment from you should be included in your liabilities.
♥ Click here to download my net worth tracker template and get started today! Download a copy and make it your own.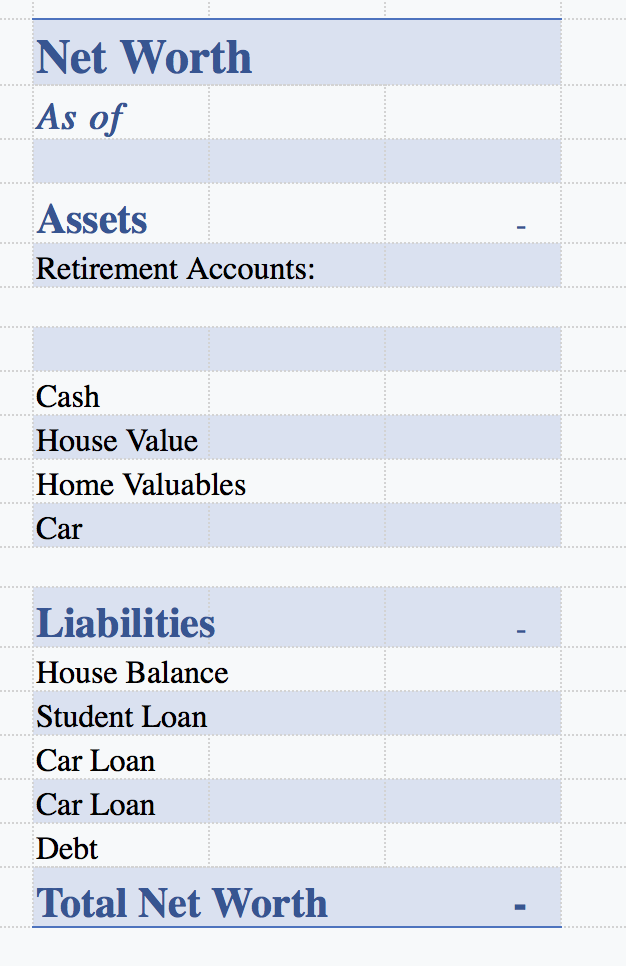 How to calculate your net worth
Now that you have a better understanding of what numbers are included in your net worth, it's time to figure out what your net worth is.
You can get real nerdy and use a spreadsheet (my preferred method) or just jot down your assets and liabilities on a piece of paper.
Once you have everything written down then you subtract your liabilities from your assets.
That number is your net worth.
Let's say you get into the numbers and your assets are $100,000 with liabilities of $150,000. Your net worth would be -$50,000. For a lot of people just getting to net worth of zero is a really big deal.
Remember how I mentioned earlier your net worth is a snapshot in time and the overall trend line should be moving upward- for a lot of people calculating their net worth is a really important way to see if you are progressing.
I highly recommend updating your net worth on a monthly basis and looking at the trend line over the course of a year. Once a year reassess the value of your assets and adjust as needed. Cars tend to depreciate fairly quickly, so the market value of your car will likely decrease each year. Just make sure you have that reflected in your calculations.
How do I know if I'm on track?
This is such a great question and one that I hear all the time. While I don't think you should compare yourself to other people, there are certain formulas that help you understand if you are financially where someone of your age and income ideally should be. Everyone starts a different place, but this will give you a bit of context.
Net worth = [Your age – 25] x [Gross income/5]
If you are 28 years old making $55,000 before taxes then your target net worth at this stage is $33,000. (28-25=3) x ($55,000/5= $11,000)
This number might be way more than you have right now or way less than you have, but it's a good target to see how you are doing.
Want to increase your net worth?
It's a two sided equation and working on both sides makes a big difference. If you are feeling the pinch of having too much debt, then paying off your debt will directly impact your net worth in a positive way.
Additionally at some point, once you are debt free, you have to start boosting your assets to grow your net worth further. For example, I personally only have a mortgage on my liabilities, so each month that I make a house payment, I'm directly seeing this net worth amount grow. It's super exciting! But I'm also at a point where boosting my assets makes a lot more sense. So I do my best to contribute more into my investments each month and am considering investing in rental property as soon as I save up enough money to do so.
Resources that increase your net worth
Pay off debt- take my free how to pay off debt training 
Invest more money– my 3 day investing challenge helps you learn exactly what to do to grow your funds
These resources will get you going to an increased net worth!
Happy tracking!
How to Pay off Debt Workshop
Enter your name and email to get access to the training instantly.
(link will be sent directly to your email)