Have you ever wondered what a financial coach's financial system look like?
I can't speak for others, but I am certainly qualified to talk about what works for me. 🙂
Here are some steps that I personally take to help me manage my own financial life.
Step 1: Set goals
Many of us try to cut to the chase and immediately dive into the numbers, but slooooow down and start with your own personal goals.
What are you working towards? What's important to you? Why is that important to you? You have to get clear on where you want to go before you start your journey there.
And as you might imagine, there is a right way to set goals. I am a huge fan of 90 day goals. I've talked about this quite a bit on Instagram and love planning my life this way.
Step 2: Create a budget
After you have your roadmap (aka goals), it's time to create your budget. My expenses are pretty minimal, so it makes things a bit easier. For my budget, I use Google Sheets. This allows me to pull up my numbers from anywhere and on all my devices.
To create a budget, first write down your income for the month, then jot down all of your expenses (fixed and variable). The important piece to creating a budget is ensuring that your forecasted numbers are based on historical data. We don't want to be pulling numbers from thin air because they "sound good."
Step 3: Money dates
Once you have your budget created you MUST check in with it. Pull out your phone, set a weekly calendar reminder and have a money date with yourself. Money dates take approximately 15 minutes and yield incredible results! During my money date, I'm reviewing my financial goals, visualizing the feelings I will feel when accomplishing them, and updating my budget with how much I've spent so far.
This keeps me on track, forces me to review my goals and start getting a better grasp on where money is going.
Step 4: Update net worth
This step is totally optional, but I highly recommend working it into your money plan. Your net worth is a really great indicator of how you're doing financially. It tells you if you need to work on your assets or liabilities more, and ultimately if you are over-leveraged on your debts.
I update my net worth on a monthly basis. If net worth is a new concept for you, you can learn more about it in this blog post (linked below)
Step 5: Automate
We're all busier than ever. It's crazy! But, relying on willpower to move your finances along is not a great idea. That's why it's so important to automate your bill pay, savings, and investing. Don't leave it up to choice. The video explains the concept of decision fatigue and lemme tell you- it's a very real thing.
Automating your bill pay is super easy too. Each company has their own website/platform that allows you to schedule payments to be made on those bills.
Additionally, banks allow you to save money automatically on a certain day each week, month, or few times per month. There are also some really amazing apps that help you with savings. I personally have been using Qapital since January 2018 to help me save money for my dream vacay and it has made the process so easy.
For investing I use Betterment. It's a robo-advisor that allow me to invest my money quickly, easily, and without having to think as much. Betterment uses Vanguard ETFs (exchange traded funds) and they all have low expense ratios. I personally LOVE Betterment. At this exact moment, I am contributing $300 per month to my Roth IRA and will occasionally increase or decrease to ensure I'm hitting my max contribution of $5,500 per year.
 Step 6: My daily habits
This part is also important. Your daily habits can be helpful or hurtful in your financial life. Make sure you are paying attention to those little daily things you do. Maybe you go to the grocery store every day on your way home from work because you just need to grab a couple things. Or maybe you take a quick walk at 10 AM every workday to grab coffee because you reallllly don't want to dive into your email yet.
We all have daily habits. Your job is to figure out if they are hurting your financial life.
Some of the bigger habits I do to help me stay in check is my Sunday meal prep days. I LOVE meal prepping. When I look in my fridge and see meals lined up in Tupperware— I high five myself.
I am one of those weird people who will forget to eat throughout the day and if I had to cook every time I had to eat, I'd be screwed. Additionally, if I didn't meal prep I would waste so much money on eating out. It's quick, easy and saves a lot of time and money in the long-run.
The other habit that I started to take seriously, is keeping my coffee shop choices basic. Instead of buying the fancy latte that costs a first born (because you know, the going rate for a first born is $4.50….????), I will opt for a small black coffee and add in cream and 4 splendas. (don't judge- I like my coffee sweet.) But that saves a ton of money. At Starbucks this costs ~$2.07, which means if I went 5 days per week, I'd be spending $41.40 per month. So I can still get my coffee fix on a budget.
Those are just a couple of my habits I use to help keep my budget and life in check.
There you have it. My personal financial system. If it seems too easy, it's because it actually is.  I hope it inspires you to simplify and systemize your own finances so you can start seeing better financial results.
Pin This For Later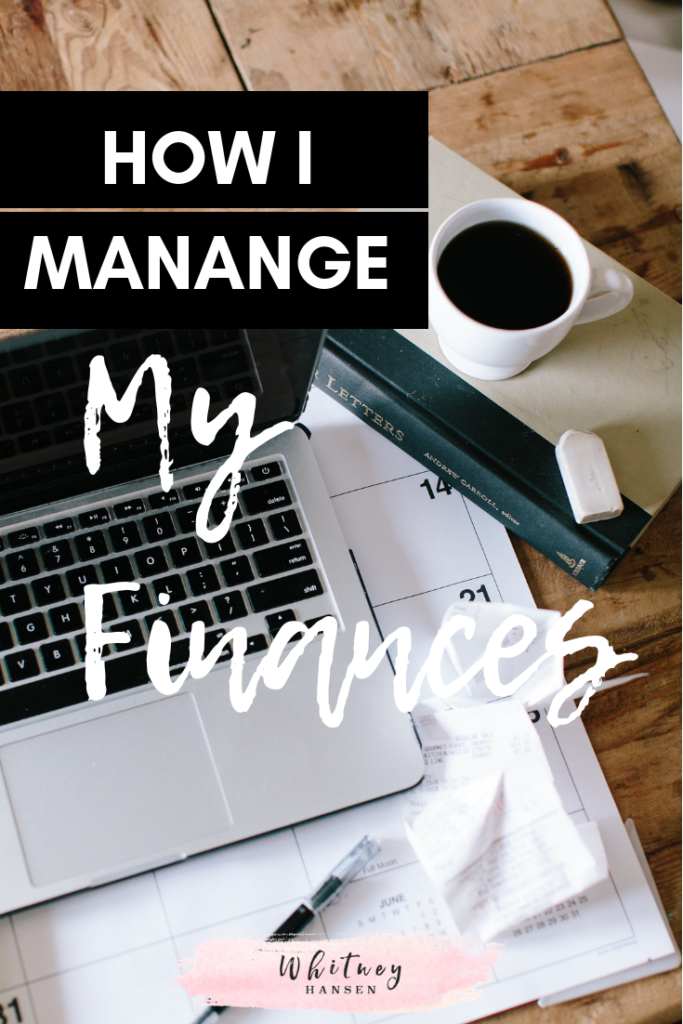 Free Budget Templates
Get instant access to both of my budget templates for people paid biweekly and monthly.