Want to get more results with your financial life?
Of course you do! (I presume that's why you're here.)
Then you absolutely must budget!
If your eyes just glazed over, hang with me.
Budgeting is actually really simple.
And I'll show you how.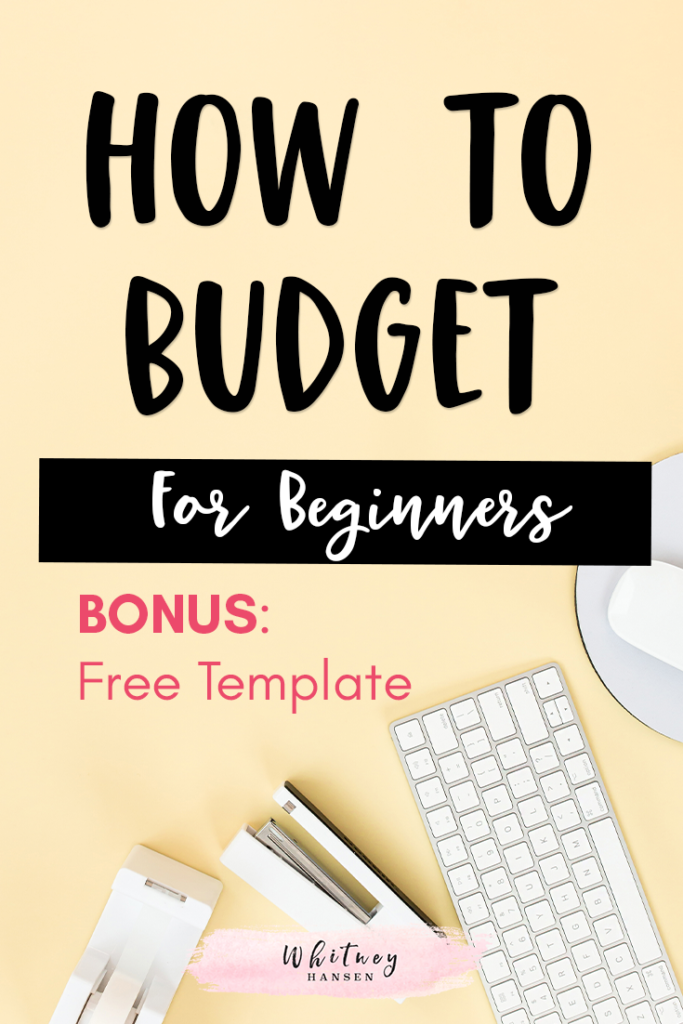 Step 1: Get Organized
The first step to any project is preparation. Set a timer for 10 minutes and get all the materials you need to put your budget together.
Here's a quick checklist to help you prep materials
Bank account username and password
Notebook
Calculator
Pencil
Wine
Printed copy of a calendar
A budget template, excel document or a dedicated notebook for budgeting at the very least
Free Budget Templates
Get instant access to both of my budget templates for people paid biweekly and monthly.
Step 2: Jot down your income and expenses
Once you have the materials from Step 1 prepared, we're ready go officially roll up our sleeves and get nerdy.
Let's start with the basics. I'll be using the "Monthly Budget" template to walk you through how to budget.
Income
In the Budget Template, right at the top, type in your estimated take home income for the month you are budgeting for. (See image below). Remember, this is an example for a monthly budget, so the income is being estimated for the entire month.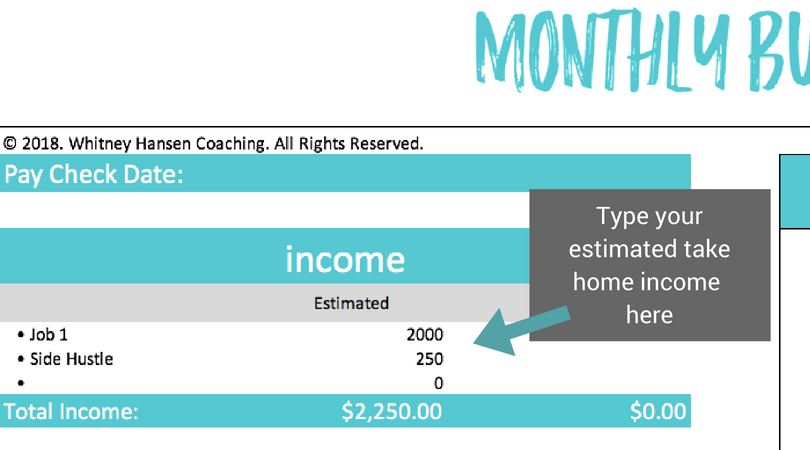 Not sure what your income might be? Look through the past few months of your bank statement and jot down your lowest month's income as your new estimate. It's always better to be a little conservative on your estimated income.
Expenses
Once you've estimated your income, you'll then need to go through and making a list of exactly how much your expenses are each month and their due dates.
This can take a bit of time, but it's super important that, as much as possible, you write down the exact amount and not estimate.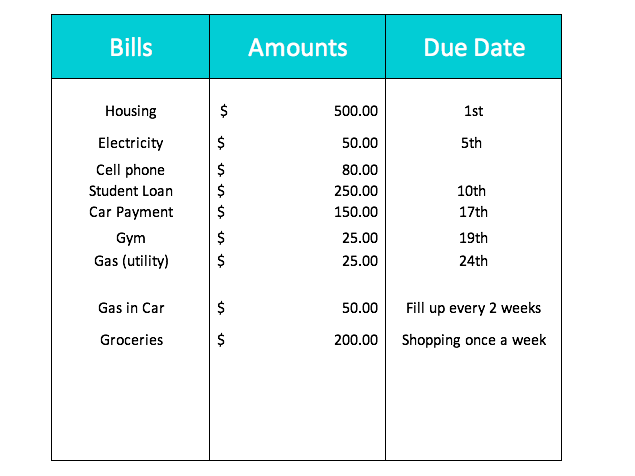 On the budget template, it will look something like the image above. Be as specific as you can and use the expenses that you currently pay for. Try not to get too carried away with all the "I should probably put money aside for this expense too" unless you already pay for it.
As an effort to save you time, the expense section of the template automatically populates with expenses and amounts as you type in your categories in the section like the picture above. (You'll see what I mean when you start using it.)
Step 3: Go through the Bank Statement Exercise
Most people have no idea how much they spend on groceries, eating out, coffee, entertainment, or those random Target trips. That's where the bank statement exercise comes into play.
If you've been following my shiz for any period of time, you probably know that this is my go-to exercise because it freakin' works.
What you do
♥ Print off the last 30 days of transactions for your checking account AND/OR your credit card statement if you use both.
♥ Grab a 3 different colored highlighters, a pen, and a calculator.
♥ Write down 3 categories you tend to overspend on or aren't sure how much you spend on and assign a color to the category. (For most people this is eating out, coffee, Target, Amazon, or any other random purchases you make)
♥ Then line by line highlight every single transaction that fits each category. Add it all up and voila'. You know how much money you're spending on an average month for random/misc. stuff.
Legit, this works suuuuper well! Every person I've ever done this exercise with immediately walks away with more clarity of where their money is going.
Once you have theses numbers, then plug them into your budget template. I highly recommend leaving your expense as is for the first month of budgeting. It's stressful enough, don't add the extra anxiety of reducing your expenses… yet!
Ready to go through this exercise and find more money in 15 minutes? Watch this video. (no email opt-in required!)
Step 4: Set Money Dates
If you stop at creating a budget you probably think budgets don't work. But the creation- while it can be stressful and intimidating, is only 1/2 of the process. The other half is checking in with yourself- through money dates.
A money date is a dedicated weekly appointment with yourself. This is the selfish time where you have my full permission to buy your fancy latte, sit in your favorite coffee shop, and check in with your financial life.
If coffee shops aren't really your thing, then light a candle, grab a glass of wine, play some relaxing music (don't worry- we aren't getting kinky here) and check in with your financial life.
You're probably nodding your head saying "sign me up!" but might not be entirely sure of what you're supposed to be doing during this time, so here's your money date checklist.
Money Date Checklist
♥ Schedule a weekly recurring appointment titled "Money Date" on your GCalendar. The secret to money dates is keeping them predictable and consistent. Schedule them for the exact same time every single week to ensure you build up a habit.
♥ Review and visualize your bigger picture financial goals
♥  Update your budget. Look through your transactions for the past week and update the "actual" column of your budget template with your spending to date.*
♥ Look at your calendar for the next week. Do you have any events that you are attending? If so, you might need to get creative with meal prep and bring your coffee to work so you don't blow your budget. Preparation and forecasting are key to ensuring you stick to your budget!
---
*Tip For Updating Your Budget
In excel use the formula function so you can automatically add up each transaction together and see where you left off. Hypothetically speaking, if you went grocery shopping over the past week and spent $30.55 on one trip and $15 on the second trip, you would type the formula in excel exactly as it looks below. The formula will tell you how much you have remaining in your budgeted amount.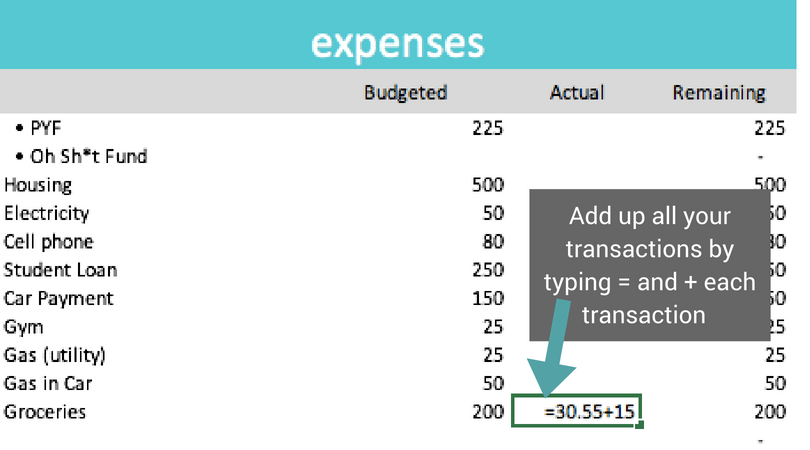 Step 5: Get accountability
Money dates are super critical, but so is knowing your personality. If you are the type of person who is a beast with sticking to a plan and needs very little support and guidance- I admire you! I'm not that type of person at all. I need some form of accountability to help me stay focused and encouraged. That's why I have accountability partners for every area of my life.
For a while, I even hired my friend who is a dietitian to help me get my health in order. I had to answer to him weekly and paid him, so I had a lot of incentive. Ha!
I have a podcast mastermind group that meets monthly, a blogger GF hangout, and I meet with a good friend of mine every other week to set business goals and make sure we are pushing each other.
Accountability matters.
Fun Fact. 
Most of my coaching clients hire me for accountability. They know what they should be doing or know they could figure it out, but they can't seem to get themselves to stick to their money plan. So my job is to educate, guide and be a polite ass kicker making sure they are achieving their financial goals.
All in all
If you follow these steps exactly and give yourself a lot of patience and self-love, you will be a rock star budgeter! It takes roughly 2 months before you start to feel in control and empowered to take on your finances, but it's well worth it.
Don't buy into the excuse that you aren't a numbers person, or that you just aren't a great budgeter- you can be. It's a skill that is learned through practice and repetition.
Free Budget Templates
Get instant access to both of my budget templates for people paid biweekly and monthly.