Around 7 years ago I wanted to go to Costa Rica. I grabbed my notebook, Pinterested so many places to see and planned an entire 7 day itinerary for Tony and I to use.
But life happened and frankly, I was broke and unable to afford to travel.
So I kinda put it on the back burner and didn't think much of it, until my brother graduated college. When he graduated, he wanted to take a vacay and decided Costa Rica looked pretty cool.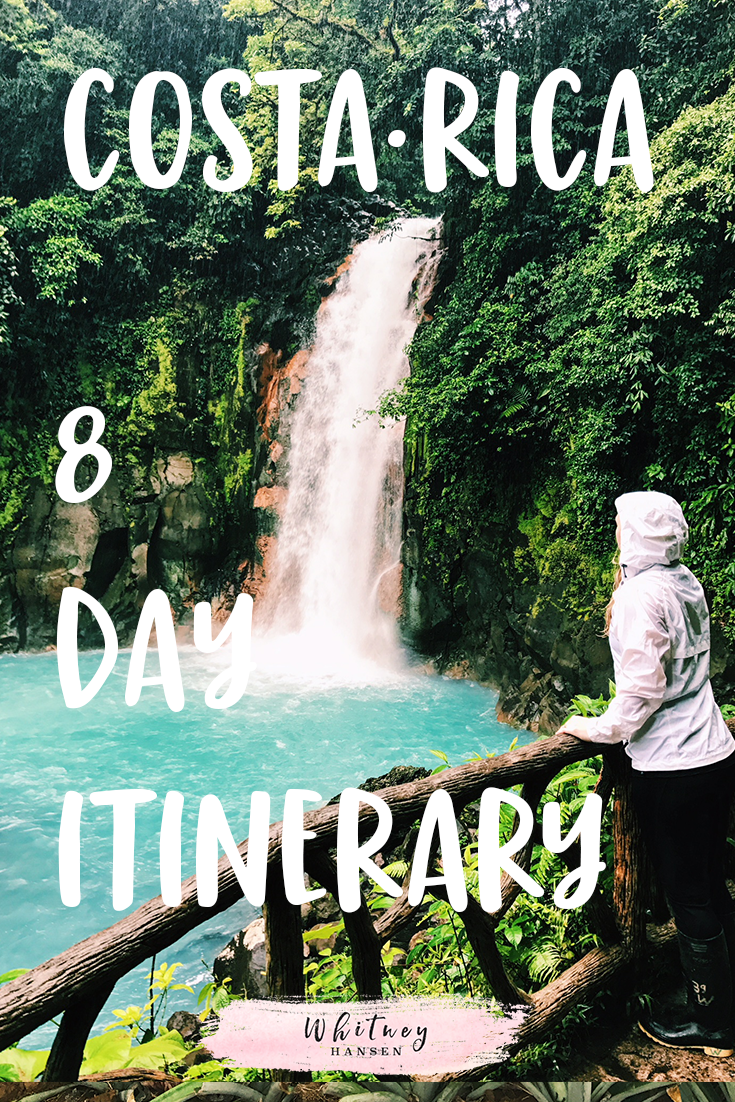 Sadly, the itinerary I created years ago was no where to be found (this was pre- Evernote days) so we recreated an amazing trip.
It was so amazing that during our family reflection of 2017, we all mentioned part of Costa Rica as being one of our favorite memories.
We flew into Liberia and spent most of our time exploring the northern Pacific side of Costa Rica.
So here is my entire 8 day itinerary to exploring Costa Rica with a lot of adventure and ending on a relaxing note.
Day 1- Rio Celeste area
When I saw pictures of Rio Celeste, I immediately thought this place was fake. No freakin' way can water be that blue I thought. Boy was I wrong. To this day, one of the coolest hikes I've ever been on. But, I'm getting ahead of myself…. let's talk about where we stayed in this area.
Lodging
This Airbnb was the perfect start to our trip. There were 6 of us total, so we all had our own bed and plenty of space. Word of caution- when you are exploring the non-touristy parts of CR, there likely isn't air conditioner, so be prepared as it is humid.
Additionally, the location of this place was incredible. It was on a farm and my favorite memories were looking out into the green pineapple fields and watching the cows wander aimlessly while the tropical sounds aired in the distance. A short walk down the road gave us our first glimpse of Rio Celeste, but watch out for the ants- they bit the shit out of my feet.
Our Airbnb host also grows fruit on the property and left us fresh oranges, pineapple, and bananas. It was amazing!
Hopefully, I've convinced you to stay here. But if I haven't here's a discount for you to try Airbnb.
Sights
The sole reason we stayed in this areas was to explore Rio Celeste National Park. Definitely worth it and we learned a LOT. For example, the trail is super muddy and it rained a lot. Our normal hiking shoes would have been ruined. You can rent rain boots for $2-3 a pair.
Tip
Bring long socks and rent the boots! The boots were a game changer, but my friend got a staph infection and my brother got athlete's foot from them. So there's that….
The hike itself wasn't difficult, but the hike down the stairs to see the waterfall was a bit brutal on the way back up. Think being stuck on the stair mill in the rain.
Keep hiking further and you'll come across a blue lagoon. A little further you can see a pretty cool place where there sediments and minerals build up and there is a perfect distinguished line separating the two. It's pretty crazy to see.
After our hike we grabbed some fresh fruit smoothies and a typical Costa Rican meal of beans, rice, and meats from the restaurant on hand. Bring cash though, because they don't take cards which resulted in an hour long adventure looking for an ATM. (Just take my word for it!)
Day 3-4 Arenal Volcano
The next stop we made was the Arenal Volcano area. We stayed closer to the lake than the volcano, but were still able to see the entire place. Years ago the volcano was active and you could see the lava flowing at night, no you can't, but it's still a gorgeous geological feature that will take your breath away.
Lodging
This was the Airbnb and area we all agreed was most fond to us. The setting was absolutely stunning. You can see howler monkeys swinging in the distance, take a nap in the hammock outside, look out and see the lake in the distance, or even views of the volcano. In the evenings you can sit outside, listen to the sounds of the jungle and watch lightning bugs dance around.
One of the coolest features of this place is it's secret jungle creek directly on the property. You take a short hike down a few stairs to a creek and watch the monkeys play above your head. You guys, it is magical! (Mosquitos aside.)
This was such an incredible house and the host was an absolute sweetheart. We even got the host's dog, Dobbie, to escort us down the road on stormy night we went into "town" to get food. He was our favorite and was a wonderful distraction because I missed Patrick so much while we were gone.
Nearby there is a pizza place called Papa Johns. Hands down the BEST pina colada I've ever had! The server, Juan, was a wee bit crazy, but hilarious none-the-less and turned out to be our neighbor… but that's for a different post. 😉
Sights
There are a ton of hot springs in the area that look amazing! Tabacon is one I would go to if we could go back, but we just ran out of time. The hike we went on takes you as close as you can possible get to the volcano. It was long, not overly impressive, but did let us go through the jungle and explore around a bit.
The volcano is impressive. We really enjoyed seeing the full thing. The volcano wasn't one of my favorite things about Costa Rica. I feel bad saying that because it is impressive, but it just wasn't my favorite.
Day 5 Monteverde
This was highly requested by myself. I wanted to see the cloud forest and check out all the hanging bridges. So we took the sketchiest road I've ever seen through the fog and rain to the city of Monteverde. Hilarious sidenote- we had a couple ask us for help with the most terrified look in his eyes and his wife rocking their baby in the back seat as "are you going to Monteverde?" He ended up following us there.
Lodging
This was our least favorite Airbnb. It was totally meh, in my opinion. The only redeeming qualities it has was it's proximity to the city, which came in handy during out night out at the Tree House Restaurant (literally a treehouse) which was super cool. Until my brother and I who were the DD's got to the car to find we had a flat tire and were surrounded by a bunch of drunkies…. (not bitter or anything!)
The premise of this place was cool, surrounded by a small farm and a few walking trails around it where rumor had it you can see sloths. The owners will also give you a tour of their farm, but we arrived and late and left early.
Sights
The small city of Monteverde is kind of cute and has some pretty good restaurants around. The treehouse that we ate at was ridiculously cute. And Monteverde Cloud Forest was really cool. Here's a glimpse of what it looked like.
Day 6-8 Tamarindo Beach + Lagoon Excursion
We purposely scheduled the last leg of our trip at the beach area and spent a bit more on our Airbnb here. We stayed pretty frugal for the hotels for the first few days of the trip so that we could get a kick ass place at the end of the trip. Well worth it!
Tamarindo is a darling beachy city with a 2 mile sandy beach, good surfing, and even a lagoon with crocodiles! It's a very touristy city, so you can meet people, grab drinks, food, and be surrounded by a bit more civilization if that's your thing. This is where I learned I'm an offensive negotiator and paddle boarding in an ocean where not even 1 mile away you watched a crocodile swim is terrifying.
Lodging
Hands down the nicest place we stayed during our trip. It had air conditioning (which is a true luxury!), 3 bedrooms, a gorgeous pool, and gated community. It was about a 1/4 mile walk to town,  so we did get our exercise in and it was definitely HOT! But just across the street from the beach.
Sights
One of the coolest things about Tamarindo is the beach. It's a gorgeous waterfront with soft sand and hands down the most gorgeous sunset I've ever seen. Seriously, it was that pink and lit up the entire sky. We had just finished dinner and decided to pop into the beach area (thankfully, or we would have missed this).
We spent one solid day at the beach. Morgan and Justis rented surfboards and duked out who can be the best surfer, Tony slept on the beach, Shayne pulled a combination of lounging and splashing in the water. Kaelyn and I saw a small island about a 1/4 mile away, rented paddle boards and explored out there.
I'm terrified of both sharks and crocodiles, so rightfully so I asked the man about the shark population in the area.
Me: "So what do we do if we see a shark?"
Him: "Sharks, nah, you won't see one."
Me: "What about a crocodile?"
Him: Looks me square in the eyes- "you fight!"
So Kaelyn and I were a bit terrified on our journey to the island since we couldn't see the water and it got a bit murky in some places. Once we got to the island we were shocked! It was full of the biggest seashells I've ever seen. Clearly no one goes out there often, because it was covered with them.
After playing at the beach we relaxed, I had to get some work done and the boys went into town for a drunken night of karaoke, while we tended to our sunburns. 🙁 Ouch!
Tour of Lagoon
We took a tour of the lagoon in the middle of the jungle. Not the one by the beach. (Important to note- you want the one in the middle of the jungle!)
While we were there we found that our tour guide had raw chicken. Dudes, it's illegal to feed animals as it makes them more aggressive. Not a single f*ck was given. Although we got to see some baby monkeys, cool looking birds, we definitely saw the dumbest thing in the world- our boat driver hand feed a 12 foot crocodile.
Then of course, we fly home, had a long layover in Santa Monica and came home and back to the grind.
Let's talk cost of the trip!
Flight: $452
Total Cost Per Person: just shy of $1,100
A lot of the costs went to car rental (which you absolutely need for an adventurous trip in Costa Rica).
---
This was an incredible trip! I highly recommend exploring Costa Rica and while there was so much we didn't see, I wouldn't have changed a thing. We will definitely be back only next time for the Caribbean side.
How to build up a savings (without doing any work)
Enter your name and email to get access to the training instantly.
(link will be sent directly to your email)