In the business world, there are tons of essential tasks constantly stacking up. As an entrepreneur myself, I know how crazy hard it is to manage all the tasks. (Seriously, ain't nobody got time for that.)
That's where virtual assistants come into the picture.
Virtual assistants ensure all the scheduled meetings, purchases, and emails are sent and replied on time. Hiring a VA is one of the greatest thing a business owner can do for their company and for themselves.  The cool part about being a VA is that you are given flexibility to work from anywhere and often on your own time.
Some Tasks VAs Can Help With
As a virtual assistant, you can handle almost everything.
Scheduling and answering emails
Sending flowers
Scheduling taxi rides
Making hotel reservations
Social media posting
Creating marketing graphics
Monitoring data from ad campaigns
Copyrighting
Bookkeeping
Podcast editing
Video editing
Photo editing
Researching
Project management
The objective is to free up tasks for an entrepreneur to focus on growth without missing any important calls or events.
*Bonus points for digital marketing skills- these are in high demand!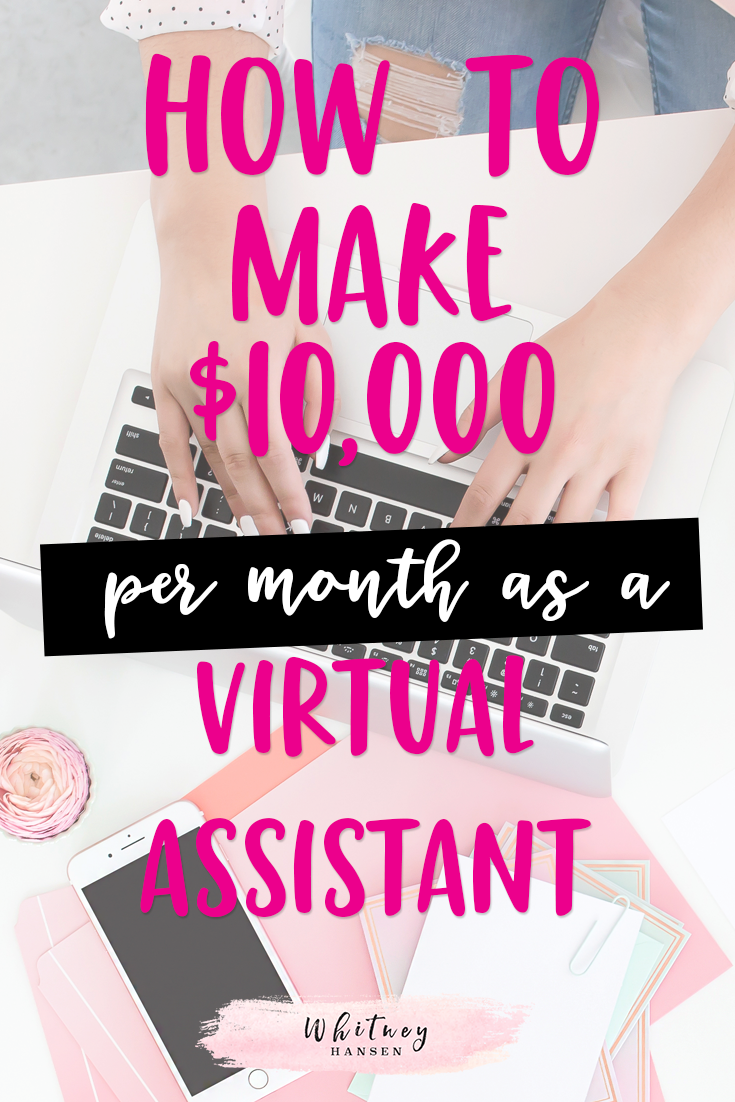 What it Takes
Considering the wide scope of work, a job description of a virtual assistant varies from one organization to another.
Some of the virtual assistance categories include; administrative, digital marketing, programming, design, content writing/SEO, audio/video editing, and financial management. There isn't a specific degree you need to help others from the comfort of your home office… or Starbucks. 🙂
However, it is necessary to be familiar with the tasks you intend to handle– the more niche you can be, the better! Impressing your employer during the interview might be all it takes to start off and make money from home, passion and commitment is vital.
Apart from the interpersonal skills and basic knowledge of a niche, you will need an efficient computer and a stable Internet connection.
Reliability is a critical element to succeed as a remote office assistant. While certainly not required, fluency in several languages is an opening to numerous opportunities and fast growth in the industry.
Apart from passion and ability to speak several languages, the ability to efficiently work with no supervision is super important in virtual assistance. At the end of the day, your independence and reliability is what gets you more gigs and helps you gain more referrals.
What To Focus On When Starting Out
When starting out as a VA, building reputation should be the main goal. Keep in mind a potential employer may never meet you physically, the decision to hire you or not can be entirely based on the image you create on various platforms.
Focus 1: Create a website and include samples of your previous projects in a niche.
If you are new, highlight the services you offer and target client needs that match up with your skills. Include areas of specialties (aka. your unique skills).
Focus 2: Research potential employers that are actively looking for VAs.
After documenting your skills and services on a website you can venture out, research on potential employers and apply. There are a TON of options for helping you land your first gig with websites like Upwork.com or Fiverr.com. But, honestly, I'm going to steer you away from those sites.
Here's why. Your skills and help is valuable! Much, much more valuable than having to compete in a "job mill" way through those sites.
Can you get some gigs from there? Sure. But every successful VA I have spoken with, is not a fan of those sites.
Focus 3: Hit the pavement.
I think the best way to get gigs is when you are forging your own path. Reach out to entrepreneurs you already know and see if they could use some help. Send very targeted, detailed messages about what makes you a rock star and how you could use your skills to help them out. Seriously, if I received an email from someone I already know who specifically told me they could solve my a few of my pain-points within my budget, I'd be STOKED!
Your ambition and hustle is what will help you stand out from the competition. Go get em' tiger!
Focus 4: Be active on social.
Tell people in your network you are looking for work. It's amazing how we don't do this. Your first few contracts will more than likely come from people you know. Then those people tell their friends and the friends tell their friends about you and pretty soon, you're building up a solid pipeline of customers.
Focus 5: Network with your other VAs.
This seems counter intuitive. You wouldn't think that bumping elbows with people who are your competition is a good idea, but it is. When you are a successful VA you begin to get so many referrals that you can't handle. So what do you do with those referrals? Send them to people you know, like and trust. And ideally, that someone could be you.

Negotiating Your First Contract
Pricing is freakin' hard for everyone. It's really difficult to know what to charge and to have the confidence to ask for what you are worth. Keep in mind that location matters here. Don't short yourself!
If you aren't sure what your skills are worth, do some research, there are PLENTY of VAs who share their income reports with the world to help you get better idea of what you might be able to charge.
Personally, I wouldn't work for anything less than $15 a hour starting out for basic tasks like email management. If you are taking on social media advertising, charge the market price- typically $25-$50 per hour.
Once you have a better idea of the business owner's budget, you can start to craft packages and offer your services in a way that helps free up time for the entrepreneur and directly fits within your skill set.
More than likely, each contract will be different, so don't feel like you need to be stuck within a certain price point.
VA Advantages
The ability to make money from home is exciting. The fact that you do not have to catch a bus or drive every morning through traffic to get to an office is fulfilling. Apart from convenience of a home office, you are able to cut costs on daily transport. If you are an introvert and living alone, this is your dream! When you work from home, you have the liberty to choose a dress code of your own (sweat pants anyone?) as well as design your work environment. However, you may need to maintain a professional appearance depending on your type of job for instance on video calls. (Blazer on top, sweats on bottom!)
You can establish long working relationship with clients and even grow to a business. Considering you operate virtually with preferred working hours, you can provide services to various companies and establish a huge clientele. As a result, you can choose to train individuals on specific skills, outsource work and make profits.
The industry is open to anyone willing to learn and earn. There is no professional course for working as a remote office assistant. Resources are available all over the Internet for free access.
You not only choose when to work and when to go on holiday but also you dictate who to work with and what they should pay.
VA Disadvantages
Working from home is prone to family distractions. It requires a high level of self-discipline. It's a heck of a lot harder than people think.
No paid leaves, no staff trips. If you are sick, you don't exactly get to use your PTO.
How To Make $10K A Month
This is totally doable after practice, learning how to charge what you're worth, and continually negotiating your contract prices.
I am not a VA and likely never will be. But my friend, Kayla Sloan is an absolute rockstar at this. She agreed to teach a webinar specifically for you guys to help you hit your $10K per month goal as a VA.
Or if you want to join in Kayla's amazing course, get lifetime access here.