As a blogger, there is always a million things to do.
You write content, edit, publish, promote, and respond to comments and emails. The list goes on.
As an entrepreneur, I've had to learn the hard way that there is a huge difference between passive action and massive action.
Passive Action Tasks
Passive action is the stuff you do that makes you feel busy, but doesn't actually directly grow your business.
Some common examples of passive action are:
♥ Listening to podcasts
♥ Note-taking (and trust, me I'm a HUGE note-taker)
♥  Watching motivational YouTube videos or videos that are not helping you solve an immediate problem
♥ Procrasti-cleaning (cleaning your house as a form of procrastinating)
♥ Social media scrolling
♥ Working on your logo
♥ Rebranding for the 3rd time this year
All of these tasks listed are important. They matter. In fact, I partake in some passive action times every single day. But they rarely move the needle and propel your business forward.
In order to see true growth, you have to put yourself out there in a bigger way by taking massive action.
Massive Action Tasks
Massive action items are the tasks that when you reflect back actually made the biggest difference. The things that you did out of the ordinary, but resulted in some cool opportunities. Maybe you pitched a company that you wanted to partner with or you reached out to an organization about speaking and they actually paid you to come talk.
If you are having a hard time identifying what massive action items might be- they probably were the things that brought in revenue to your business or gained you more brand recognition.
The ideas listed in this post are all massive action steps to take if you want to see bigger results in your business.
NOTE
These tips are more for people who have been blogging for some time now. If you are just starting out, I highly recommend going through my free training on "How to Start A Blog."
It takes you through the backend of getting your website up and running professionally. (And it saves you thousands by doing it yourself!)
15 Actions To Take Today To Grow Your Blog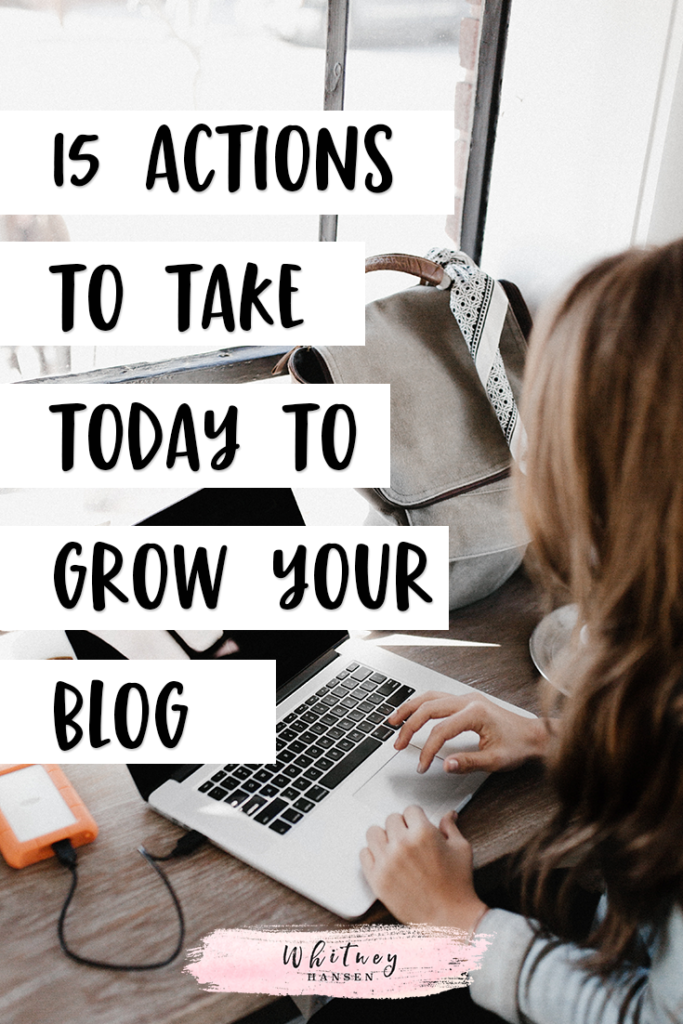 1- Email 3 people about collabs
Collaborating with other bloggers, podcasters, or YouTubers is key to getting your name out there, reaching another audience and they are a ton of fun. Whenever I feel like I'm uninspired or in a content lull, I'll reach out to my fellow content creators and collaborate in some way. This is also a great way to meet more people. Try not to collaborate with the usual suspects every time. Use these opportunities as a way to meet new people and continue with your world domination.
2- Create 1 new lead magnet (and start testing it)
A lead magnet is something that entices people to sign up for your emails. They require continuous testing and occassional refinement, but when you find one that works, it's God-sent. Some typical lead magnets are:
Checklists
PDFs
Ebooks
Free challenges
Templates
Webinars
Basically, anything that your audience wants and should be easily consumable. (Meaning that 100+ page Ebook, is not something that your audience can consume in one sitting.) Remember, we are practicing massive action here, so you should be able to finish your lead magnet and begin testing within 1 day.
If you are wondering how to test your lead magnet, use an exit intent popup, put the lead magnet signup form in your content, or even start driving some traffic to it using your current social media platforms.
3- Reach out to 2 of your dream companies about partnering
Much like massive action item #1, being proactive and reaching out to companies you would love partnering with is always a good step to take. You'll get told no a lot. But you will start to learn how to craft your pitch, what information is interesting for a partner company, and what opportunities you have to partner.
One tip: people are busy. Keep your emails short, to the point, and respectful of their time.
Partnering ideas can include:
Paid article contributions to their blog
Affiliate agreements
Creating video content
Interviewing someone from their team on your podcast (or blog, or YouTube)
Using their products or services in exchange for shoutouts/mentions/content centered around the company
The possibilities are endless, but it's always a good idea to try to partner with companies you know, like, trust and support.
4- Create 3 quarterly project goals (3Q goals)
I started implementing 3Q goals this year and saw immediate progress. When creating 3 project goals, you have to get clear on what matters and what doesn't. When I first started this, I immediatley thought "yeah right, only 3 projects? I can accomplish more than that in a quarter." And what I discovered is I was wrong and severely underestimated the time and energy needed to accomplish 3 projects as a one woman shop.
This also gives me permission to say no without feeling guilty. I know if there is something that comes up and doesn't fit in my 3Q goals, I will put the idea in the parking lot and revisit after the quarter is completed. Then if I still want to chase that idea or test it, I will- but only AFTER I that quarter is finished.
Once you have identified 3Q projects you want to focus on, then you need to go through and create 5 sub-steps that directly support the project.
Here's one of my personal business project goals for the next quarter.
---
Project 1: YouTube Videos For 1 Year
Goal Date: July 31
Draft out all 52 video ideas
Book studio + plan outfits
Record as many videos as possible over studio weekend (and record the remaining videos from home studio)
Expand on content for blog posts and create images for each video
Upload and schedule videos with SEO tags and comment box links
---
If I accomplish all the sub-tasks (1-5) then I will accomplish my project goal. And once you do this for 3 quarterly projects, you'll immediately see that you've got a LOOOOT more work in front of you then you initially thought you did.
5- Ask for referrals and testimonials. Email previous clients and customers and directly ask them for referrals and testimonials.
Asking for referrals and testimonials is just a good habit to get in. Anytime you help someone solve a problem or get clarity around a struggle area, ask if they would provide a testimonial for you. In the online world, testimonials and referrals are really important for social proof, building rapport, and showing other customers that they are in the right spot.
6-  Batch out your content
If you read through massive action item #4, you'll notice that the YouTube project is actually batching out my content. What this means is instead of me trying to block off 1 day per week to record, edit, and write content for 1 video, I will plan and work on a ton of videos at one time. I do this with my podcast, and am working on doing this for blog post writing as well.
Batching content is efficient, saves you time, and feels damn good to have everything lined up and ready to go.
Start small. Look at your blog and see what you could batch out.
Some batchable tasks are:
Social media posts and captions (then schedule the posts)
Content writing
YouTube videos
Podcast episodes
Course creation
Keyword research
Batching is everything! Try it out. I'm confident you will love it.
7- Analyze your data
We get so busy working in our business that we sometimes need to come up for air and analyze what is actually moving the needle. I like to analyze my data monthly and a bigger review yearly. In my monthly analysis I'm looking at things like:
# of unique visitors to website and which referrals sources sent the most traffic (ie. Pinterest, FB, IG, podcast, etc)
How many podcast downloads did I receive?
Was there a spike in website traffic or podcast downloads? (If yes, what might have caused that?)
How many courses did I sell this month?
How many coaching applications did I receive? How many of those scheduled a phone call? How many converted to coaching clients?
What was my email list growth? Did one lead magnet perform better than others?
What is my top performing blog post? (Are any new posts kicking butt?)
Did my paid advertising convert to revenue?
These are just some of the questions I'm asking myself on a monthly basis. But most of us (myself included) don't make the time to analyze what's actually working and what isn't working.
It's super important guys!
8- Be a guest on someone's podcast
Much like collaborating in order to get fresh content and reach a new audience, this is the exact same thing. Being a guest on someone's podcast is a great way for you to reap the benefits of podcasting without all the work.
Make a list of podcasts that your ideal audience likely listens to and one by one reach out to the hosts with a specific pitch of what topics you can talk on and how you can help their listeners.
Point to remember: this is not the time to be humble. Podcast hosts want rockstar guests! So wow them with your story.
9- Ask for the sale! (Or pre-sell your course)
I don't know why we do this, but sometimes we think because it's an online business, we can be passive with our sales strategies. You guys, online businesses NEED to make money and you have to directly ask for the sale. If people don't know how you can help them solve one of their problems, they will read your blog and go to the next website until they find something that helps them. You must ask for the sale. Just remember, you wouldn't ask someone to marry you on the first date, so you probably shouldn't ask for the sale before you have built some trust.
If you are a fairly new blogger or don't currently have your own products, please PLEASE pre-sell your products. I see way too many bloggers spent months creating and perfecting a course or ebook only to put it out there and get crickets.
But had they outlined what the course would cover, what problems it solves, and the transformation the customer will get and then reached out to the audience and asked if anyone would be interested in pre-buying the course at a discounted rate, they would have made money immediately and saw if anyone actually cared about the content.
Ask for the sale (or pre-sell).
10- Get on a Skype call with some of your email subscribers
I try my hardest to reach out to a random sample of my email subscribers periodically to hop on a Skype call with them. Or if that seems awkward to you, next time you receive an email back asking you a questions- reply with "Hey, I'd love to learn more about your situation and your question. Are you available to hop on a quick Skype call with me?"
Most people are legit stoked to see you reply and if you are able to reply and request a call to hear them out- it's even better.
I also do this in my Facebook group.
If I have a slow weekend day where my calendar is looking pretty empty, I will post an image in my FB group, Manage Your Money Like A Boss, and let the first 5 people that comment schedule a free call with me to ask their money question and get a coaching session with me.
This seems like a ton of work, but remember- it's your audience that you are actually working for and the more time you take to understand what their struggles are, the better you can serve them.
11- Based off your results from #7, write one epic affiliate blog post
Once you have an idea of what content is kicking butt, then I like to create one epic, evergreen blog post surrounding one of my partner company's products or services. For example, if you are a health blogger and you see that your audience really enjoyed when you talked about macronutrient counting (carbs, proteins, fats), you might consider finding an affiliate that helps them track their macros easier- like MyFitPal. If MyFitPal has an affiliate program that is a perfect complement to what advice you're giving, AND your audience is interested in the topic, it is likely to be a slam dunk.
But of course, you must test this to see if it's true. 🙂
12- Create one sales funnel
Sales funnels are simple. What are the action steps that lead someone from cold audience to warm audience and warm to hot.
Cold audiences– people that have never heard of you
Warm audiences– people that are familiar with you
Hot audience– people that purchase from you
Once you understand the audience temperature, you can start to craft a beautiful sales funnel that converts. Earlier we talked about how you would ask for the sale on the first interaction, that's why sales funnels are so important. You are helping build trust over a series of emails, videos, etc. that are leading the person closer to a paid solution– your products!
In the online world, it takes a lot of time to build trust. So be patient and focus on providing value instead of just selling.
My personal goal is that if someone goes through my funnels, they will feel like they learned something new and are better– even if they didn't purchase from me.
13- Implement the knowledge you learned
All those podcasts, YouTube videos and free training you sat through are valuable. IF you implement the knowledge. While I'm a bigger fan of on-demand learning (learning what you need when you need it and not before you need it) if you have already put in the time and energy into learning someone new, start to implement that into your business.
You can listen to Amy Porterfield's podcast all day long, but if you aren't even running basic Facebook ads, you probably own't need to know about retargeting ads… yet. Distill down what you're learning and start to implement some of the knowledge you're learning. Then stop continuing to learn until you are ready to implement.
14- Start doing Facebook Live, Instagram Live or a Live webinar
We all know that video is the way the world is moving. It's expected that by 2021 80% of content we consume will be video.
What does that mean for bloggers? Content is still important, but you should probably be pairing it with some type of video. If you are unsure about all this video business, the way to see the power behind it is by experimenting and connecting with your audience through Live video sessions (FB, IG, and webinars). It's a really, really fun way to hang out with readers and further provide value to them. It's also just exciting to see people tuning in, commenting and learning from you while you are chilling in your house.  (Aren't online businesses the greatest?)
15- Guest post for bigger platforms
If you are a new blogger struggling to get traffic to your website my go-to recommendation is guest posting on bigger sites. It can rapidly increase the traffic to your website if the bigger site is in line with your content.
Some bigger platforms you can write for are:
Other bloggers that are further down the road than you are
Elite Daily
Huffington Post
Medium
Mind Body Green
Entrepreneur
The Penny Hoarder
The list could go on forever. There are SO many publications out there. Your job as the business owner, is to find out which ones will be best. Make a list and get to pitching!
All in All
These actions steps aren't perfect, but what I do know is they can move the needle faster than spending most of your time on passive action items all day.
I'd love to hear from you.
Comment below and let me know which action item resonated with you most!
Free Budget Templates
Get instant access to both of my budget templates for people paid biweekly and monthly.