I was dreading this week. Cleaning out my closet is not fun and as much as I love getting rid of stuff, I really don't enjoy getting rid of my clothes.
I have built up a habit of doing this on a fairly regular (ish) basis so I'm getting better.
If you have been following the journey since the beginning, I have to give you an update on the kitchen.
Part 1 Reflection
Since reorganizing the kitchen it has been amazing! My pantry looks so clean and organized. I've even noticed that seeing all the ingredients has made me more excited to cook. I can already tell this will be saving me money because I won't be haphazardly buying stuff that I already have.
I continued the organization to my fridge and freezer as well, and have made Tony promise that we will not buy any more condiments. (Who the eff needs 3 variations of mustard?)
Having one room organized has lit a fire under my ass too. I'm truly enjoying it.
The Bedroom
We spend 1/3 of our life in our bedroom. That's a ton of time. You deserve a space that supports your life and works on enhancing your life instead of stressing or detracting from what matters most.
Step 1: The jewelry box
This was a really easy first step for me. I had been collecting jewelry for years and already knew 90% of it no longer fit my style.
In fact I was able to go through my bulky jewelry box and minimize it down to a few key pieces. I had a lot of faux diamond stud earrings as well (4 to be exact) that I minimized down to 2 pair (one larger studs and one smaller studs).
I must have gone through a kick where I would purchase the bulkiest costume jewelry I could find, so that was an moderately easy to sort through.
I'm not really a bracelet or ring person, so that was easy to pare down.
Of course I still need somewhere to store jewelry, so I found this darling organizer on Amazon for $19 that no fits perfectly in my closet and out of site from my bedroom.
Step 2: The closet
Because we have had intentions of minimalism for quite some time now, one of the crazy things we did was get rid of our dresser. I know this sounds a bit extreme for some, but I was really sick of having all the stuff and clutter.
So months ago, we purchased closet storage from Ikea and bought cute little storage bins. We each have 3 bins. One for undergarments, one for jammies, and one for workout gear.
We hang all our pants. I switch my wardrobe out for the season, so my fall/winter gear is sitting in 2 Ziploc vacuum bags under my bed.
Shoes are kept in our laundry room as well because we try not to wear shoes upstairs. Just by moving the shoes, we forced ourselves to keep them downstairs (which was our goal).
When decluttering your closet start with seasons.
Take all your clothes out of your closet and sort by spring/summer, fall/winter. Then go through and be honest with yourself. If you haven't wore the item just donate it.
I actually find that having a friend help with this does NOT work for me. They usually say something like "oh you're getting rid of that?" and then I second guess myself and keep stuff that I don't normally wear.
Here are the highlights of things you must get for your closet reorganization:
♥ Collapsable laundry bin. These are the bomb!
♥  Bins for clothing.
♥  A small tote for "socks without homes."
♥ Ziploc vacuum seal bags for your capsule wardrobe
If you have the extra money and are willing to spend a bit more I highly suggest:
♥ Ikea closet organizer. It gives you so much more room and allows you to customize to fit your needs.
♥ Nice hangers for your clothes. It makes your closet feel more luxurious and uniform. #TheLittleThings
Step 3: The nightstand
The nightstand was really easy for me. I try not to keep too much crap on mine. Tony on the other hand uses his as a catch all. We are working on actively putting things in the right place each and every night.
In my nightstand I have one pen, chapstick, glasses.
A few months ago we got rid of our old bedroom set that was bulky and came from Tony's bachelor pad days. The nightstands we had before were 2 drawers and took up a lot of space.
Instead we purposely purchased nightstands that had less storage, forcing us to be more intentional.
Works like a champ!
Step 4: Deep clean
Deep cleaning includes putting things back where they belong. I had tools sitting in my bedroom and got so used to it that I didn't even consciously notice them anymore. Embarrassing.
I also used this time to take an old toothbrush and scrub my baseboards. They collect dust and it's just a nice touch to help you clean it all up.
If needed, now would be the time to shampoo your carpets to give it a fresh appearance.
Step 5: Finish projects
I had a couple projects that were not completed in my room. I had some things that needed to be donated, wanted to hang some curtain holdbacks to bring in more light, and had been dying to get a statement light fixture in my room.
Luckily, I found one of Amazon for $99 and ordered a pack of Edison bulbs for $23.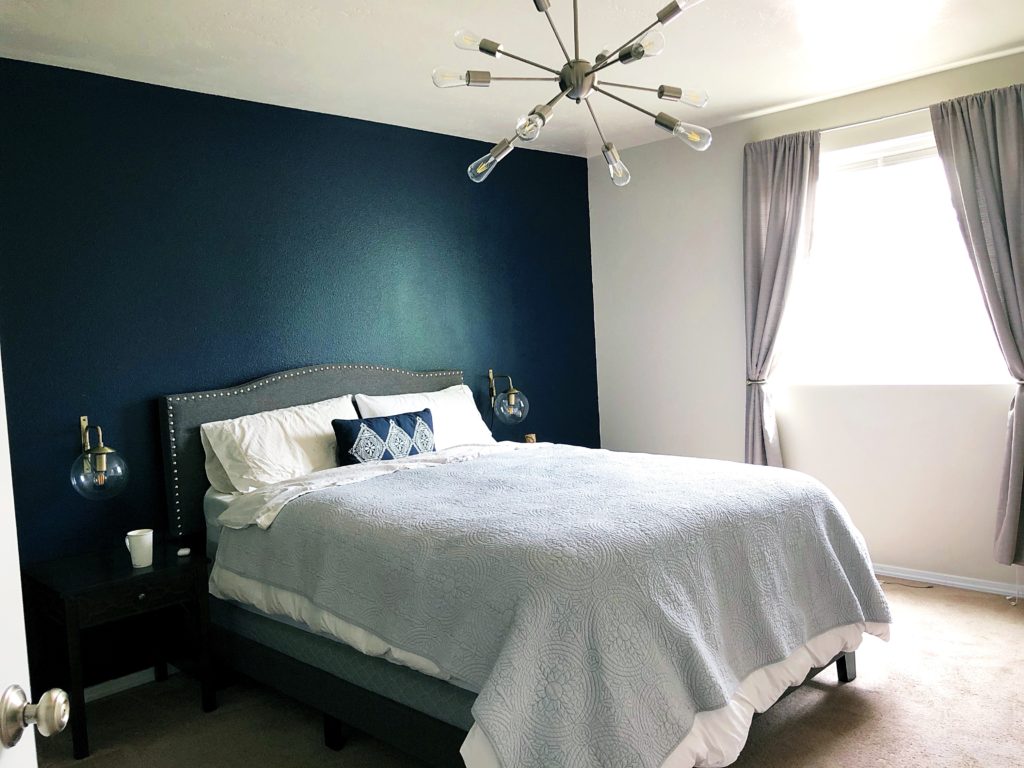 I think the light speaks for itself, don't you?
Step 6: Choose a staple scent
Your bedroom is your sanctuary and should have a smell that relaxes, inspires, and helps add to the underlying vibe. Smells matter a lot! I am a huge fan of Bath and Body Works' wall plugins. They have a strong fragrance and no shortage of smells to choose from.
This is the last step for a reason. Scents are the finishing touch on your newly organized bedroom.
All in All
Not a bad second week, right? This felt so good to get everything organized and decluttered.
Give yourself a good week (but not an longer) to get your bedroom and closet organized. It can take time, but it's well worth the effort.