One of my favorite thing to do on a Friday night is binge watch Netflix.
It's cheap, it's entertaining, and can be educational depending on what you're watching.
Think about it- if you go to the movie theater, buy two tickets at an average of $9 per ticket and purchase a medium popcorn an average price of $7,  you're looking at a minimum of $25 for 1 date night out.
A minimum of $25 for 1 night out— umm… no thank you!
Instead, make yourself some popcorn, snuggle up on the couch and watch one of these shows and put that $25 you might have spent into your savings account.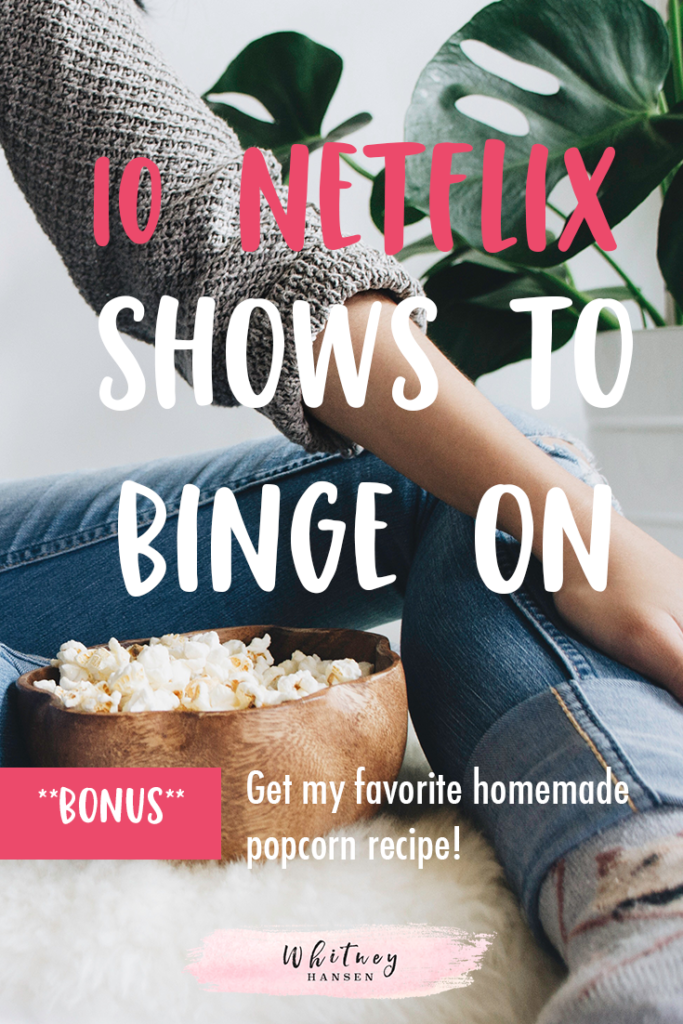 10 Movies/Shows To Binge on Netflix
Happy (documentary all about what happiness truly is and looks like)
Minimalism (documentary about the minimalist movement and why people are finding more with less)
Set it Up (rom-com about two people who set their miserable bosses up on a date and find love themselves)
Amazing Interiors (HGTV style show shows you interiors of some really interesting and unique properties)
Like a Father (comedy about a woman left at the altar and then going on her honeymoon with her estranged dad)
Glow (drama-comedy series based on a true story of the first women's wrestling TV show- basically a TV show about a TV show)
Mindhunter (drama series about two agents who interview serial killers to try and understand their behaviors– it's freaking amazing!)
Black Mirror (each episode stands alone and discusses social issues– it's honestly equal parts creepy, twisted, and mind blowing)
The Kissing Booth (rom-com about about a high school girl who has a crush on her best friend's older brother- predictable, but cute none the less)
Breaking Bad (an oldie, but such a goodie– if you haven't watched this show, jump on it. It's truly amazing)
Speaking of popcorn, I wanted to share my favorite popcorn recipe. It's legit the best and makes me want to eat the whole bowl… which has occasionally been my go-to dinner for extra lazy nights.
---
Homemade Popcorn
♥ 1/2 c. popcorn kernels
♥ 2 tbsp butter melted
♥ 1 tbsp canola or vegetable oil
♥ Popcorn salt (finer than table salt)
Using an air popper, pop the kernels. Melt the butter in microwave (40-ish seconds). Once butter is melted mix in oil and combine. Drizzle oil/butter deliciousness on popcorn and sprinkle salt to your liking. Toss to combine.
---
Next time you are trying to find out what to do on a Friday night and you want something budget friendly, snuggle up on the couch and binge one of these shows.
Enjoy!