Working from home definitely takes some getting used to.
I've been working from home for 2 years now and have learned all kinds of tips that help you stay productive and get into a routine.
These are some of my favorites!
Tip 1: Establish a work routine
Routines are so so important when working from home. I see a lot of people struggle with finding a routine when WFH and it can really impact your ability to separate work and life. I highly suggest having a clear start and end time. This prevents you from watching Netflix mid-day, or taking a nap, or even convincing yourself to do something in the afternoon and just working later into the evening. Yes, you can do that, but I highly recommend having your normal work hours and honoring that time. On that note– try and keep your work and personal life separated as much as possible when you work from home. Don't check your email in the evening (unless it's required by your profession).
My personal work routine is waking up, making some coffee and heading upstairs to my office. When I sit down, I kick on my little space heater, tell Alexa to play "Todays Hits" and print a copy of my G-Calendar for the day. Then I put my phone aside and get busy. I also try to take 15 minute breaks after every 1-2 hours of work and have a solid 1 hour lunch break where I eat and go for a walk. My routine is very structured and it helps me have some normalcy in my work week.
Which leads me to my next favorite tip…
Tip 2: Set up a designated work space
I'm pretty fortunate to have a spare bedroom that I've converted into my office space. When I first started working from home I found myself hopping around from the kitchen table to the couch, to local coffee shops and back to my home office. But when I finally decided to just work in one spot, I noticed my productivity increased and I was able to really start shutting down when I was "off work" simply by closing the door.
The other perk I noticed is when you have a designated office space, you can immediately establish your work routine and have visual cues that it's time to get busy.
Often I see entrepreneurs and remote employees trying to figure out the best places to work from home and be productive when really, that time could be spent to just finding 1 designated space and building up the habit.
Tip 3: Plan your day and calendar everything
I am such a fan of having a very structured day of what I'll be working on, when I'll check email, respond to social media posts, etc. I also use a very structured calendar system and swear it's the greatest thing you'll ever do.
The gist of it is, I list out everything I need to accomplish throughout the week and then add them to my Google Calendar after I have made them into very specific and measurable tasks. Basically- it doesn't go on my calendar unless it has a clear, measured outcome of what I'll produce in that time.
If you're interested in seeing my calendaring system in action, check out this post. I go into a ton of detail and share pictures of how it works.
Tip 4: Use the Pomodoro method
If you are new to working from home. I highly recommend trying to Pomodoro method for keeping you on task. Basically, the ways this works is your take a timer (ideally not your phone, remember, we're reducing distractions) and set your timer for 25-30 minutes. Then in that time frame you tackle as much of a task as you can. Then take a 5 minute break and do it again. When you see the timer ticking, it really does trigger something in your brain to increase your productivity and force you to focus.
I did this technique for a solid year when I first started working from home and it really made a huge difference.
Tip 5: Get ready for the day
This sounds like a weird tip, but I find that when you put forth a bit of effort into your appearance for work (even if you work from home) you show up differently. I lived in sweat pants and t-shirts when I first started working from home and it really impacted how I felt about myself. At first it was awesome, then I started feeling grungy. It affected my willingness to hop on conference calls, do FB and IG lives and even record videos– all of which are pretty important to my business.
I also found that when I got ready for the day, I was much less likely to take a nap mid-day. 😆
These are some of my favorite tips for WFH! It takes some getting used to for sure, but it's so so worth it to find a routine and make the most out of your workday.
Enjoy!
OH~ Also, if you have any fun WFH tips, share them in the comments below! I'd love to hear what works for you.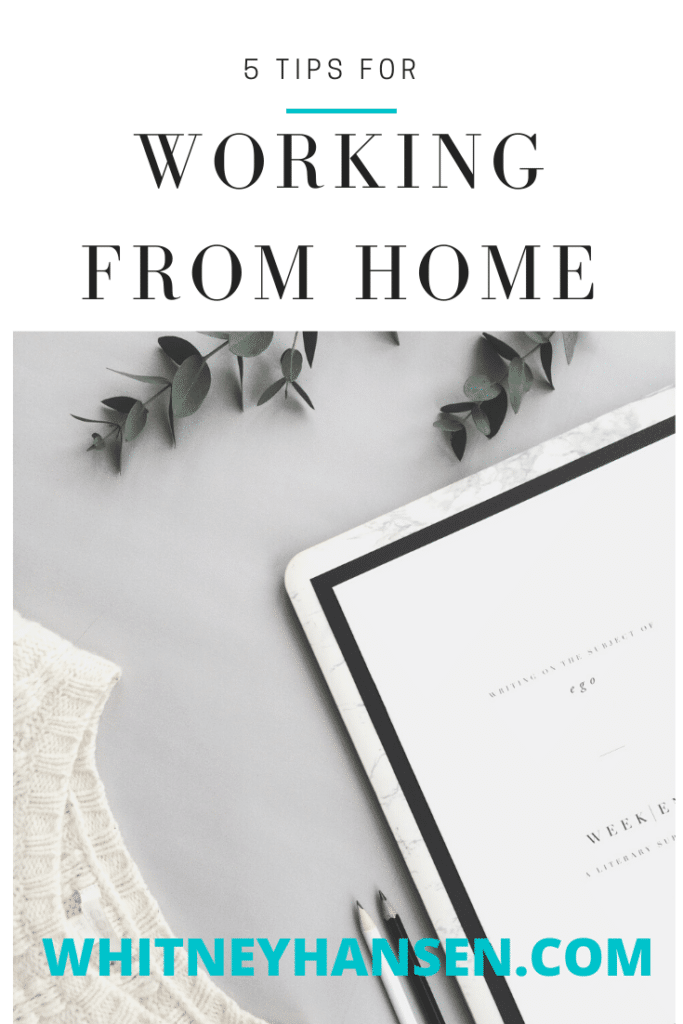 Access the budget training + get your template
Stop struggling with budgeting.