Everyone has a drawer in their home they are less than proud of.
For me, that's my tech drawer in the office.
It's a bit on the crazy side and didn't really have a sense of where things belong.
So I turned to one of my favorite bloggers and podcast guest on The Money Nerds, Mika Perry for inspiration.
Here's a little before after action.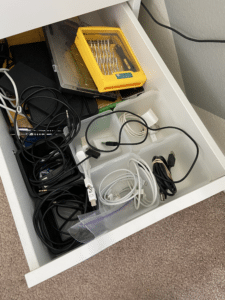 Before organizing I started what I thought would work well by going to the Dollar Store and picking up some clear plastic bins.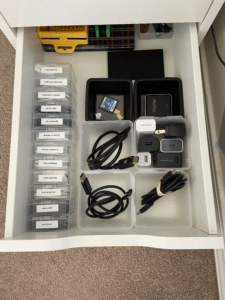 They did okay, but weren't compact enough for the amount of tech cords we've collected over the years. We ended up just throwing cords in there. Yikes!
What You'll Need:
Then you'll just begin wrapping the cords and fitting those in the containers. The containers are actually bead storage containers– weird right? But they work perfectly for this.
Label and line them up!
And there you have it. An organized tech drawer that is easy to find and put things away where they belong.
Give this a shot. It's a really fast project and makes a big difference in finding all the cords you need.
Enjoy!