Not the sexiest title. I know.
But I wanted to share a little bit about the behind the scenes stuff into my business.
I'm very aware of how things can look from an outside perspective.
Hell, I've even thought the same things before, "this person is crushing it! They are consistently putting out great content. How the heck is everything so easy for them?"
And even though I've thought those exact thoughts multiple times a day on multiple occasions, I know and you know, it's just not true.
So let me tell you the story of how I am building a semi-decent business with potential in 1,095 days.
"You don't set out to build a wall. You don't say 'I'm going to build the biggest, baddest, greatest wall that's ever been built.' You don't start there.

You say, 'I'm going to lay this brick as perfectly as a brick can be laid. You do that every single day. And soon you have a wall." – Will Smith
Humble beginnings- 2013
I started my business officially in August 2013 with a lot of excitement, a lot of passion, and no freakin' clue of what it would actually take.
I had paid off $30,000 of student loans in 10 months and had been helping friends and family create a budget and pay theirs off too. However, I had went back to school for my Masters in Business thinking that corporate marketing would be my gig. Then I discovered a program called Venture College- think of it like a student business incubator. I didn't even think entrepreneurship could be for me so this program was fascinating. I spent August- December of 2013 working on customer discovery to see what the pain points were from my potential customers.
Seriously, I remember thinking to myself- "I'll hustle my heart out for 1 year, quit my job, and then bam! Full-time entrepreneurship baby!"
Rocky start – 2014
Shortly after New Year's I put together my first version of a workshop. I sat my mom, Tony and my little sister down and started teaching them about money.
I got through it and asked them, "what would you have paid for the workshop?"
My mom responded, "I don't want to be mean, but if I paid for this, I would have been disappointed. I would have expected to have at least a workbook or something."
Duh! Something tangible matters. #thanksmom
With a few tears and frustration, I created a workbook and printed it on card stock paper. Then I got a few of my Venture College friends together and taught the workshop again for free.
I got great feedback, revamped the content again and decided I was ready to see if anyone would show up and provide the ultimate validation- giving me money.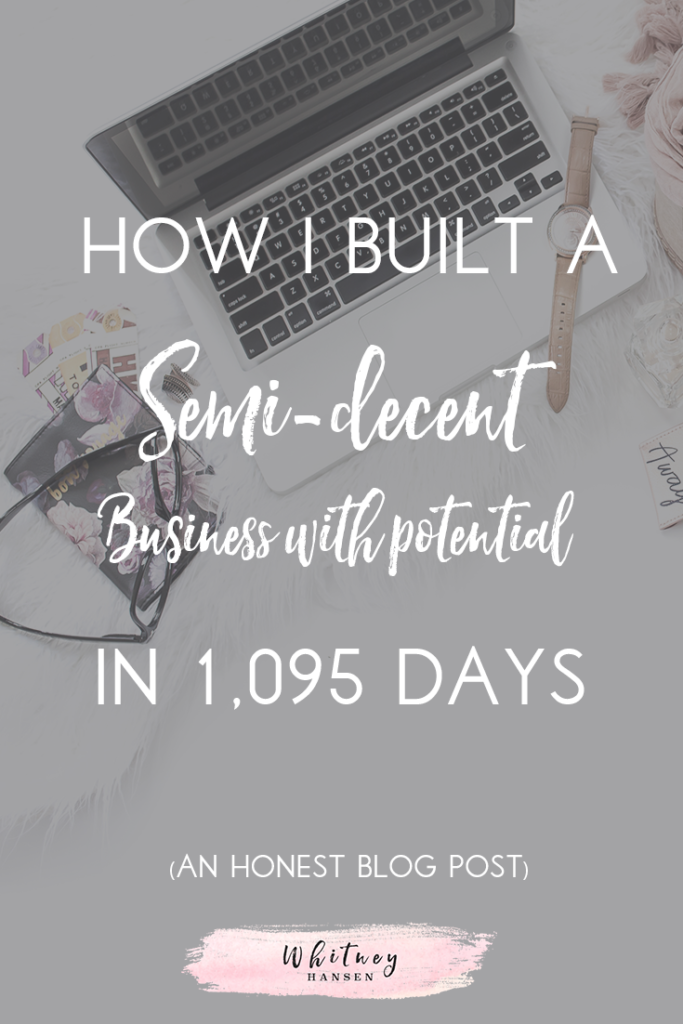 In-person workshops for high school students
I began teaching in person classes to high school students thinking for sure, prevention was the key. If I could just get to the high school students before they go off to college, I can help them avoid student loans, screwing up their credit, and graduating from college in a worse position than when they started.
I threw together a flyer and started sending it to anyone I could think of and even ran a Facebook ad for $25 to people in my community.
I had 5 people come to my two-hour workshop and made $175 revenue.
Excited, but exhausted, I kept moving forward. If memory serves, I believe I taught 5 workshops total in 2014. In one circumstance I partnered with my local university thinking this was the break I needed to help me market the workshop.
I charged $10 for college students to join in.
My first session, I had 6 students (3 of which were my siblings and brother's girlfriend to fill seats so I wasn't embarrassed).
The next session? I had 1 person show up.
I wanted to cry.
But I did my best to help her in every way I could and ended up getting a great testimonial out of it.
I learned a powerful lesson-  your customers aren't always who you think they are. While I was marketing these workshops as designed for high school students, I was getting a handful of single moms, 20-somethings, and tended to attract more females than males.
High school students are great. But millennials with debt care a hell of a lot more about fixing their financial problems.
Taking it online- 2014
Ultimately, I knew, the only way for me to seriously scale a business was to take it online. My goal was to reach thousands of people across the world and build a community of people interested in kicking butt with money and paying off a ton of debt.
So I did what every great entrepreneur does. I threw up my first website in late 2014. (for some reason, the images aren't working, but you get the idea)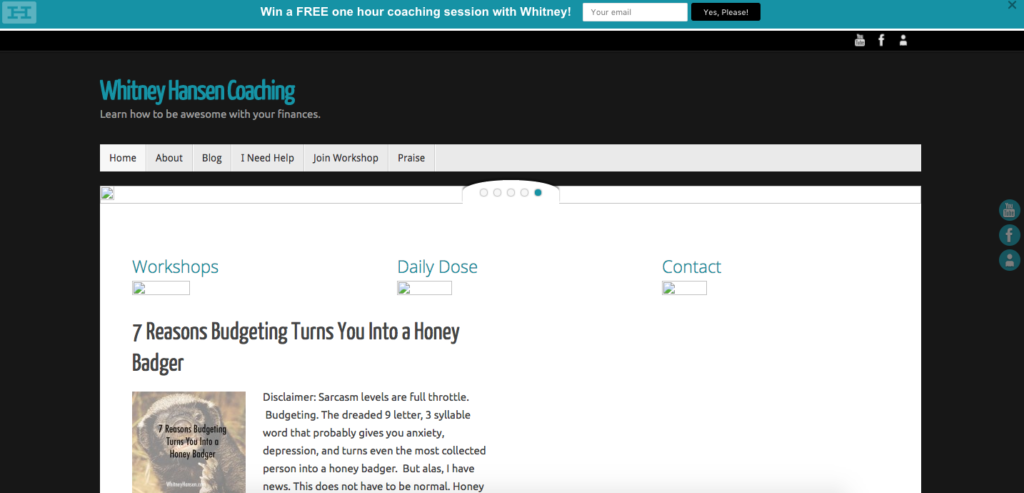 Am I embarrassed of the site now? I mean.. sure. But in that moment, I was damn proud.
Imposter Syndrome
I wanted to create a course, but I didn't know if anyone would care. I experienced what every newbie entrepreneur experiences- imposter syndrome.
Imposter syndrome is when you think to yourself, who am I to share this information? I have nothing new to contribute to the world. Everything I say has already been said before. No one will care.
This is a shitty thing to go through. Yet, it's a necessary part of the process. During the imposter syndrome, a lot of people quit.
I can see why.
The feeling of self-doubt was so extreme for me and I felt like I had no one to turn to. So I kept my head down, did my best not to talk about my business, and secretly contemplated quitting at least 3 times a week.
Manage Your Money Like A Boss 1.0
I took the content I created from the in-person workshop and turned into into lots an online course in text format. There were no videos. No proof this was going to work. Just an exhausted, "please Jesus let this work."
I had a tiny email list- honestly, I don't even remember how many people were on it- and sent an email asking people to buy my course for $25.
The content was good! My confidence was not.
I had a few people buy.
Manage Your Money Like A Boss 2.0
This was enough validation that people cared and started putting together a webinar a few months later. At the end of the webinar, I mentioned that I was working on a course that would be ready to go in 1 month. If they wanted to buy the course, they could pre-purchase it for $79.
I sold 7, making just shy of $600.
So I started recording videos for the course and delivered the course.
I kept trying to promote my course, teaching webinars, and eventually learned that while the course was doing okay, a lot of people were very interested in working directly with me.
This brings me to lesson #2.
When you keep hearing something over and over again in business. SHUT UP AND LISTEN.
I turned away a lot of 1:1 coaching clients, because I had a vision of how I wanted my business to be. Turns out, my customers wanted something different.
Building an audience -2015
I feel like all of 2015 was a blur for me. Life hit pretty hard. I went through a painful phase in my personal relationship, graduated from my MBA schooling and was really disappointed that my business wasn't where I wanted it to be.
I recorded a YouTube video and was so embarrassed of what other's would think that I didn't officially push publish for almost a month.
With artificial optimism, I kept trucking forward. Recording YouTube videos once a week, writing blog posts that barely anyone was reading, and listening to podcasts so much that I easily had information overload. (But damnit, I could tell you anything you needed to know about retargeting people on Facebook!)
Course sales kept coming in, but they were not easy to get. (Primarily because I wasn't comfortable with selling my own products.)
I felt utterly stuck.
Something, I suspect, we all go through.
Gaining traction- 2016
All of 2015 was spent learning, making mistakes and frankly- throwing some shit on the wall to see what sticks.
But it paid off. It gave me a good base to go off of during 2016. My audience was growing, my knowledge base was getting very high.
I learned more in 2015-2016 than I ever have in my life.
Every single free second I had, I was reading blog posts,  listening to podcast, and trying the latest and greatest with Facebook ads and digital marketing tactics.
It paid off. My email list slowly grew, my blog was getting somewhere between 2000-3000 page views per month, and I had a blog post that started generating some affiliate income.
Much of the traction gained in 2016 came from focus. I began to realize what I was good at, what my audience cared about, and ultimately, how to create sales funnels that actually worked.
All of the podcasts I listened to inspired me to start a podcast. Which I proudly launched in November 2016.
Then, over Christmas and New Year's, I redid my website, embracing and owning that I was for female millennials. This is the same website you see today.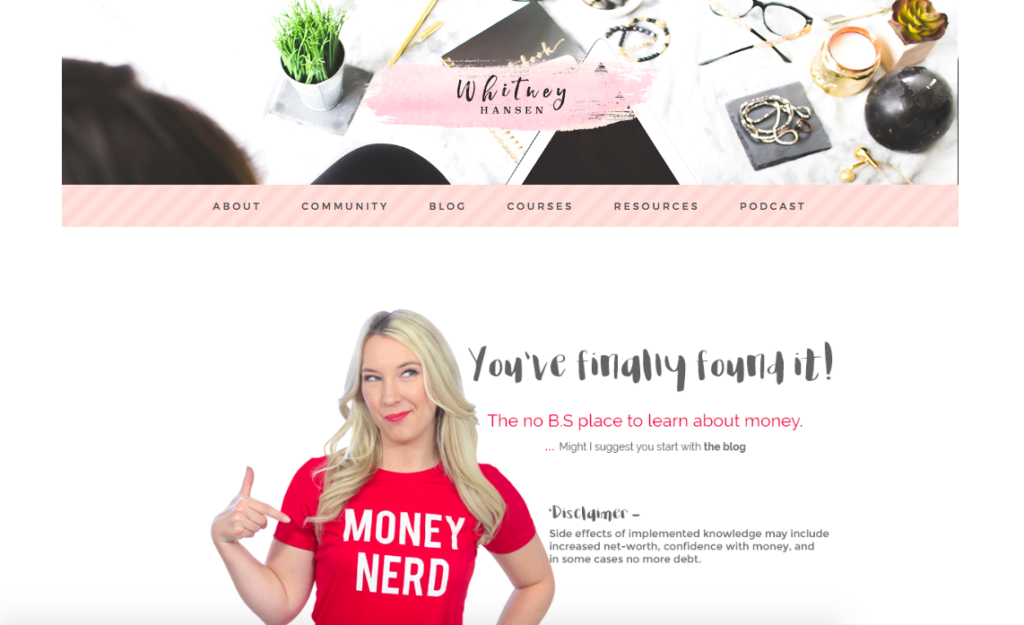 I can *kind of* eat – 2017
This year has started off strong.
Not because I did some new strategy. Not because I got a lucky break.
Because I laid every single brick since 2014.
I showed up when no one else was there. I kept writing blog posts that no one was reading. I kept recording videos that no one was watching.
I kept showing up, even though I "quit" my business at least 50 times.
See this is the message I want you to take away.
Business is f*cking hard.
It's not hard because the work is difficult.
It's hard because you have to keep showing up when things are shitty.
When you get your first hater that literally stings to the core, when people tell you you will never build something incredible, when they criticize you for not taking bigger risks, keep showing up.
This year I'm anticipating my first six-figure year. I still work a full-time job. I still deal with self-doubt. I still get nervous when I try new things in my business.
But, I've fallen in love with the process. It's incredible that people will pay for things you created in your own mind.
There is no greater feeling than seeing people's lives be changed because you were brave enough to keep showing up.
Keep building your wall, one brick at a time.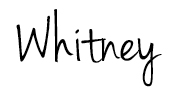 PS. I'm now confident saying- you should check out my courses or work with me 1:1 by sending me an email ([email protected]). I will help you accomplish your financial goals faster than if you do it on your own.