Recently I sat on an entrepreneurship panel and discussed my career as a financial coach. It was really fun reflecting on what life used to be before starting my own business. And I can honestly say, I'm SO grateful for the opportunity and courage I took to branch out on my own.
I'm definitely not an overnight success, but I am proud of the business I have built.
There are a lot of aspiring financial coaches out there, in fact, if you're reading this, there's a good chance you want to launch your own thing as well. So hopefully this post will provide you with more information about the day-to-day, bigger picture, and even the lifestyle changes I've made because of my financial coaching business. These were some of the questions I received on from the entrepreneurship panel. So let's dive in. :_
What is a typical day like?
A typical day today isn't so typical, but I'll do my best to give you some idea of what I do on a "normal" basis.
I wake up at 5:00 AM, head to the gym and work out between 5:30 AM- 6:30 AM, and get home around 7:00 AM. From there, I drink a huge cup of coffee, chug 16 oz of water and make breakfast. While I'm eating breakfast, I answer a question from my daily journal, and then finish up by meditating for 10 minutes. Once I'm done meditating, I pull out my notebook and write down 3-5 things I have to get done for the day. Then, I start working by 8:00 AM.
My workday varies from day to day, but I generally have my productive time working on blog posts, answering emails, implementing/tweaking my sales funnels, and doing discovery calls with potential coaching clients. I also spend some of my days podcasting and connecting with others. Most of my paid coaching client calls take place late afternoon and in the evenings (my clients are busy working professionals).
How do you balance work and life while owning your own financial coaching business?
I am not a believer in work/life balance as an entrepreneur. Now, I'm not saying I work until 10 PM every day and never have time for friends and family, but when you run a business you are really passionate about, there's no such thing as clocking out and leaving work at work. My brain is constantly thinking of ways to help my clients, marketing strategies I want to test, and visualizing what the future of Whitney Hansen Co looks like.
Because my business can consume me and I don't want to experience burnout, I try to shut my computer down by 8 PM every night and take breaks throughout the day to do things I couldn't when I worked a 9-5. For example, I recently went to a 2 hour tea-time at 1 PM on a Wednesday because I could. It was awesome!
I also prioritize monthly date nights with Tony and 1 weekend adventure every month where I get away and completely ignore my email and phone.
I also tend to view my life as seasons, and recognize that I'm currently in a season of hustle and not relaxation.
What kind of hours do you normally work?
I probably spend a solid 25 hours of productive work on my business. I tend to "work" 50 hours a week, but if I'm being really honest, I'm not being overly productive all 50. I usually work a few hours on weekends on whatever projects I feel like working on- that's my guilt free unstructured work time. I find this to help me get a creative outlet and just do things that I enjoy.
When I was working my 9-5, I would work my standard shift, and then go home and work from 5:30-9:30 PM every night and then 5 hours on Saturday and Sunday. It was exhausting, but that's what it took to turn my side hustle into my full-time hustle. I also wasn't hitting the gym as often as I'd like when I was working and growing my business, so that kind of sucked.
I rarely let work creep into my sleep time. I do a really good job of prioritizing my sleep.
Are there social obligations as a financial coach?
While there aren't any formal requirements of showing up places in my job, I do take social obligations very seriously. I am pretty active in my community and am teaching personal finance workshops and attending networking events on a monthly basis. I also do a lot of public speaking at conferences and within the community. The mission of my business is to educate and empower 1,000 people per year, so I find this to be important for my reach. Another social obligation I have with my job is attending 2 conferences per year. I make it a point to meet people, connect, and learn as much as I can while I'm there– even if that means being tired the following days. Conferences are expensive, so I do what I can to get the most out of it.
How has being a financial coach affected your lifestyle?
Being a financial coach is the best gift in the world! You create your own schedule, get to help people with an incredibly scary and stressful area of their life and get to watch your results compound over time. I also love traveling and running a digital coaching business allows me to block off vacation days when I find a good deal on a trip instead of having to get it approved by my boss. I also work in athleisure wear much more than I'd like to admit and find myself rarely wearing makeup these days. It's giving me complete autonomy of what projects I work on and the direction I take my life and business.
It is literally the most rewarding and most stressful career I've ever had.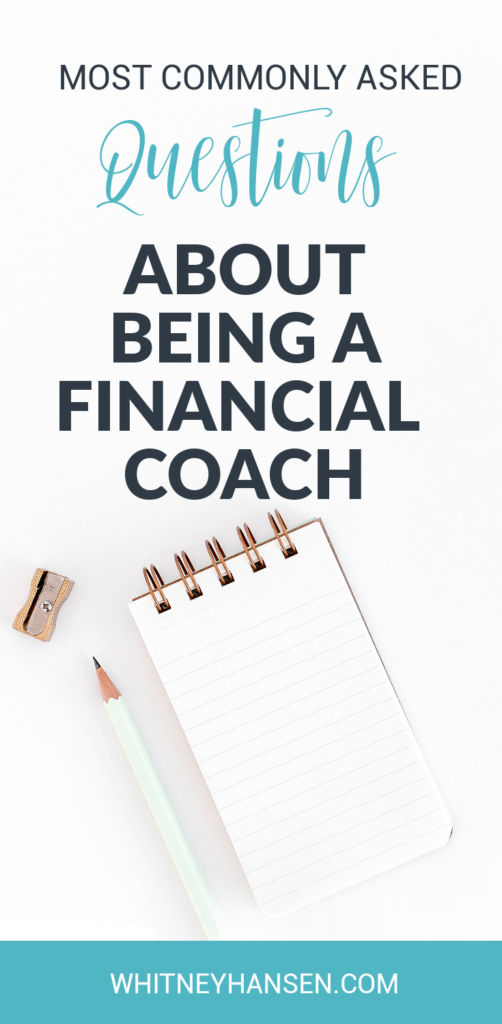 What kind of problems/conflict do you deal with as a financial coach?
Managing cash flow is always stressful when you own your business. Income is unpredictable and it's tough to know when to put more money into ideas and when to pull back a bit. One of the hardest things I had to learn as a financial coach is which clients to work with. When I first started, I worked with anyone and everyone, because, frankly, I needed the money.
Now, 300+ clients later, I have a good intuition of which clients will be a pain in the butt and which will be a dream. My ideal clients are self-motivated and just need a little extra hand holding and guidance. They usually want a second set of eyes and are willing to do the work. I still work with some of the clients that I know will be a pain, because I find that to be my personal challenge to see if I can help them with their finances.
Another problem as a financial coach is not getting absorbed emotionally into your client's lives. For a while I was working with people going through some serious shit, and found myself feeling a bit depressed. I am an emotional person and was taking their problems on as my own. It was really interesting and hard to work through. It took lots of self-reflection to fix that (although it is still something I struggle with from time to time).
The learning curve used to be a big problem for me too. It was really difficult to go from not knowing how to create a website, to digital marketing and sales funnels and even how to run the business side of my coaching business, but we all start from the same place and have to figure it out.
What is the best educational prep for starting your own financial coaching business?
I had to learn this stuff on my own and paid a LOT of money purchasing courses and spend easily over 2,000 hours studying, learning, and implementing strategies to help me generate traffic and coaching applications.
There weren't any courses specific to financial coaching growth that I saw. That's also what led me to creating my own course teaching others exactly what steps to take to grow their own financial coaching business. It's live now and if you want to learn how to shortcut your learning curve and learn how to build a profitable coaching business, I highly recommend it. It would have saved me so much time, tears, and money if I had a blueprint to follow.
My biggest suggestion is to follow ONE teacher at a time. I found myself piecing together information from different teachers and ultimately was frustrated that my strategy was all over the place.
Any special words of warning? Words of encouragement?
If you feel that you have something unique to offer to the marketplace and have the heart of a teacher, I highly recommend becoming a financial coach. It's a growing industry, is at its early days of getting launched and is only growing. If you are thinking of being a financial coach, I would suggest working with a couple people for free and seeing if you enjoy the process. I would also encourage you to write down what worked for you when you were bettering your financial life and put together a coaching structure that you can test with your free clients.
Of course, I also think you should 100% invest in Become A Financial Coach course because I know it will save you from a lot of time and frustration.
My biggest words of warning are to stay patient! Businesses are not built overnight and you likely won't go from 9-5 to quitting your job in 1 year. But with consistent action and constant testing/refinement, you might be able to quit your job and help thousands of people better their financial life. It's a really, really fun career and by far the most rewarding thing I've ever done!
---
I'd love to hear from you! What questions do you have about becoming a financial coach?
Comment below and I'll answer them all. 🙂