Have you ever seen those articles about people who make hundreds of thousands of dollars per year off their blog?
From first glance, it seems impossible, but once you learn that a blog is not a business, a business is what makes you money, you start to view blogs differently.
I recently went through my friend Natalie's course and really thought the content would be helpful for you! If you've ever wanted to launch a business from your computer and learn the ins and outs of blogging, I strongly recommend this course. Keep in mind, I only recommend products that I trust or have gone through myself, so I don't take recommendations lightly.
You'll learn a lot! To also help you get a bit more insight into the course and the face behind the course, I asked Natalie to answer a few of the most common questions I receive from aspiring bloggers.
If you haven't met Natalie before here's a bit more about her:
Natalie Bacon is a life coach and online entrepreneur with a focus on helping creative, career-driven women who want more from life–more fulfillment, more money, and more freedom. Prior to this, Natalie practiced as a CERTIFIED FINANCIAL PLANNER™ at a firm that managed over $1B in assets under management. Before her financial planning career, Natalie practiced as a business attorney. Natalie has been featured in Forbes, The Huffington Post, and CNBC. Read Natalie's full story here.
Enjoy!
1) What was the reason you started your blog? 
I started my blog because I graduated from law school and became an attorney and quickly realized I knew nothing about my student loan debt! I wanted to help other creative, career-driven women with their money.
2) How do you make money off a blog? 
Like I teach in Blog With A Full Time Job, "blogs don't make money–businesses do." So, I really think about it like an online business (not a blog) because that's what it is. I make money from my business in a few different ways–selling my own digital products (eBooks and courses), affiliate marketing, display advertising, and coaching (coming soon!).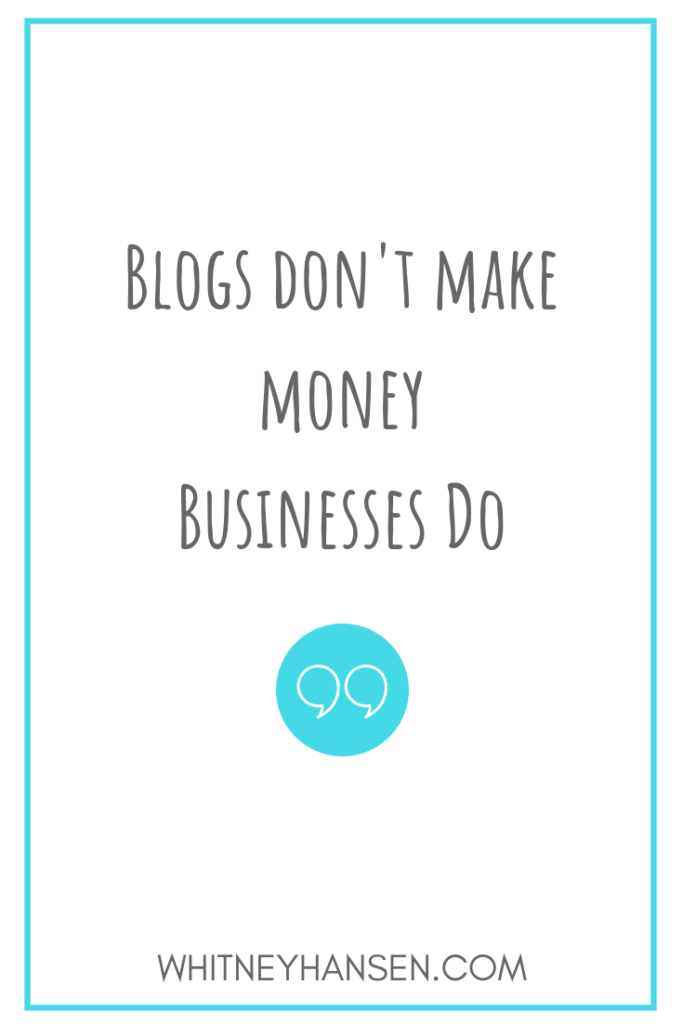 3) A lot of people are scared of the tech side of starting an online business. Did you struggle with the tech side of things?
Of course! It's like anything you start as a total newbie–there are going to be challenges and a learning curve. I spent a lot of time on YouTube and just good old trial and error. We're so lucky today that everything is online. We can teach ourselves everything!
4) What's the biggest mistake you see newbie bloggers making?
They start a blog with the goal to make money. Then they focus on writing about themselves. If you want to write about yourself online, that is an online journal. That is not a business. You really have to learn online business and marketing if you want to make money online. There's no way around it. The most successful online businesses are by people who are obsessed with business and marketing.
5) If someone really buckles down and takes blogging seriously, how much money might they expect to make in 1 year?
There is absolutely no way to give an answer to this. That's like asking how much money can you make in your first year of business. You could be negative your first year. You could make $100k+. How much do you already know about business and marketing when you start? How much money are you willing to invest up front? It all matters–a lot. I made $8k my first year because I focused on freelance writing while I was an attorney. Last year, I made $178k, and now I'm focusing on scaling to seven figures.
6) You launched your blog while you were were working a 9-5. How did you structure your day?
When I started, I just blogged whenever I felt like it (in my free time). My second year, I started to blog a couple hours a day. By my third year, I was getting up at 4am to blog before work. Then, I worked during lunch and after work. I averaged 20-35 hours per week on my blog while working full time. It was like having another part time job. I did this because I knew I was gearing up to quit and go full time on my business.
This is something I teach an entire lesson on in my blogging course because it's SO important!
7) Since you've quit your 9-5, your business has brought in over $165,000 and you launched a course called Blog With A Full-Time Job. Does the course cover the tactics you used to help you get to your current revenue numbers?
No, it doesn't because that would be WAY too advanced for someone blogging with a full time job trying to get from $0 to $5k+ per month from their business. My course is foundational for so many intermediate bloggers because they never really got the training they need to scale. They never learned marketing in a way that will give them the tools to take them from where they are now to where they want to go. And I know this because so many intermediate bloggers tell me they were hesitant about taking the course but after taking it were blown away from what they learned and how they're seeing results now. I couldn't be more proud of this.
8) Who did you design Blog With A Full Time Job for? 
Blog With A Full Time Job is for someone who is a full time employee and wants to make money blogging. This course is different than any other course on the market because I lay out the exact plan for how to manage both a blog and full time job. Not to mention the specific monetization strategy to use for creating a successful (profitable) business. I created this because I wish something like it existed when I was starting my blog. All the courses I took left me feeling completely lost — they left so much out. I don't leave anything out. I give a clear step by step plan of eveyrthing you need to do. I'm super proud of how successful my students have been–there's nothing better.
Whitney's Note: I highly recommend headed over the course landing page to check out some of the testimonials from people. It's really very inspiring and I'm fairly confident you'll find someone in a similar situation to you that has made the online business a focus.
9) What's your favorite blogging tip? 
In the first few years of your business, focus on direct response marketing and building a business as the foundation of your blog–not influencer marketing.
10) Where do people go to hang out with you online?
My podcast! Design Your Dream Life With Natalie Bacon.
---
I hope you guys have enjoyed this interview with Natalie. She's a very inspiring person and if you are trying to launch
your own online business and looking for ways to make your blog successful while working a full-time job, I can't recommend the course enough.
Send me an email or comment below if you have any questions about the course. I've gone through it myself and am more than happy to give you my two-cents! ????