*This post is a guest post from Kari Lorz. Kari is a writer, Disney fanatic, and mom. She's currently building up her freelancing portfolio. 
---
Disney World. One of the spendiest places on Earth…
Oh, I'm sorry, I meant the Happiest Place on Earth.  Seriously though, you know those shirts that say "Best Day Ever!"  On my trip down there last month I saw a Dad wearing a shirt that read "Most Expensive Day Ever" in the iconic Disney font.
All I could do was give a little "Amen!" under my breath. Then I immediately went and paid $5 for an ice cream bar.
My husband and I have been on nine Disney Park trips in the past nine years.  Which means that we're kind of Disney Park nerds (aka total Disney Park nerds). The good news for you is that I am about to share my top 5 ways on how to not aimlessly throw your money away (and trust me, you'll be tempted!).
Don't worry, I'm not going to give you the same boring and lame advice everyone else does.  Like "make sandwiches in your hotel and pack them into the park." Because that's just blah.  YOU'RE ON VACATION! Live it up. But do it like the smart money nerd that I know you are!
In 2017 Disney's theme park division grossed approximately $18.4 billion, so they know what they're doing; and that means that you need a strategy.
5. Plan Your Trip for the Right Time of Year
Planning ahead is key, at a minimum six months ahead, nine is better.  Disney has basically five seasonal categories, which is chiefly determined by crowd levels.  The most expensive times (hotels and park tickets) are when it's most convenient for families to go (of course), so get creative.  In the off-season (think January and the fall) rooms are cheaper, and crowds are lower = double win. For a deluxe single room, it can be a $200 per night swing.
Lame Tip:  Now, you can always save a lot more by staying at a hotel off property, but you definitely lose out on the magic that way.  I mean the Ho Jo is cheaper sure but come on, don't be a dum dum.
4. Know the type of trip you want to have
Are you all day park goers, or do you prefer to go slow and only do some half days and enjoy more time just relaxing?  If you're open-close, balls to the wall kind of people then you may not need a deluxe resort. I mean if all you're going to do is sleep & shower at your hotel then you can save a bundle by choosing a less expensive option.
The price range per night goes anywhere from $125 to approximately $900 for two adults in a single room, depending one their three-tiered main hotel categories and on average four room categories in each hotel.  With currently 25 hotels (and four more in the works) and over 35,000 rooms there is a lot to choose from.
This trip we knew we wanted to take it slow with our toddler, so having a nice hotel was important to us as we'd be spending a lot of time hanging out there.  So we splurged on a split stay at two different deluxe hotels, yet we paid $0, but that's a story for another day (hint: did you know that Disney has their own version of a timeshare?)
3. Eat a big lunch
Did you know that at most of Disney's nicer restaurants that the lunch & dinner menu is almost the same?  Yet for lunch, you could pay up to $10 less per entree. Now $10 doesn't sound like a lot but for a family of 4 over a five day trip that's $200, for the exact same food.  Besides, you don't want to eat a huge dinner, as you'll want to save room for dessert!
Lame Tip:  Many people tell you to take advantage of their Dining Plan (three-tier options of course, from $52 to $116 per person, per day).  Then you're tied into eating at specific category restaurants and getting a particular food option. Think to have to order an appetizer, entree, and dessert at every single dinner meal.
It doesn't sound like a big deal, but in 90+ degree weather, sometimes you just want a salad.  But your server will very politely tell you "nope, too bad you have to get it all". Besides, some of the nicer places would mean taking two of your dinner credits, instead of a regular one.  Then you have to pay out-of-pocket for the next dinner meal anyway. It's just not worth the hassle.
 2. Don't buy souvenirs at the beginning of your trip
You'll just regret it.  Guaranteed you will find something you like better the next day.  Oh whoops, you didn't buy the Park Hopper ticket so you can't go and return the first item that you got at the Magic Kingdom yesterday.  Guess you're getting both.
Hint:  Use the Shop Disney Parks app to keep track of what you want, and then at the end of the trip either make a stop at the World of Disney (the store that has everything), or you can order straight from the app.  The app is also nice because when you scan the item it will tell you the shops from all over the property at which you can buy it.
1. Disney Packages aren't always the best deal
Disney will often come out with package deals, these are shiny things that tempt you into thinking that you're getting a good deal.  They'll usually do a Free Dining deal in the fall, which means you pay the rack rate (highest price) for the room but get their Disney Dining Plan for free.  Or, they'll do a room only discount deal, or they'll do a room + ticket package.
Don't assume that since it says "package" that its a lower price than buying things individually.  Not true. Price your vacation wants out separately, and then price compare with packages. If your family's not big eaters then who cares about the mystical Free Dining deal.
There you go, tips that will still keep all the fun and luxuries, yet keep you still in the black.  If you overspend a bit, that's okay. You can always sell a kidney. ????
Pin This For Later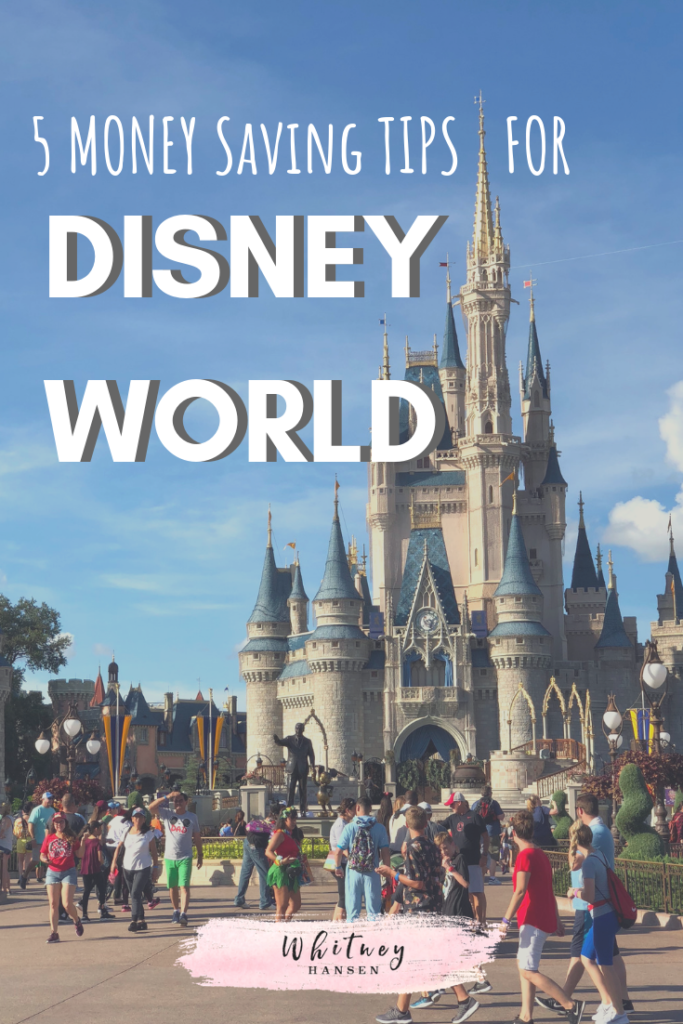 How to build up a savings (without doing any work)
Enter your name and email to get access to the training instantly.
(link will be sent directly to your email)