Hi friends!
I'm writing this after having a mild heart attack. I experienced my first website crash, and may or may not have almost cried. Seriously, this is a side of life I never imagined myself going through. 
Thankfully, as you can see, all is well in Whitney website land. 
This week's theme has been focused on living paycheck to paycheck. It's a topic that is near and dear to my heart, because we all experience this at some point in our lives.
We all start from the bottom. 
What concerns me is not those that are working their way up, but those that are in their mid to late 20s and still living paycheck to paycheck. 
One of my constant pondering is why- why are 76% of Americans living paycheck to paycheck? 
This video details out exactly why I hypothesize people are broke. These are my opinions based on directly working with lots and lots of people. 
---
---
What do you think? Do you fall victim to these reasons? 
What do you do to prevent yourself from blowing your savings account money?
Comment below to share your tips. (Or in the words of Ms. Jill Stanton from Screw the Nine to Five, show us your tips).
Thanks for reading! And hope you are having a wonderful Thursday afternoon.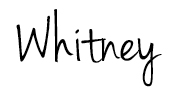 PS. If you haven't joined the newsletter list…dude- you are missing out on inspiration every Tuesday- Join my digital family today.