On Friday, I just returned from my week long adventure in Italy.
Aside from retro selfie-sticks and Roman traffic- it was amazing!
When I was in 5th grade, I wrote a report on Venice and thought it was the coolest thing to have canals and no cars. It seemed like such a fictional place in my 5th grade mind that I knew I had to see this place in person.
The problem? It's not cheap to get to Italy.
So when I landed on a really amazing price to go to Italy for just $431 for my flight, I jumped on it.
Here's what no one told me about Italy, and I really wish I knew:
If there are pictures of food on the menu outside- run away
This was taught to us by a local tour guide and boy was he right. We fell into that trap the first day and didn't make that mistake again. You overpay and get crappy food.
Most of the food in Italy is incredible. The pasta is tasty, the sauces are flavorful, the pizza is to die for, and the cappuccinos are heaven in your mouth. Don't even get me started on gelato!
Get off the main road and go into the little alleys. That's where you will find the good foods.
Water is not free
I hear this is Europe thing, but water is around 2,50 euros. So you might as well grab that 1 euro house wine. 🙂
Cappuccinos are consumed before 11 a.m. and while standing at the bar
This was awesome. You grab a cappuccino and cornetti for 2 euros and chill at the bar standing up. It was hands down the best cappuccino I've ever had.
TripAdvisor is bigger than Yelp in Italy
Who knew? In the states Yelp is the go-to for finding a restaurant. Not the case in Italy. The popular choice is TripAdvisor. So just use that as your go-to review site.

Venice really is as magical as they say
There's something extremely romantic and magical you feel when walking around Venice. It really did make its way to my favorite city. Although it is freezing in December, it's well worth the visit because there are less tourists and you get a bit of fog which is eerie and awesome at the same time.
Rome is a HUGE city
…and traffic signs/crosswalks are mere suggestions. No one really cares much about following the traffic rules. You just have to dart in front of traffic, cross your fingers and hope.
Catacombs + the Capuchin Monk Bone Chapel is amazing
The catacombs are where Christians were buried in 600 miles worth of underground tombs. It's a maze under there. Totally off the beaten path and worth a visit. In the bone chapel, you see bones from 4,000 dead monks designed in an oddly beautiful way. The message is what I felt was most interesting-
"What you are now, we once were. And we are now, you will be."
Basically a reminder to live life to its fullest.
The Colosseum has a presence
I can't quite describe it, but hearing the stories from that time, seeing the amphitheater and imagining how life was like then provides a very strong feeling. It's a heavy place. The architecture of the arena alone is noteworthy- ya know, like one of the wonders of the world noteworthy. It makes sense. The colosseum was completed in 80 A.D. and is still in great condition considering.
All of the Basilicas are gorgeous
Every church there is unreal. We think we pay a lot of attention to detail, but it's nothing compared to Italian churches. Not a single detail was overlooked. The ceilings are gorgeous, the marble floors are original, and the sculptures are crazy impressive. It's fascinating to see how they put so much craftsmanship into the appearance. Of course going to St. Mark's and St. Peter's is a do or die, but each church we went into was really beautiful. And most are free to go.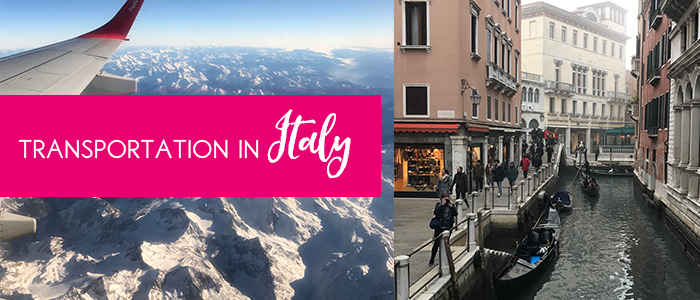 Trains
We took a train from Rome back to Venice, primarily for the experience. I hear trains are really inexpensive, but I didn't find that to be the case. We ended up paying 60 euros per person. It took 3.5 hours to get to Venice. Seeing the Italian countryside was really fun though. So for that reason I did enjoy it.
Planes
Hopper flights are the best in Europe! We took a flight from Venice to Rome and paid less than $100 per person to get there within one hour. That part is worth it if you are short on time. Also, Swiss air is airline goals. They actually give you a piece of chocolate, ask for feedback, and do all of this with a smile. Well done Swiss Air. Well done.
Boats
To get to the islands of Venice we took a water taxi. It stops at every stop (much like a bus) and takes about an hour to get to Piazza San Marco. The cost of this was $25 roundtrip. Not bad! We found out later you can take a bus or the train directly to the islands. That might be what we choose to do next time. But who knows. 🙂 In Venice, you can take a gondola around the canals for about 80 euros per boat. Being in December and freezing cold, we skipped the romantic experience this time.
Uber
DO NOT rent a car in Rome. You will regret it and likely get in a car accident. Seriously, it's that crazy. We found that Rome had Uber and we used that a few times. It gets expensive quickly at about 15 euros for a one way trip, but it really is a big city and you need some type of transportation or your feet will hate you.
This is a few basic things I wish I would have known before going to Italy. If you are planning a trip there, I hope these help you. 🙂