Let me be the first to admit, I'm no expert when it comes to running numbers for real estate properties.
I've been practicing running short term rental numbers for properties for the past couple of years and wanted to share how to do that, as well as some of my favorite resources to help me with that process.
There are two major factors that play a role in the success of a short term rental:
Occupancy rate
Marketability (uniqueness of property)
What is a short term rental?
If you are unfamiliar with short term rentals, these are homes, spare bedroom, Glamping sites, RVs, or even raw land rented as a campground. They generally are furnished and designed for short stays. Think hotel style.
While they tend to be on a short term basis, they certainly differ than long term rentals.
Which factors play the biggest role in success for a short term rental?
Predicting the occupancy rate of a property can be super tough. The occupancy rate is a fancy way of saying how often is a place rented.
This number used to be hard to come by and in all fairness, it still kind of is, but there are tools and tricks to helping you get a rough idea of an occupancy rate by using Airdna.
How to estimate occupancy rate of a short term rental?
Airdna is probably my favorite website ever for analyzing a market. I first discovered them through "Stay Here" (a show on Netflix). The show was a fixer upper style where an interior designer and business person would go into someone's short term rental and help them make it more attractive.
In true nerd spirit, I loved the way they calculated the revenue potential for properties, but couldn't figure out how they were getting their occupancy rate. After doing some research and lots of subreddits, I found the software they used– Airdna.
Airdna used to only available to hotels. They have since expanded/rebranded and give you a rough idea of how an area might do. Here's a screenshot of the free version and what it looks like for my city, Boise, Idaho.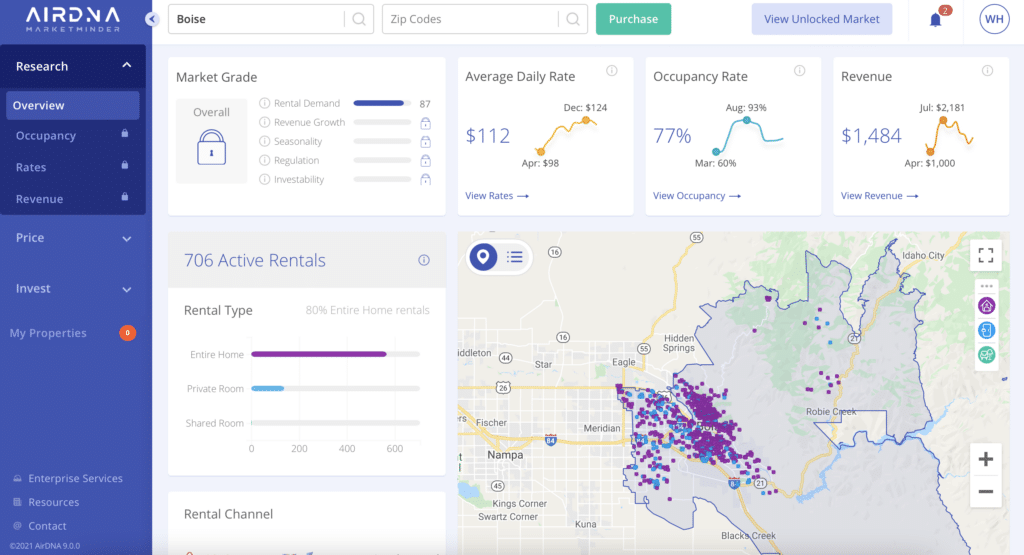 I like to take note of the rental demand (which tells you how popular a place might be), the average daily rate (even though I wouldn't necessarily price based on that), the occupancy rate, and the revenue.
The occupancy rate (OR) is the true gem here. It tells you a rough idea of how much you might be able to plan for based on all the rentals on Airbnb and VRBO.
I then take that OR and plug it into my formulas, which you'll see below. ☺️
How to conduct market research on a short term rental
The next step is finding similar competitors that are doing well and not well in the area. I pull up Airbnb and start looking at all the properties. When scrolling, I'm looking at the ones with a lot of reviews, SuperHost properties, and properties over 4 stars.
Specifically I look at:
Reviews
Pictures (obviously pictures sell)
Amenities
Marketing Copy
Availability
I will then click on a property with a lot of reviews and read through them to see:
Were people were traveling through the area for something specific and stopped there? (this is helpful if you considering investing in a property outside of your area and want to see the attractions/way guests are using the property)
When did the property first become a rental? (estimated by looking at their earliest reviews)
What features did guests seem to appreciate most?
Any big complaints?
The next piece I look at is the calendar.
What the availability like?
This is really hard to tell if a place is super booked, or if the hosts/property owners have the calendar blocked off for personal use.
So I will save a few properties in a "Wish List" and look at this month and next month's calendar a few times a month. This gives me a rough idea of the rental demand.
What numbers I use to calculate potential success of a short term rental?
This might be super intimidating, so please bear with me, but this is a pretend scenario of how I would decide if a property might be profitable.
First I start with some basics: how much does the property costs (this would include closing costs), how much furnishing are and how much you night charge for the nightly rate. *See pic below for info*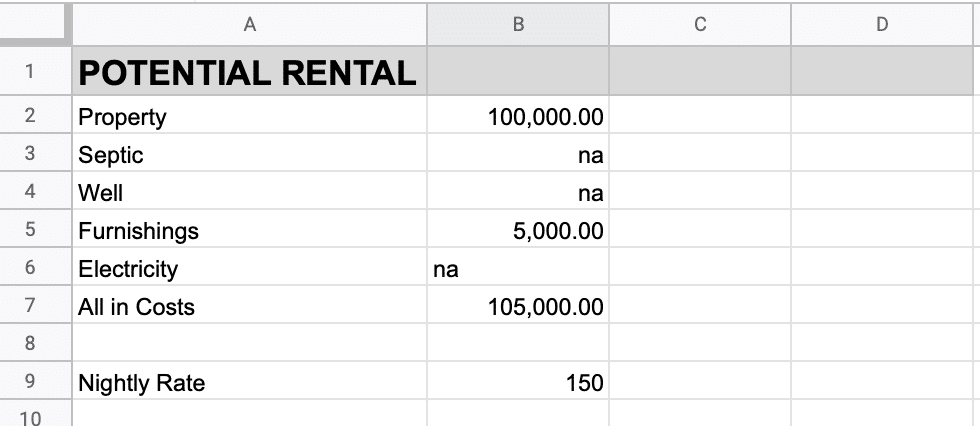 Then I start to get nerdy. Keep in mind this is just a sample. Most properties will have expenses unique to them and to the area (ie. snow removal, lawn maintenance, etc). I will also adjust the month rentable if the property is literally not accessible 4 months out of the year due to snow.
I look at 3 scenarios. The best, mid, and worst case. The 80%, 60% and 50% are just example occupancy rates. I would use the Airdna occupancy rate for my mid-case scenario.
A couple of points to mention from the expenses section: the customer supplies I take the total number of stays and times that by $10 to estimate how much a guest's water, TP, snacks, and toiletries will cost. I also factor in a repairs and maintenance budget and factor in a Misc. amount because something will come up. 😂
Note: a cleaning fee of $0. This is because majority of customers will pay extra for a cleaning fee through Airbnb, so you aren't paying a cleaner from your own pocket.
Total potential revenue is calculated by taking your nightly rate x total days rented.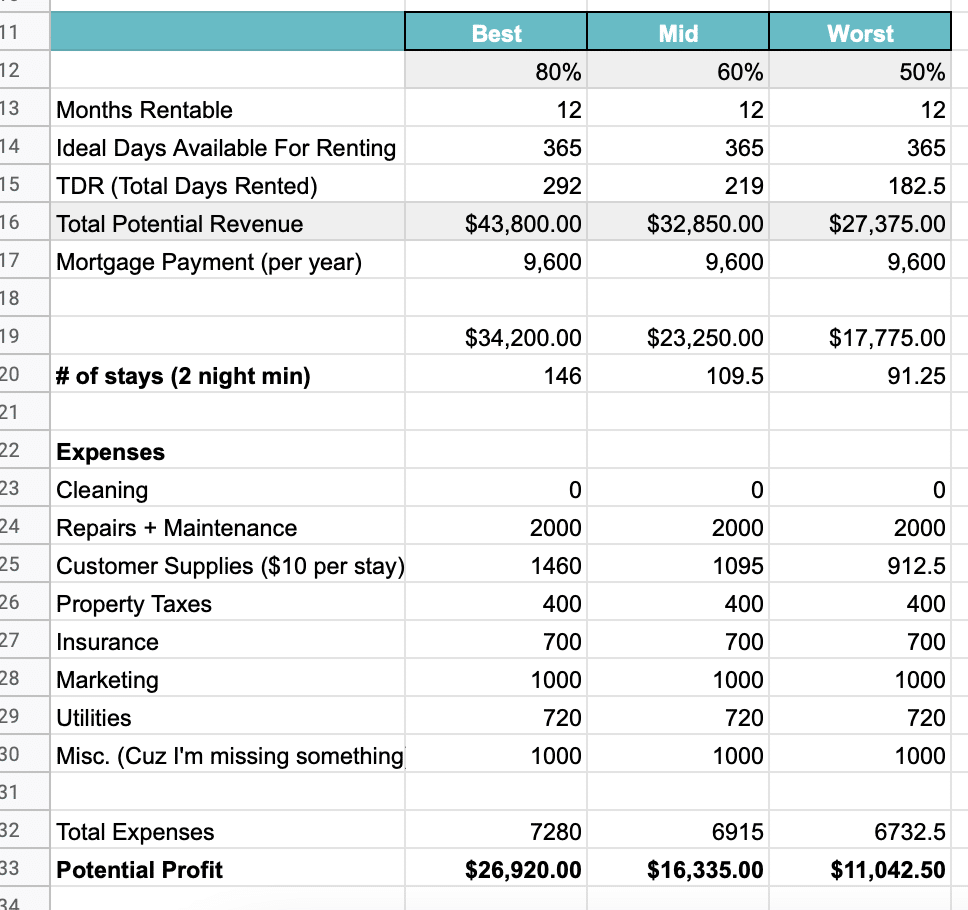 If the property is profitable with my worst case scenario, I will look into it more seriously.
Again these are made up numbers, so you'll need to run and analyze them for your own area and property.
But this is how I quickly run some analysis on a short term rental property to see if it might be a good deal.
I hope this was helpful for you or at the very least, gave you some points to ponder!