The person who loves tech and gadgets is one of the hardest people to shop for, IMO. Mostly because the price tag that comes along with these items can be really steep. So I did some digging, consulted with my fiance' who is also a techy guy and compiled gift suggestions for the person who is techy and really hard to buy for.
Most of these won't break the bank either.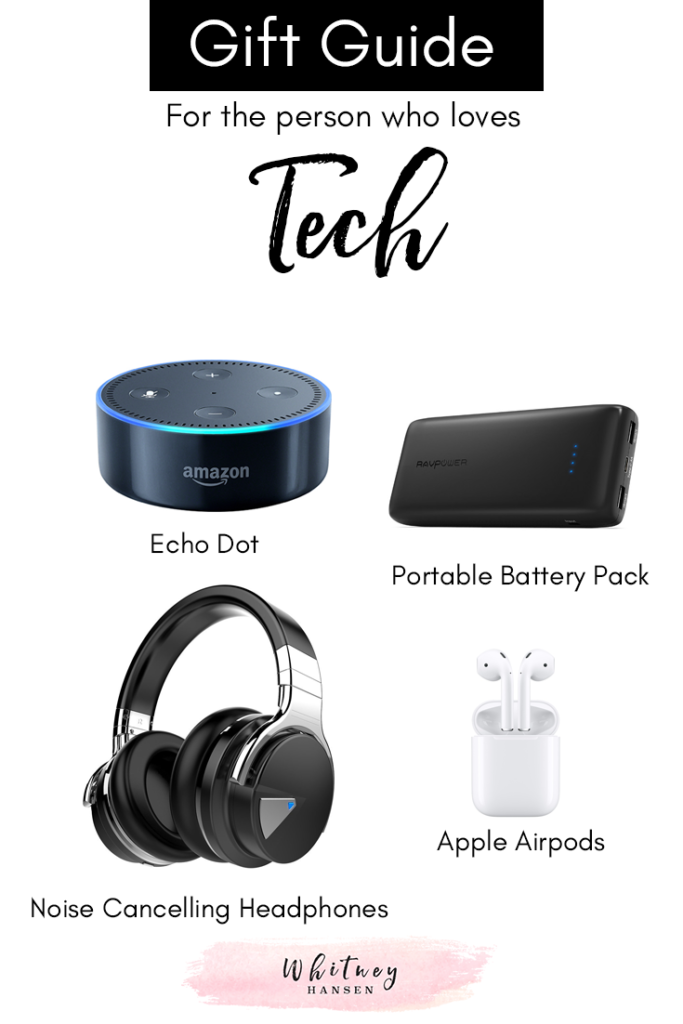 For the person who loves gadgets
These are really handy for anyone who wants to feel like they have a personal assistant. Imagine saying  "Alexa what are my appointments today?" And Alexa will respond with your appointments for the day. "Alex play my favorite song." And she will. It's pretty sweet. You can also have Alexa order items off Amazon for you or even turn your lights off (with additional products).
---
These are super handy to have! Great for travel and sure to be a good gift for the person who is into gadgets and tech. Plus it's pretty budget friendly. Charge up to 2 devices at once.
---
Bluetooth noise cancelling headphones can get really, really spendy! IMO the best are Bose headphones, but they come with a hefty price tag. Sony makes some good ones too, but this pair of headphones are both budget friendly and pretty damn well rated.
---
A bit spendy for sure, but these airpods are really nice to have! My fiance is a total gadget/tech junkie and loves his airpods. They charge in the case and connect through bluetooth. They technically sync with non-Apple devices too.
---
If you have an other suggestions of great gifts for that person in your life who can't get enough of tech and gadgets, please comment below and let us know what other suggestions you have.
Pin This For Later