Have you ever looked at your grocery budget and thought what the heck did I spend all that money on? 
As if that's not bad enough, you look in your pantry and all you have is junk food. 
It's easy to do if you are going to the g-store without a plan. To help you gain more control over your budget and continue working on your summer bod, I thought it might be fun to share with you my grocery list and how much I spend each month on groceries.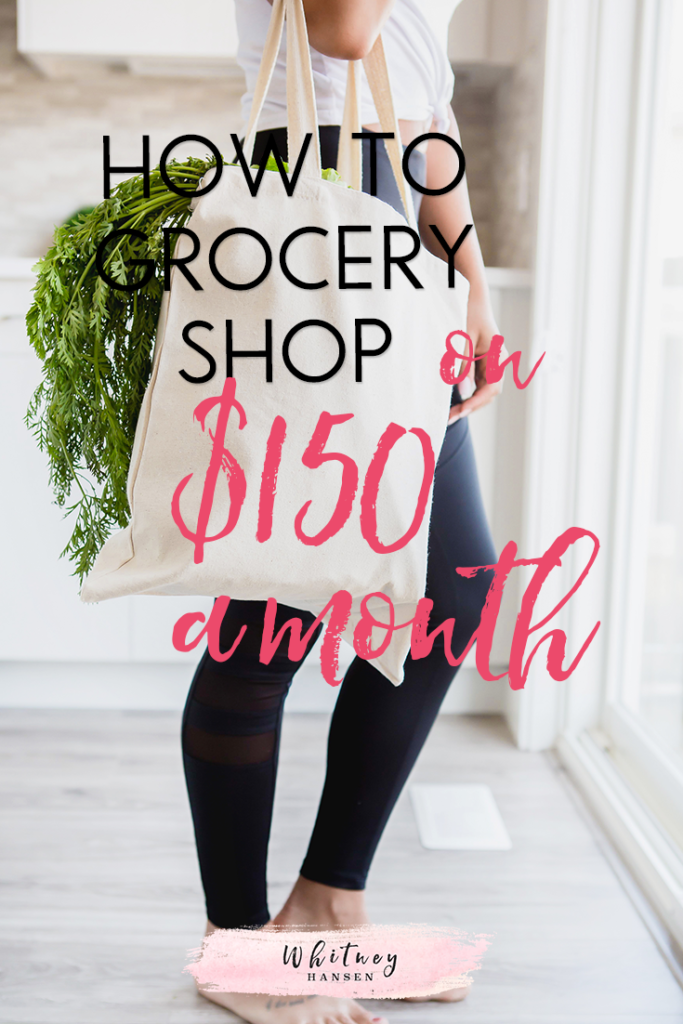 Check out the video and then continue reading below to get other tips/tricks. 
---
---
The video detailed out three important strategies for grocery shopping, but let me elaborate on these. I only spend about $150 a month on groceries. Sometimes it's a bit less (I don't always need to buy peanut butter), but sometimes it's a bit more. However, I NEVER go above $200 on my grocery budget for the month. 
I mean c'mon, I'm a one-woman show, it's just not necessary to spend more than that. 
NOTE: Sadly, healthy is subjective. What I deem as healthy, may not be what you deem as healthy. I base my food choices on what makes my body feel good. Fruits, veggies, complex carbs and lots of protein makes my body run like a champ and saves me time in the kitchen.
1. Only go grocery shopping once a week.
I typically pick up my larger bulk items from Costco once a month, because the bulk items last that long for me. My grocery list below entails one Sunday trip to Costco and get frozen chicken tenderloins, frozen veggies, steak, oranges (or some other fruit), and asparagus (or other veggie). Then making a trip about every other week to get the remainder of the items as needed. I dig Quest bars, and will occasionally pick those up online or from a supplement store.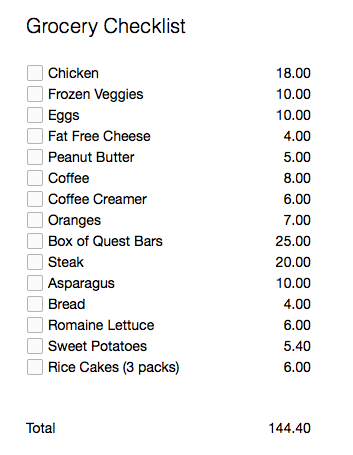 2. Yes, I eat "boring." But so do you!

 
I get criticized a lot from people claiming that I eat "soooo boring." I have about four or five go-to meals I make on the reg. Wanna hear a secret? Everyone does. Whether it's eating healthy, or eating out- we typically gravitate to the same meals. We truly are creatures of habit. 
3. Use cash only.
This tip will save your bacon. If you know you only have $20 to spend at the store, guess what you are going to spend? …..$20! It works. Using cash creates scarcity and makes you shop like James Bond.
4. Be an outsider.
Stay on the outside of the grocery store. That's where the fresh produce typically hangs out and that's also where you will spend less money. The only time I venture into the aisles is when I need coffee, oatmeal, seasonings, or bread. Other than that, no good can come from the junk food aisles. So just back away. Speaking from experience, you will spend way too much money! 
With these tips you will be cut down on your grocery shopping time and save money. It's totally doable to  survive on a tight grocery budget. Beans and rice is not the way to go when you can get great items for a low cost… sorry Dave.
5. Meal prep.
The key to all of this is meal prepping. This makes your groceries go further and reduces the likelihood of you throwing out produce. I meal prep every single Sunday. It's like my version of church. I put on some Netflix, throw some chicken in a crock pot or in the oven and let my food cook. Then I weigh, yes I am one of those people, my food out to be sure I'm hitting my macro nutrient goals and throw it all into this tupperware.
I am LOVING these little tupperware containers for meals. They take up very little space in my fridge and fit in my lunchbox perfectly. And they are really budget friendly. It's roughly $11 for a 7 pack of containers that will last you a long time.
Forever ballin' on a budget,
Whitney
I'd love to hear from you! What tips and tricks do you use to keep your grocery bill low? Comment below and let us know.