The author of this post is Steve Stewart. Steve has been teaching and encouraging others on how to eliminate debt and build wealth 
for almost a decade. This year he left his day job, used cash to 
buy a car and new windows for his house, and is paying off the 
house as a Christmas gift to his wife. To read the other articles in this series, go to http://www.SteveStewart.me/paidoffhouse

---
You guys,
This is the fifth in a series of posts that Steve is sharing on various websites as he counts the days left until he and his wife pay off their house….. the freakin' house!
I first met Steve through indirectly through FinCon, a personal finance blogger conference, and interviewed him for my upcoming podcast. Seriously, I was blown away by this guy! He has a heart of gold, is crushing his financial goals, and is kind enough to give us an inside look into what he's doing as he counts down the days to paying off his house. 
---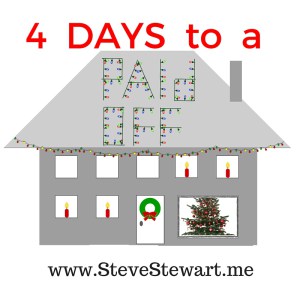 My wife and I are paying off the house December 14th, 2015. For the first time in about 30 years I won't have rent or a mortgage payment swooped out of my bank account on the first of the month.
My mortgage-free friends and clients tell me it's an incredible experience – and I can't wait!
However, they have also shared stories of difficulties with their banks and glitches that delayed their debt free date.
Here are the 4 things I learned, and you should know, before paying off a house:
1) Get a Payoff Statement first
 A Payoff Statement shows the remaining balance, any interest accrued during the month, and expected fees (such as recording fees).
Our bank has the ability to generate a Payoff Statement online and have a copy mailed to our house.
Tip: My wife and I will be walking into our local branch to pay the balance in person. Having the statement printed will keep any surprises from coming up and ruining our debt free date!
2) Start saving for taxes and insurance yourself
Most mortgage companies require you maintain an escrow account. The idea is to collect 1/12 of real estate taxes and homeowner's insurance each month so you don't come up short when the bill comes due.
Just because you paid off the mortgage doesn't mean you are no longer responsible to pay these expenses.
Our real estate taxes in 2015 were $2,600 and homeowner's insurance was $1,275. It would be difficult to come up with $3,875 all at once, so we will need to put $323 into a savings account every month and pay the bill ourselves.
Tip: Any funds in your escrow account will be returned to you. Our bank will be mail us a check within 20 business days of satisfying the mortgage. These funds will become seed money for our new "taxes and insurance" savings account.
3) Cancel the automatic withdrawal
Have you heard the stories about automatic withdrawals from Sallie Mae, auto financing companies, and even Amazon Prime memberships occurring after the account has been closed, canceled or paid in full?
Yeah. Me too.
Canceling your automatic mortgage payment early should give their system enough time to record the change and stop future withdrawals. I did this last week and will confirm with the teller when we make the final payment.
Tip: Keep enough money in your account to cover another mortgage payment just in case. If you are unable to keep that much money in your account and they draft another payment, the responsibility theirs to have the mess cleaned up and cover NSF fees (if any).
4) Pay in cash
A friend of mine walked into his bank to pay their mortgage balance with a check. The bank would not confirm the payoff until the check had cleared.
Oh, how frustrating to be so close to complete debt freedom but have to wait 2-7 days for a stupid check to clear!
My wife and I want to see a printed statement showing a $0 balance before walking out the door. I'll be going in with a stack of Benjamins instead!
Tip: Make the payment early in the day. Your final payment should take place before 2pm local time to ensure the account is credited on the same day (business day).
Paying off a house is a HUGE milestone. Knowing what to expect before paying off your mortgage will help make your debt free day a memorable one.
My wife and I will be spending the rest of the afternoon at a local winery. What will you do the day the mortgage is paid off?
---
Isn't Steve's story amazingly inspiring?! I hope you enjoyed reading this. Steve and his wife have officially MADE IT! (*drop the mic Steve, drop the mic*)
Be sure to check out the other posts for more information and watching his mortgage debt-free countdown.
I know after hearing more about Steve's story I am inspired to speed up my mortgage free date! 
Forever livin' debt free,