We've all been there.
You're trying to save for a new car, a kick ass trip, or even trying to get out of debt as quickly as possible and what do you immediately do?
Cut expenses.
And I get it. Really, I do. That's typically the first place I start as well because it is a bit easier and you immediately see progress.
So you do this for a while and then a couple months later, you realize it isn't enough. You need to do something different and you can't cut your expenses any longer.
The problem? You're not making enough money to support your financial goals. Sure you could sell your dog, or kids, or significant other….
But you ultimately need something that will help you increase your income on a permanent or temporary basis.
We seem to forget that personal finance is a two part equation. We have income and we have expenses. I know right? There is another line item on your budget where you enter your income.
All sarcasm aside, making more money will help you get results faster.
So why don't people tell you to do this more?
Because we believe it's a ton of work. While this isn't exactly right, it isn't quite wrong either. If you are looking to substantially increase your income, there is a serious amount of work required. But if you are just looking to make a few hundred dollars extra a month, it's actually not that much work.
Our brains are smart. We focus only on reducing expenses our brain begins to recognize that income is stagnant or limited and we start subconsciously viewing our financial lives from a scarcity mindset. However, if we focus also on increasing our income, our brains begin to see income as a bottomless cup of possibility.
You can cut all you want (and I'm a big fan of cutting expenses), but there is an unlimited potential to how much money you can earn.
I'm going to detail out a ton of realistic, practical strategies that can help you increase your income immediately and achieve your financial goals faster.
Not sure if these strategies will work for you?
I get that. That's why I've created a really handy PDF that gives you 50 different income increasing ideas that you can get some inspiration from.  
I've tried to make this side hustling as easy as possible. Throughout this article, you will find a few different plans that provide you with the blueprint to hitting your income goals. Whether you are trying to make an extra $200, $500 or $1,000 a month, I've made tried and true suggestions for how exactly you can do this and where you can find resources to begin.
*Please note: This post is not intended to helping you start a business, but if that is your jam, you can definitely pick up a few nuggets throughout the content.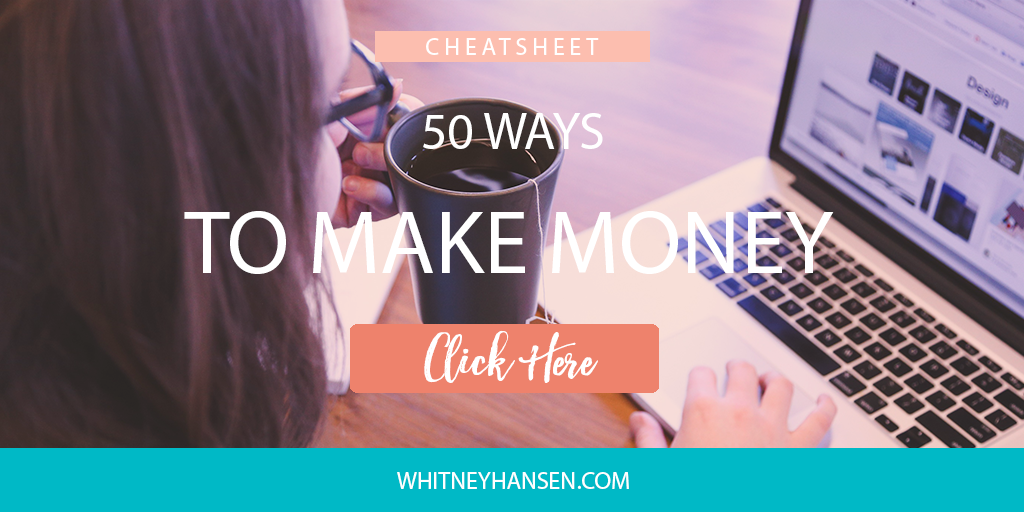 Start Here
a wee bit o' prep work
Every good plan begins with a vision and goals. Grab a piece of paper and a pen and get ready to roll up your sleeves. We're going to do a bit of prep work to get you on track for kicking ass with your financial goals.
Write your answers down to the following questions:
Why exactly do you want to increase your income? What are you trying to accomplish that requires your income to increase?

How much extra money do you need per month? (Do this by take your goal and break it down into a monthly amount. For example, if you want to take a vacation in six months that costs $2,000, you will need an extra $333 a month to accomplish your financial goal)

How many hours can you realistically devote per week to increasing your income? (Be honest here. If you think you don't have time and you haven't missed an episode of Walking Dead in 3 years, you have more free time than you think you do.)

Are you just looking for temporary solutions to increasing your income? Or are you looking for a more permanent increase in income? (Be honest! The strategies behind temporary and permanent changes in income are drastically different.)
Give these questions your honest answers. The only person you are cheating by half-assing these is you, so take this seriously.
I'm going to be discussing what I believe are the easiest ways to get a little extra money with as few hours as possible. If you would like even more suggestions of ways to increase your income, make sure you download the cheat sheet.

The $200 A Month Plan
to increase your income
If you need to make a couple hundred dollars extra per month, this will be a pretty straight-forward approach. Even though it doesn't feel like it, getting an extra $200 a month is a lot easier than you think it is. 
Stop Getting A Tax Refund
Begin by looking at your tax refund. Yep. Your damn tax refunds are money that should be in your pocket every month. A refund means you overpaid the government and provided them with an interest-free loan. (If you are thinking, so what? Slap yourself. You're now in the business of making money and you could have been making money on that money instead of loaning it to Uncle Sam and not making a dime.)
The average tax refund for Americans in 2015 was $2,700. That means your paychecks should have been an extra $225 per month more.
Not sure how to adjust your paycheck withholdings?
Talk to Human Resources and your Certified Public Accountant and get that adjusted stat! You need that money right now.
Income Increase: ~ $225 per month

Hours: 0
Brand Ambassadors  
Being a brand ambassador is one of the greatest ways to make a nice chunk of change every month. This is something I took advantage of when I was working full-time, in grad-school, and wanted to save a bit more. I was really into bodybuilding and found out that supplement companies needed demo representatives to help give out samples at trade shows, supplement stores, and local events. Events varied in time, but, in general, I would be at an event for a couple hours talking with people and giving out samples. Pretty dang easy! I would do 2-4 events per month (10-12 hours per month) and brought in a couple hundred dollars extra per month.
The key to being a successful brand ambassador is to select brands or products that fit your life. I am an active person, so it made sense for me to seek rep positions in the fitness industry. I looked the part, loved the company, used the products and believed in them full-heartedly.
Some of the more popular brand ambassador positions are with companies like Coca-Cola, Redbull, Dasani. You can work at music fests, college nights, or even grocery stores giving aways samples and talking about the products.
Not sure where to find ambassador positions?
Check out atnpromo.com or reach out to your favorite companies directly. Search for trade shows, expos and conventions. Events typically have a list of vendors that will be there. Then reach out directly to these companies and ask if they could use an extra hand. More than likely they do and they tend to pay $100-$200 a day.
Income Increase: ~$250

Hours: 10-15 per month
The $500 A Month Plan
to increase your income
To make an extra $500 a month requires a bit more effort than the $200 a month plan. However, if you stack different plans it makes it a bit more bearable. For example, if you adjusted your tax refund and you got a brand ambassador position, you would likely be at your extra $500 a month.
For this article's purpose, we are going to pretend that stacking doesn't exist….even though it's something you should absolutely consider.
Be A Nanny
This is one of the easiest, most hilarious, and entertaining ways to make some extra money. To hit your goal of $500 a month, you need to earn an additional $125 per week. Which means you can help families by looking after the little tykes. My sister and brother's girlfriend have both nannied before. From their experiences, you can make a couple hundred dollars a month from watching one child one night a week. If you watch kids for two different families, you have the potential to earn a decent chunk of change.
Not sure where to start?
Set up a profile on Care.com. You will be given access to job listings and search through various positions that work best for your schedule and pay you what you need. The cool thing about Care.com is you can also find jobs as an errand runner- grabbing groceries for an elderly person, or even deliver packages to the post office.
Income Increase: ~$500

Hours: 20-33 hours a month
Do Yard Care
If you have a lawn mower and weedeater, start a simple lawn care side hustle. I'm always in awe of how many six-figure businesses come from yard care people. While the focus of this is not to start a six-figure business, you can easily make a nice side hustle from lawn maintenance.
Not sure where to start?
Search on Craigslist for people seeking lawn care providers. If you have no luck there, reach out to your direct connections. I know you have friends and family that have lawns that need to be mowed, driveways that need snow shoveled, and weeds that need to be pulled. Or if you are feeling extra creative, offer to partner with a real estate agent and mow lawns for all their new clients. You can also work on getting one small contract with a church, strip mall, etc. That one contract could take you a few hours a week and bring in $500 a month.
If you aren't sure how much to charge, call local landscape companies and see how much they would charge to mow a standard lot size in your subdivision. If it turns into $30 a week, you could charge $25/week for your friends and family. It should take you around 30 minutes to actually mow.
Income Increase: ~$500

Hours: 20-25 hours per month
The $1,000 A Month Plan
to increase your income
If your goal is to increase your income by an extra $1,000 a month, you are signing up for a bit more work. An extra $1,000 is totally doable, but it isn't an easy thing to do without putting forth the time and energy. Here are the suggestions I have for making an extra $1,000 in the easiest way possible.
Seasonal Employment
Whether it's spring or fall, companies are always looking for seasonal employment. They only need temporary employees to help them get through the busy season. This is a great opportunity to work some extra hours and make a nice chunk of change. Aside from the standard work at "big box" stores, seasonal work can be things like working on a Christmas tree farm, helping a greenhouse care for flowers and shrubs, running a firework stand, teaching ski/snowboard lessons in the winter, or even working at a waterpark/theme park. Another off the beaten pathway to earn extra income applying for a position in a National or State Park. There are a ton of options for seasonal work.
Not sure where to go for seasonal work?
Look online by searching "companies in XYZ location seasonal employment." You will start to find a ton of options. Another way to seek out seasonal positions is to talk directly with your favorite company's managers. They will be able to discuss ways to get a part-time job in a seasonal position.
Income Increase: ~$1,000+

Hours: 25-30 hours per week
Contract Projects
I'm a big fan or contract projects and consulting. I've been involved in a few different consulting projects that range in pay but typically equate to a nice chunk of change. One of my most recent consulting projects was determining the viability of an inspiration walk in the local Boise market. Pretty sweet right? While one specific project may not pay $1,000 a month, you can easily work on multiple projects to get you there. One of the best ways to find freelance projects on a contractual basis is by searching on some of the internet sites. At one point in my business, I brought someone on my team to help me manage my Instagram. I temporarily needed someone who knew how to manage Insta while I was working on more time intensive projects.
Not sure where to start?
Create a profile on upwork.com, elance.com, or even scour Craigslist to see if someone is seeking a specific purpose. A phenomenal website for projects in various levels of difficulty is guru.com. This website has different job listings that range from market research, data entry, to children's book layouts. Search around there. You will likely find something that fits your unique skillset. Don't be afraid to reach out directly to businesses you follow. Be sure you are providing them with specific ways you can help them grow their business. They just might have a project that you would adore- and be a rockstar at.
Income Increase: at least $1,000 (project dependent)

Hours: ~30 per week
---
What do you think?
I'm confident there are some tips throughout this article that can help you start increasing your income today. Whether your goal is to make a little extra cash here and there to travel or pay off debt extremely quickly, there is always something you can be doing with your existing time, your level of education, and passion for bringing value to others.
Remember, this article is just a way to get you thinking about ways to increase your income. If you would like even more ideas for ways to increase your income, make sure you download the free cheat sheet today.

How to Pay off Debt Workshop
Enter your name and email to get access to the training instantly.
(link will be sent directly to your email)