You love travelling, exploring, and checking out amazing places, but you don't think you can afford to travel. Sound familiar?
I get it.
I used to feel the exact same way until I made a subtle mindset shift.
I found out that material items I was wasting my money on weren't nearly as important as experiences. Going out to eat every day at work means less money for traveling and adventure.
If you say yes to spending money on day-to-day expenses like coffee, eating out, car payments, larger house payments, or even weekend boozing, you are saying no to travel.
Once I learned that it became much easier to buckle down on my budget and cut out impulse buys.
So I highly suggest finding ways to cut from your budget and taking a close hard look at your finances if you want to make travel part of your life.
No surprise, there is a bit of strategy to taking an inexpensive vacation. Throughout this article, I'll be detailing out everything you need to know, what websites + resources I personally use, and tips to getting the most out of your money.
Travel is inexpensive when you know what to look for.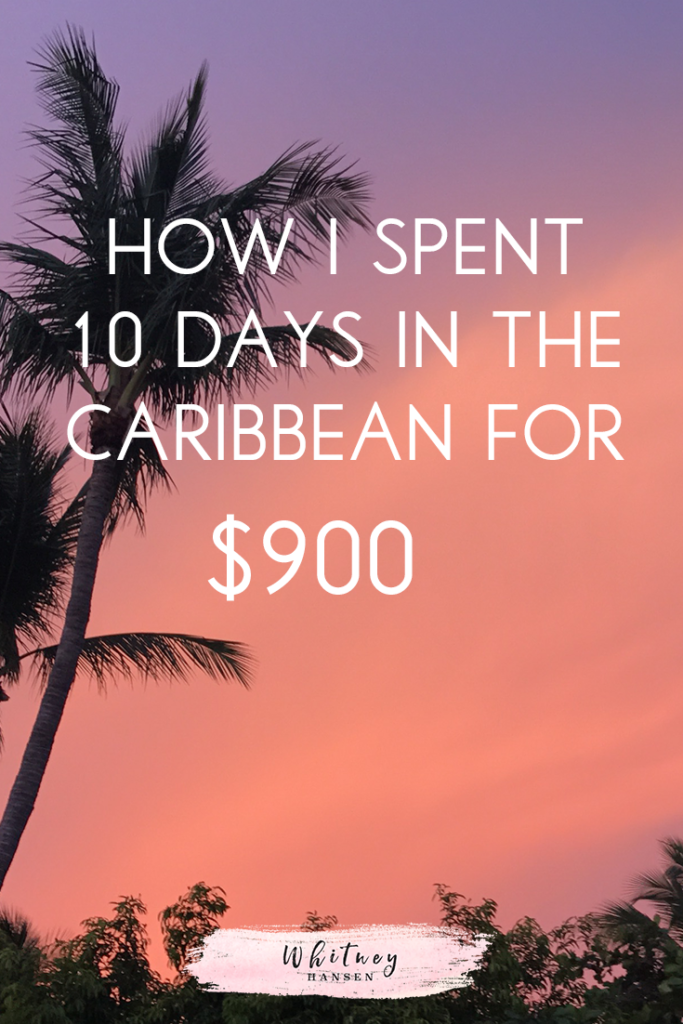 Step 1: Embrace Spontaneity + Search For Your Flight
Embrace Spontaneity
Be somewhat spontaneous. If this is not a natural personality trait for you, this will likely be difficult for you. However, if you can allow yourself one or two months in advance, you can find some really amazing deals.
Part of embracing spontaneity if being open to travelling to different places. If you don't really care much where you go, you can (and will) find amazing deals.
Search for your flight
Flights tend to be one of the most expensive parts of a trip, so start by searching for your flight. I decided to go on a vacation and knew I could spend up to 10 days away from Boise. Having a flexible schedule really helps, but that isn't always a luxury everyone has.
I turned to my go-to website, google.com/flights, to help me seek inexpensive flights. It's ridiculously easy to use too!
Start by putting in your travel dates and location you would be flying out of.

Then click on "Explore Destinations" (the map section on the bottom right) and see what locations come up.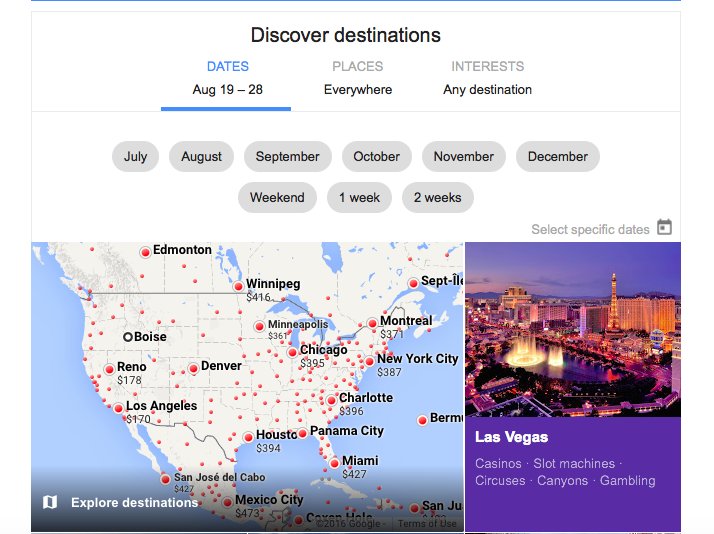 When I did this initially, I found roundtrip flights from Boise to San Juan, Puerto Rico for $454 per person. Pretty crazy right? I've spent more than $400 getting to places much less exciting than PR.
When I checked today, roundtrip flights from Boise to San Juan, Puerto Rico were $402 per person for 10 days.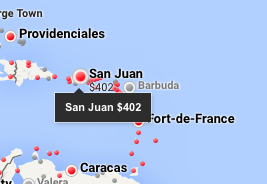 Search around the world and then click the red dot and select the flight that you'd like.
Play around with this. You'll find some really interesting places you've never dreamed of going for dirt cheap. If you use airline miles, now is the time to redeem them. (I personally do not, because I don't spend enough on a monthly basis for it to be worth it.)
You'll also be provided different days and times to save you a couple hundred dollars. In the example below, the same trip to San Juan, PR would be $294 round trip if you returned on Monday, August 29, one day later. Isn't this crazy??
You don't have to book your flight right now, but know that flight prices are highly variable and waiting a day could be the difference between saving hundreds.
For my trip roundtrip flight: $454 per person
Step 2: Select Your Temporary Home
Steer clear of Hotels (if possible)
When budget traveling, you've got to be really careful of hotels. They tend to be overpriced if it's in a touristy area, and lacking in modern amenities like kitchens.
When budget traveling, you've got to look for a deal and ways to save money. Cooking one meal a day when you're on vacay is a phenomenal way to save a bit more and having an actual kitchen really helps. Depending on where you are going, this may not be able to avoid hotels. Just do your homework to see what will be most cost effective.
Book through Airbnb
I'm such a huge Airbnb.com fan. Airbnb allows people, like you, to rent their homes, condos, or a room in their home to strangers on the internet. (Sounds a bit creepy right?)
But here's the thing, if you use Airbnb, you can get some amazing deals and even read through reviews from travelers about the homes safety, location, and things to do.
So once you know what flight is most economical, start researching the best place to stay in XYZ location. For me, I began searching to find out where the touristy places are. I found out that Condado beach, outside of San Juan, is fairly touristy + SAFE. I'm a petite female and although I can pack a mean punch, safety is ridiculously important to me.
Then enter your date into Airbnb's system and start checking places out. As you can see below, you can get a beachfront studio apartment for $61 per night. (Not shown- the discount typically provided for staying 7+ days).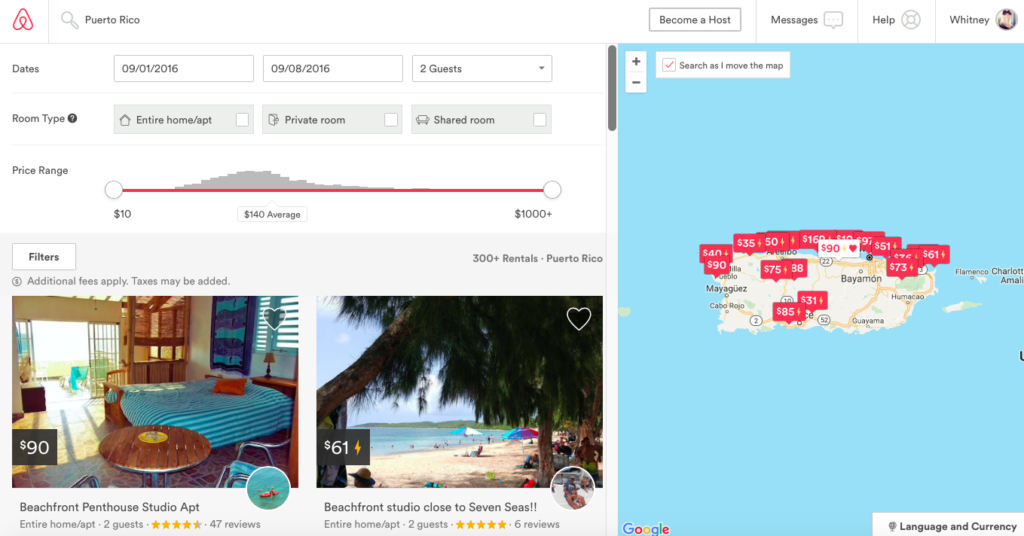 I don't know if this is just me, but I am very skeptical of places that don't have any reviews. I'm sure they are fine, but I'm not one that will take the chance on that.
Then start moving around the map to check out different places and find one that works for your budget. Many Airbnb places will provide you with a discount for staying a week there, so that helps quite a bit.
The condo we stayed at ended up being fairly inexpensive. It was close walking distance to restaurants, nightlife, a beach and gave us a pretty sick view of a lagoon.
Step 3: Find Inexpensive Restaurants
Search Yelp or Trip Advisor
The best tools to finding inexpensive restaurants are by using Yelp or Trip Advisor apps. These allow you to search for restaurants within walking distance and even sort by one or two dollar signs. If you are travelling out of the country, embrace local food trucks. These little kiosks are typically very reasonable and have some delicious food.
Ask locals where their favorite restaurants are. This is a good way to get sense of the true culture.
If you are travelling on a tight budget, remind yourself that you are eating to live, not living to eat. Exploring the cities will give you more memories than eating.
One of our favorite things to do is hit happy hour at different restaurants. By the end of it, you are full and got to try different restaurants. You can also chat with locals and get different perspectives which is awesome.
Step 4: Excursions + Tours
Trips are not the same without taking some excursions and if you aren't careful, these can add up ridiculously fast.
What I've found from travelling is excursions can be a giant waste of money if you don't do your homework. This is where Trip Advisor comes in handy. Search for "must see things in _____." Then be really, really choosy about what you do. We chose to go zip lining and frankly, found it wasn't worth the money. At the same time, we ended up spending $5 to park at this great cave area near the ocean and that was easily one of the highlights of the trip. We spent hours wandering around Cueva del Indio (Cave of the Indian) and had a great time.
Try to remind yourself, that you don't have to spend a ton of money to explore and have a good time. You can buy a set of snorkel gear for less than $20 and go on your own excursion. Get creative with this area to save money.
Usually, I'll spend a little bit of money on something fun. For example, one of the things we spend $72 per person on was a mini-boat excursion where we drove the inflatable raft across the ocean to a small deserted island that was featured in Pirates of the Caribbean 4. It had the whitest sand and the clearest water I've ever seen. It had amazing reviews on Trip Advisor and even provided a cooler full of snacks, so we didn't have to buy breakfast.
Totally worth it!
Step 5: Travel With Others
If I was a solo traveler, this trip would not have been so budget friendly. We had four people (including me) on this trip. So that means the lodging was split four ways, the car rental was split four ways, and many times we shared food. (Something about the humidity + heat kills my appetite.)
Travelling with others takes some planning, but if you can swing it, it's well worth the cost savings.
---
With these tips, you will be well on your way to travelling across the world for a fraction of the cost.
Now I'd love to hear from you.
What are your favorite travel hacks, tips, or tricks to save money?

Comment below and let me know.