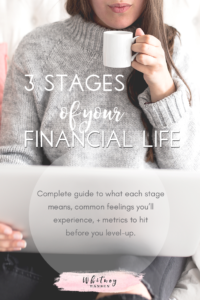 I recently did a massive survey of WhitneyHansen.com subscribers. Here's what I found- many people are unsure of what they should be doing at each stage in their financial life.
You might also be confused on if all the feelings you are experiencing are borderline crazy or totally normal.
So let's talk about this.
There are typically 3 stages in your financial life.
Beginner, intermediate + advanced.
No shame with any of these either. We all start as a beginner and hopefully, graduate to advanced, and eventually financial independence.
Stage 1: Beginner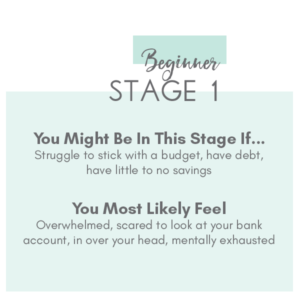 You might be a beginner if you…
Struggle to stick to a budget
Have a little to no savings + if an emergency hit- you'd be SOL
Carry debt + aren't quite sure what the best pay down strategy is
Have debt + aren't concerned about it because you can afford the monthly payment
Get scared when you hear people talk about financial lingo (IRA, life insurance, zero sum budget, liquid assets, cashflow, stocks, bonds, index funds, asset classes, liabilities, hedging your risk, etc)
Normal feelings + emotions you might be experiencing during this stage
Overwhelmed + in over your head
Stressed out- just thinking about money stirs up all the feels
Scared to look at your bank account
Lost + confused- why should I even bother?
Silently praying that your card isn't declined when you swipe your card
Feeling like you are constantly broke
"I should be further than I am in my financial life"
"I know I should be better with my money, but I'm just not sure where to start"
Metrics to hit before moving to the next stage
Save 1 month of living expenses in your starter Oh Shit Fund
$500 buffer in your checking account so you don't overdraft
Clarity around exactly how to pay off debt
Organization around your finances
Grasp on financial vocab
Detailed budget
Knowing how to navigate + where to pull your credit report
Automation of your monthly expenses + savings
Setting up your savings on autopilot
How long does this stage last?
1-3 months
---
Stage 2: Intermediate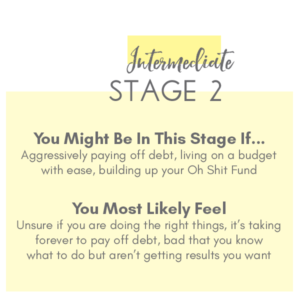 You might be intermediate if you…
Live on a budget comfortably every month
Actively + aggressively paying off debt
Building up your Oh Shit Fund
Putting some money into retirement, but not sure what it all means
Know exactly how debt interest is charged (simple vs. compound interest)
Understand that not all debt is created equal
Normal feelings + emotions you might be experiencing during this stage
Unsure if you are doing the right things at the right time
"I should know how to do this, so why am I struggling"
"I work hard. I should be able to treat myself without feeling guilty"
"I just need to earn more money"
It feels like paying off debt is taking forever
"Should I be saving for retirement while I'm paying off debt"
You are constantly saying no to family + friends invites
Metrics to hit before moving to the next stage
Building up 6 months of living expenses in your Oh Shit Fund
Aggressively paying off debt by reducing lifestyle + increasing income
Living on a budget with no problems
Investing in your future by putting 20% into your IRA
Being able to explain how credit card interest is charged + how that differs from amortized loans
How long does this stage last?
6 months- 5 years
---
Stage 3: Advanced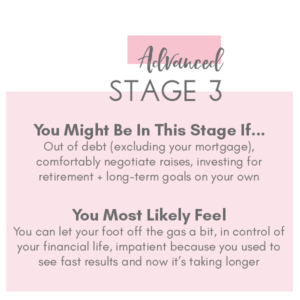 You might be advanced if you…
Are out of debt (excluding your mortgage)
Investing for retirement and long-term goals on your own
Plan on paying off your mortgage at a maximum of 15 years
Build your credit without carrying balances on your cards
Saving for your kids college funds using a 529 or UTMA
Comfortably negotiate raises
Investing in real estate or a second home (without feeling the extra monetary stretch)
Minimizing the amount of taxes you pay every year
Normal feelings + emotions you might be experiencing during this stage
"I don't stress about money as often as I used to"
Impatient; everything seems to be taking soooo long to get results
"When do I need to hire a CPA?"
You fear market dips (especially if you're over leveraged or not diversified)
Unsure if you should put extra towards long-term investments or retirement
Metrics to hit before moving to the next stage
Completely consumer debt free
Diversification in your overall portfolio
Tracking your net worth and seeing a growing trend line month after month
Investing on your own outside of retirement
Maxing out your retirement contributions every year
Pay your mortgage off within 15 years
How long does this stage last?
Largely dependent on your goals, but typically between 5-15 years.
---
What's after stage 3?
Financial independence.
That's the entire goal of life is to get to the point where money is no longer a barrier to your life. You can choose between continuing to work for fun, or hang up your hat and hang on the beach for a while.
---
Pin this infographic to remind yourself of the different stages, and common feelings through each stage.

---
These stages were compiled from working with hundreds of people in various life stages. I started realizing that blanket advice wasn't working because everything was at different levels in their lives.
I hope this helps you identify where you are and what you can do to "level up."
If you need help getting to the next level, I would love to work with you individually through one-on-one coaching. Coaching can help you level up as quickly as possible so you can get to financial independence.
Learn more about coaching here.
How to Pay off Debt Workshop
Enter your name and email to get access to the training instantly.
(link will be sent directly to your email)