Being a financial coach is the most rewarding career I've ever had. It's also the hardest I've ever worked. Running a business is incredibly time consuming…
But it's worth it.
As a financial coach, you get to help people get a financial plan in place, see a light at the end of the tunnel and gain clarity around their financial life.
I stumbled upon financial coaching. After graduating from college in 2010 I came face-to-face with my $30,000 of student debt. I felt like an idiot and was constantly criticizing myself for not putting a little more towards school and not working just a little bit harder.
That's when I made a decision that I was sick of this debt already and wasn't going to keep it around for 10+ years because I was told it was "normal." I created a financial plan, focused on it with everything I had and was able to pay the entire $30,000 off in 10 months.
My friends and family noticed what I did and started asking me for financial help. I would sit down with people in coffee shops and show them how to create a budget and put together a debt payoff plan.
I loved it.
But I didn't think I could get *paid* for it.
I started discovering the online world and found out how you can market yourself and your serving to a global audience AND get paid well.
I've been growing my financial coaching business for the past 4 years and have learned so much about what works, what doesn't work, and what to focus on at what time.
This blog post alone, will help you cut through the crap, save time, money, and energy and get clear on what is most important to launching your financial coaching business.
What is financial coaching?
One of the most common questions I receive is what is the difference between a financial coach, and a financial advisor. The short answer is a lot.
A financial coach focuses on the day-to-day of someone's financial life. You're helping clients create and live on a budget, decide which debt to pay off first, set meaningful financial goals, and hold them accountable to their plan. As a financial coach, you're NOT giving specific investing advice, or insurance advice. There's also a bit of trust there too, because you aren't representing any financial products.
A financial advisor is someone who has proved competency by passing examinations and going through a certification process, while working underneath a financial advising company for a set amount of time. Advisors are responsible for giving specific investing advice, recommending insurance policies and educating clients on how to best approach financial decisions like retirement, estate planning, and navigating tax implications that could affect their client's life. Financial advisors are also very restricted in what they can and cannot say because of certain rules and regulations.
I like to view financial coaching as the pre-financial advisor step. My goal when working with clients is helping them maintain sustainable changes and build up the foundation of their financial life.
Misconceptions about Being A Financial Coach
I hear a lot of interesting questions about becoming a financial coach. Many people say things like:
"I need to be formally trained." Not true. People mostly hire you for accountability, and help with the fundamentals of personal finance. Not advanced tax planning or Roth IRA ladder conversions.
"I don't have my financial life completely together. Can I still help others?" Yes. You just have to be honest about where you are in your financial life.
"I don't know if I have the skills to help people." If you can research and you know a little more than the average person– you can help other.
"I have to learn how to be great coach first." You learn fastest from experience not reading about being a financial coach.
"It's not the right time for me."  It never will be perfect timing. If you're passionate about helping others and want to control your income and schedule, it's the right time. This stuff takes a while to build up.
I understand each of these statements because I have gone through those exact same thoughts myself. And the truth is, they are all based on fear. Anytime we level up in life, the imposter syndrome kicks in. We start to wonder who the heck am I to do this? I'm not qualified, I don't have a unique financial view. I shouldn't being doing this.
Frankly, it's bullshit. The person who deserves success is the one who gets in the ring. If you show up and you continually work harder while having good intentions, you are worthy.
You will NEVER feel like you know enough and honestly, you never will. It's not about knowing everything. It's about knowing where to go to find the answers.
The best thing to do is learn as you go. Experience is always the best teacher– not necessarily formal education.
Now that we discussed what a financial coach does and the misconceptions about becoming a financial coach, we're ready to start our business.
3 Phase to starting a financial coaching business
Phase 1: Planning and Prep
After we sign up for expensive coaching programs and learning "how to be a coach" many people find themselves disappointed. They learned in theory how coaching works, but the minute they get their first client they are unsure of what to do next. So then they want to dive into launching a website, pricing our services and marketing ourselves online.
But that's not the best place to start. I recommend starting by getting a very clear understanding of who your customer segment is. Who is actually going to pay you for your services? If you say everyone who has debt, your business will fail. There's a concept in business that says, the riches are in the niches.
The only way you learn your niche is by talking to people about their problems, what keeps them up at night, and their willingness to pay. You have to physically talk to people to see their body language when you ask questions. (Tip: Pay attention to the verbiage they use- the wording they use will be directly used in your marketing.)
Broad Customer Segment: Women who want to better their financial lives.
Niche Customer Segment: Women who are single, or in a relationship and acting as if they are single, who want to pay off debt, live on a budget, but still have fun with money.
See the difference? The more you talk with people, the more honed in your customer segments will become.
When we know exactly what keeps your dream customers up at night and what they are really willing to pay for, you will have a much easier time selling your services and helping people accomplish their financial goals.
During phase 1, you will also be crafting your elevator pitch. This is fancy business terminology for how do you introduce yourself? This takes time and practice, but there is a strategy to creating an elevator pitch that resonates with people and makes them remember you.
Your homework:
Interview 5-10 people about their financial lives
Niche down
Craft your go-to elevator pitch

Phase 2: Launch + Systems
After you have phase 1 completed, you're ready for the next phase– launching your financial coaching business.
First start figuring out your coaching structure. How often would your clients prefer to meet with you? How long do they work with you? How much do you charge for coaching? Do you offer payment plans?
My coaching structure looks like this– I work with people for 3 months at a time, and meet with them weekly. I only meet virtually through Skype or over the phone. I also use Google Sheets to help them create their budget.
These are all important things to think through. Ideally, you are asking your dream clients these types of questions, but realistically, it will be a lot of trial and error. You'll start to figure out what is best when you start getting on discovery calls and chatting with potential clients.
Next step during phase 2 is launching your website and putting together your branding. Many people know me from my red shirt that says money nerd. That has become part of my brand. I also have a very cohesive look between my website, my emails, and the way I talk when educating people about money. But branding also includes things like your go-to color scheme, your font choices, and images used.
You'll also need to think through what pieces of software you use to schedule sales calls, coaching calls and partnership calls.
I personally use Calendly. It's $15 per month and takes care of all my call scheduling needs. It even reminds people of our appointments by sending them a text message.
Then you'll start figuring out how do you accept payment and invoice clients. There are lots of options out there and most are really good, but I always recommend PayPal. It's well recognized, reputable and easy to use for invoicing. Then when I'm ready to "take a paycheck" I transfer from PayPal to my bank account.
In addition, you'll need to think through how do you track your client's progress? Creating a follow-up system to get back in touch with people who reached out for coaching, but weren't ready at that time. And of course, tracking your business' revenue and expenses.
Your homework:
Create your coaching structure
Set up your website and your branding
Select software for your call schedules
Select how you will accept payments and invoice
Set up your clients progress tracker
Phase 3: Growth + Traffic
This is my favorite phase of growing a coaching business. As a financial coach, you must get good at marketing in order to make money. There is a real strategy to growing an online coaching business. This is what I have found works best.
Draft out your sales funnel. A sales funnel is drafting out how people find you, learn from you and ultimately work with you.
Here's an example straight from my Become A Financial Coach Course: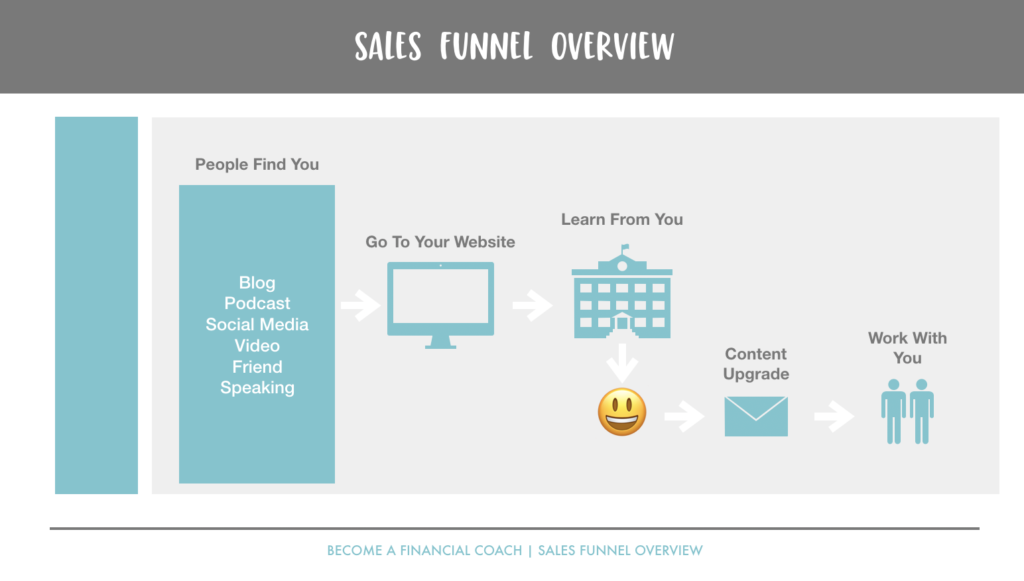 When people come to your website, they are going to try and learn from you first. Very rarely are people ready to buy the first time they go to your website. It takes a long time to build trust, so be patient!
The best place to start is by creating really great blog posts with a lot of detail that people are actually searching for, called Read Magnets. Be careful about writing content that people don't need or speaks to a really small group of people. You want your content to cover topics that people need help with– like budgeting, paying down debt, saving strategies, etc. Then as they are reading through your read magnet, you can have a content upgrade, called a Lead Magnet. If you've ever gone to a website and downloaded a checklist, cheat sheet, signed up for a free webinar, or even a free trial, you've experienced a lead magnet first hand. Then, through a series of automated emails, you can then pitch the opportunity to work together.
Quick example of how this could look:
Read Magnet- How to create a budget
Lead Magnet- Download the free budget template
Emails-  More education and then offering your coaching services
Once you have your read and lead magnets created, now you how to start generating traffic to your read magnet. There are lots of different ways to do this, you can use Facebook Ads, Pinterest, Instagram, YouTube, Facebook Groups, and start a podcast. There isn't a right or wrong way to do this, but it is important to stay consistent with your traffic generating channel.
Continue testing and view everything as an experiment. You need data to tell if someone is or isn't working in your business.
Your homework:
Draft out your sales funnel
Write your first read magnet
Create a lead magnet
Draft out 4-5 emails that further educate people on your read magnet topic
---
This is obviously a very simplified version of how to start a financial coaching business. There is a lot more detail to go into– in fact, I go through each of these phases with more detail and show you exactly how to set everything up.  You will learn the ins and outs of how I run a profitable financial coaching company, while working from home, having the flexibility to work from anywhere and make a great living.
You can do it too! It takes time, patience, and strategy of working on the right thing at the right time.
If you are ready to launch your coaching business, I show you exactly what to do in Become A Financial Coach course.
Join the course and start your journey to becoming a financial coach today! The world needs people like you who care about helping others better their financial lives.